Online Learning and Adult Learners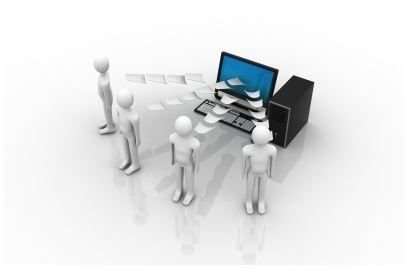 The Impact of Online Learning
According to the US Census Bureau, on June 30, 2010, there were 1,966,514,816 Internet users world wide. In that context, the impact of online learning on adult ESL learners is phenomenal because of the instant accessibility to information, simplicity of content, and convenience of usage from the privacy of one's home. A large collection of resources and tools is available by many internationally renowned Universities.
For students, teachers, learners, and academics, online dictionaries, encyclopedias and thesauruses are a great source of reference guides for individual needs. From lesson plans, hand outs, and printables to audio and video presentations, resources are just a click away. Sound files can be used repetitively for better understanding. Online forums are great venues to clear doubts by reaching out to experts without the embarrassment of others listening in on study sessions.
Idioms, phrasal verbs, teacher articles, quizzes, language tests, language polls, and online sample tests are efficacious for the learning process. Simple explanations are given even to check a word's grammatical usage in a sentence. Many English language lessons online come with illustrations and pictures to streamline the effect of better learning. The best part of ELL learning online is that some of it comes absolutely free to the users. The sounds of English can be learned a lot better from hearing a native English speaker enunciate and pronounce words in the English language. Adult ELL learners can access analysis and criticism of books and essays from the point of view of renowned critics and experts. In-depth research about the topics of interest can be accessed from any where in the world by search engines and hyperlinked menus that bring up numerous sources that were inaccessible a few years ago.
Project studies and case studies have been simplified by online help that will clear all possible doubts during the learning process. The Internet has emerged as an epicenter of learning for adults because of the contributions made by scholars and linguists who have made their mark in the development of English language, which is truly recognized as the global language.
The impact of online learning can be seen by the way English language has thrust its way to remote corners of the globe. BBC, entertainment channels, CNN , and the Discovery Channel are often recommended to speed up the learning process. Instead of learning from one teacher in a classroom, now learning can be accessed through multiple sources and innumerable channels. American or British accent training has become easier online.
Online games, tutors online, and educational programs are all fascinating modes of learning. ELL students are the fastest-growing population group in schools and colleges around the world. Adult learners use skimming and scanning to improve their reading skills. They develop writing skills naturally as they interact with one another by exchanging messages or giving information about themselves. Since Internet information is not always truthful, adult ELL learners develop critical thinking capabilities.
The World Wide Web has become the most effective resource and tool for online learning. The accelerated transformation and speed of technology will enable adult learners to have unprecedented freedom in learning and self- improvement. The impact of online learning on adult ell learners will enrich the English Language on a global level. Since English is a living language, it will undergo transformation as well. More and more speakers of other languages will begin to contribute their skills to English language.
Image Credit
Photo: freedigitalphotos.net/ Renjith Krishnan
References
References

internetworildstats.com
ericdigests.org <