What Can I Do with a Fine Arts Degree?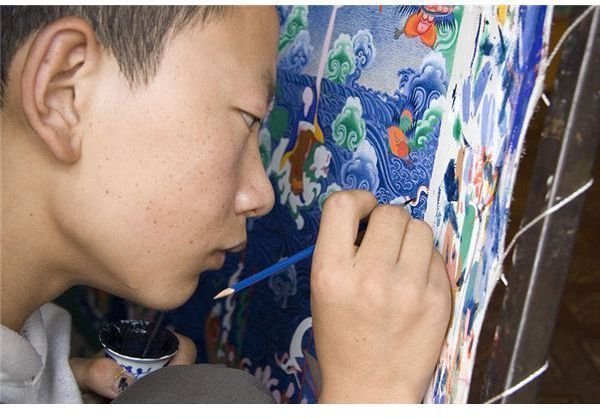 According to the BLS…
The Bureau of Labor Statistics (BLS)(1) defines a fine artist as the type of creative worker who prepares show pieces for museums or sells fine art for personal or public use. As such, the artist may receive an order for a piece of artwork or work creatively and then try to sell the items via art galleries or art dealers.
The BLS warns that many a fine artist will have a difficult time to solely rely on their art to support themselves and instead will be required to also work another job on the side. It is undoubtedly this bit of information that has parents worry about their artistically inclined students. Interestingly, there are some little-known options.
Capitalize on the Differences
The standard difference between a fine arts and a standard arts degree is the use of the finished product. Fine arts tend to refer to aesthetically pleasing forms of painting, sculpting and other visual art forms. A standard arts degree emphasizes the practical nature of the craft, such as the creation of furniture, fashion or industrial designs.
For example, the University of Louisville(2) offers a Bachelor of Arts degree that emphasizes drawing, photography and mixed media work. In contrast, a Bachelor of Fine Arts is offered to the studio artist who wishes to work in communication art and design as well as interior architecture.
The school outlines that a studio artist may find employment as an advertising artist, graphic designer, art therapist, display painter, landscape architect, color expert, calligrapher, furniture designer, engraver, mannequin decorator and more. The Academy of Art University's School of Fine Art(3) underscores this trend by also adding jewelry design to its offerings.
After the Bachelor Degree
Although an advanced degree is not necessary to begin receiving fiscal remuneration and build name-recognition from a fine arts degree, it is vital to remember that arts – just like any other money-making field of business – are competitive endeavors. Mere talent, drive and a desire to succeed are insufficient. As outlined by the DePaul career center(4), specialization is a key component to this type of education and the development of a professional portfolio must be an ongoing labor of love.
Artists should consider relocating (at least temporarily) to major metropolitan areas where their crafts are in demand. For example, set designers may consider spending some time in Hollywood, California to get studio experience while fashion artists and designers will be wise to visit and work in New York City, for hands-on practical experience in what is termed the "fashion capital of the United States."
Concurrently, students profit from interpersonal and professional networking, volunteering and apprenticing. A frequently overlooked but nevertheless crucial aspect of building name recognition, is professional representation. Artists' agents and representatives can be instrumental when finding an 'in' with the art-buying or commissioning crowd simply by the contacts they have built.
Dollars and Cents
Just like any other type of degree, a fine arts degree is not cheap. For example, an undergraduate credit hour at the University of Louisville is $351. Of course, the average cost of college credits is greatly determined by location and school type.
Since plenty of fine artists are self-employed, it is difficult to ascertain what the average annual income may be. Evaluating the salaries of employed artists for whom the figures are available, the BLS averages the annual salary of a fine artist to be right around $23,600 while the average income of an art director is approximately $84,200.
Now that you know the difference between a fine art and an art degree and have come to realize just how much you can do with a fine arts degree, the question now is…Do I have what it takes to obtain it?
Sources
Photo Credit
"Painting Thangka in Lhasa, Tibet" by Luca Galuzzi - www.galuzzi.it/Wikimedia Commons at https://commons.wikimedia.org/wiki/File:Painting_Thangka_Lhasa_Tibet_Luca_Galuzzi_2006.jpg