Cost-Free Dorm Room Design & Options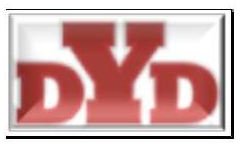 Finding a Cost-Free Solution to Dorm Room Moving-in Blues
First-time college students and parents alike are often excited but apprehensive about the student's new soon-to-be living accommodations and conditions. The college greenhorn searches the net for all kinds of advice, while the anxious parents compiles a list of must-haves to buy for their child. However, how accurate can these advices and checklists be, if the student does not have enough information about the room he or she will be moving into? Chances are, the student will be arriving at the dorm with either too much or too little, and in most cases, too large for the allotted space.
The good news is, students and parents no longer have to handle their dorm room dilemmas using guess work. A website called Design-Your-Dorm (DYD) provides an online 3-D Room Designer tool, with virtual layouts of dorm room design. Students can use the website's online resources to create a virtual plan of how their future or present dorm rooms or apartments will look, after adding all the furnishings they intend to put in.
Dorm Room Design and Solutions for Single Rooms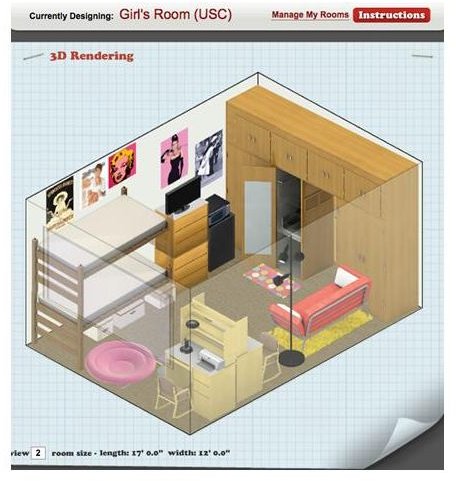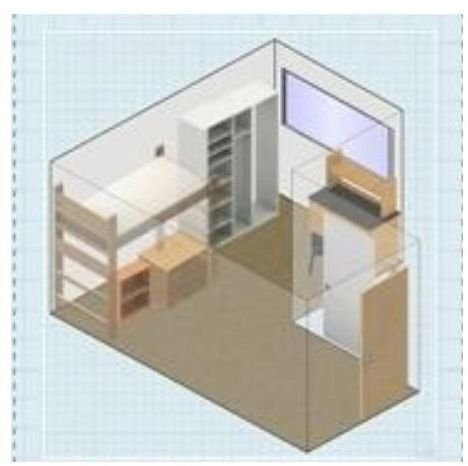 DYD has a database of information containing the exact measurements of residence hall rooms in more than 180 universities nationwide. This makes it possible for students to proceed with their buying plans with near-accuracy, since they are using virtual layouts that replicate their future university or college housing.
In case the information about the student's university residence hall is still not included in DYD's database, the registered member simply provides the site with the name of the university, and the residence hall number, or furnishes their own room dimensions. The 3-D Room Designer's software configures the general floor plan and layout. The best part about all of this is a membership registration and use of the online 3-D Room Designer is absolutely free.
Students may opt to have the same items they selected and used, to create their virtual dorm rooms. All items used in the designing process can be purchased from DYD's online store. Although buying options are not restricted to DYD's online store, shopping for merchandise through the website's facility is highly recommended. It eliminates the hassles of shopping around for every piece, as well as reduces the uncertainty of finding the exact size, model, or color that fits the 3-D Room Design created. All items suggested by the store are those that are typically found in residence halls.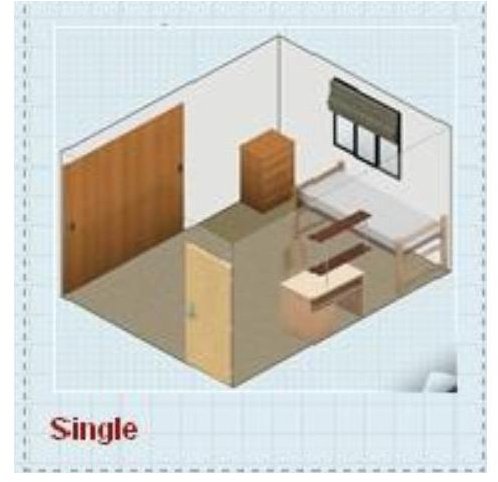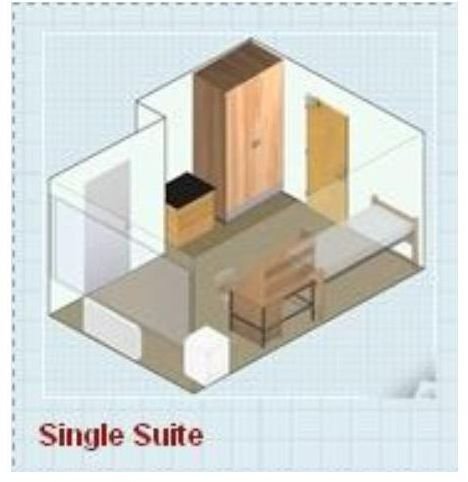 In case the student finds it difficult to figure out how to make her own room arrangements, or plan the furniture or appliances to install, another option available is to choose from the pre-designed plans called "Cool Rooms". These pre-set dorm designs and options furnish students with inspirations for their own unit.
Another option to make everything less complicated, and easy for those who just want to have a room design, is to simply adopt the whole concept of a particular "Cool Room" and buy everything that's included in it.
The site ensures purchased items are delivered on time, at the most appropriate location allowed by the university. Many college and university students have had the unfortunate experiences of arranging for truck delivery services that did not arrive on the day they were expected. This is another aspect that DYD takes care of with utmost proficiency, to make sure that the students can move in to their residence halls or apartments as smoothly as they had planned to.
Please proceed to the next page for DYD's dorm room design layouts and solutions for shared rooms.
How Students Make Plans for Shared Rooms Using the 3-D Room Designer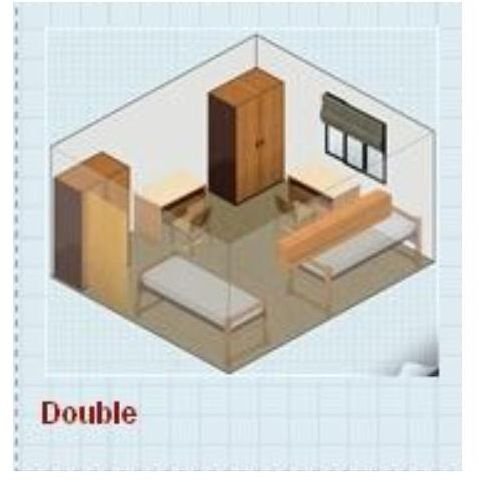 Single occupants can plot anything, as long they are within the university's residence hall rules.
However, quite a number of students have to contend with the rooms that the university assigns to them, which in most cases are shared rooms. Although the main difference between single or shared is the room rate, another difference this housing arrangement presents is the amount of free space available to all the room occupants.
Usually two or more roommates occupy a room that may be a bit larger than the single-occupancy room, but tend to provide smaller spaces for room add-ons and storage accessories. Hence, the greater the possibility of over or under planning on what to bring when settling-in. There's even the possibility of conflict between room occupants, in case one of them insists on bringing something that goes beyond his or her individual boundary. These possibilities have been considered and can be resolved by the following suggested methods: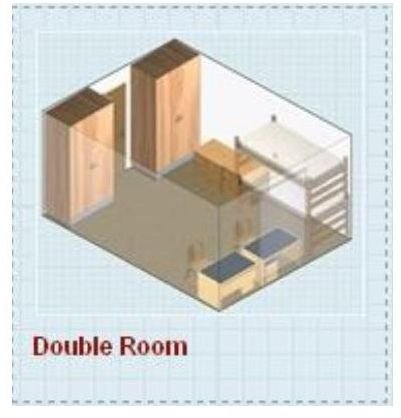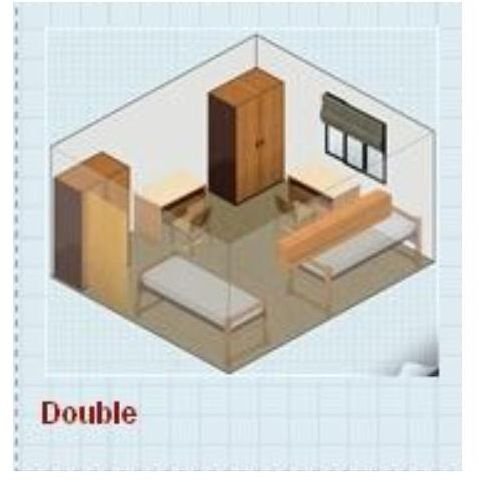 Design-Your-Dorm provides layouts of dorm room designs and options for multiple-occupancy rooms, which simulates different area arrangements, whether it's a double, triple, or quad room. Layouts can also differ as to the type of bunk beds available, whether singly detached or decked. This way, the student can virtually see and know for sure the amount of space he or she is limited to; hence, purchases can be well-planned by buying exact furniture or accessory sizes.

The website's store selections for storage accessories like shoe racks, modular shelves, 4-drawer cabinets, or chairs are usually collapsible, stackable, retractable, or expandable, in order to fit-in, within a double or more occupancy rooms. Such choices allow roommates to stash away chairs if not in use, or stack-up the shoe racks to maximize vertical space or optimize the available underbed storage. Even the site's store selections for appliances like refrigerators, microwave ovens, and ironing boards include personal size, compact, or table-top suggestions.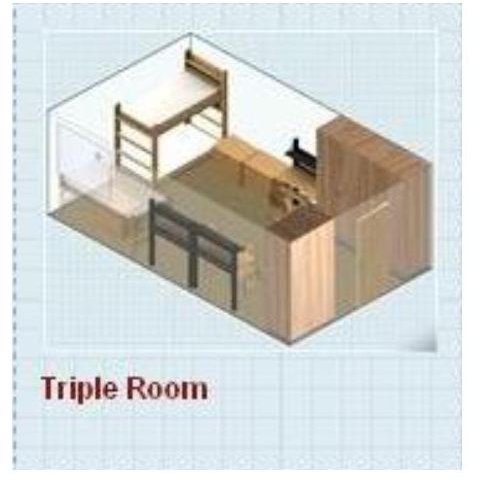 Collaborating with future roommates is made possible through Design-Your-Dorm's facilities, where future room occupants can meet and chat while viewing each other's finished layout. This provides every room occupant the chance to see their roommates' dorm room plans, particularly the furnishings and appliances that will be added to the room. Students are encouraged to collaborate, coordinate, and perhaps make their dorm room residencies more economical if they can come up with a sharing-plan, particularly in installing large-sized furniture or appliances.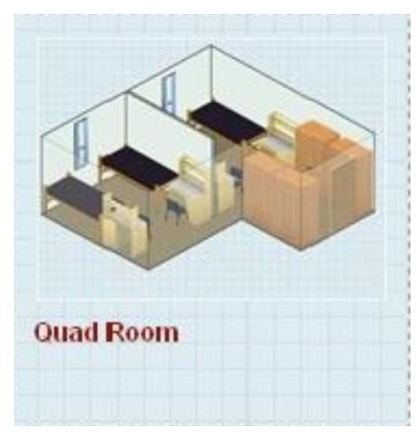 Usually, one of the roommates will commit to taking charge of a compact-sized sofa or futon, while the other takes care of the microwave oven. This can be made possible through the website's online store, where they can check out prices and match each other's commitment. This is also a good way for students to get acquainted even before they become actual roommates, which lessens the anxiety of not having an idea about who and what to expect.
How Does Design-Your-Dorm Profit from This Free Offer?
DYD generates its income through commissions earned from products that their online store sells, most of which are from Amazon. Nevertheless, since the site is only on its second season of providing students with this valuable and efficient tool, work is still in progress in looking for other affordable sources for student's online purchases. They aim to provide students with more variety in choices and price options as well. In fact, other online sellers of affordable dorm stuff and gadgets, including suppliers of less expensive college textbooks, have already been added as additional resources.
Design Your Dorm offers other services by which they earn additional needed funds to help in maintaining the site, the software, the database, and overhead costs of coordinating with universities and colleges to get linked as an official university tool for campus residences. Parents of registered members can send "Care Packages", which may include personal body care products, health supplements, or even gifts for all-occasions, to their sons or daughters through the website's online store.
DYD's co-founders Taylor Robinson and Bryce Widelitz were former University of Arizona students themselves; hence, they're well aware of all the hard work involved in transitioning from homes to residence halls. Their dorm room design and options were basically conceptualized from actual residence hall floor plans and layouts. The 3-D tool saves the students and parents all the stress and aches of hauling and lugging-in furniture, only to find out that somebody has to lug it back home.
Reference Material and Image Credits Section
Reference Materials and Images were provided by DesignYourDorm.com through the courtesy of Mr.Taylor Robinson, co-founder of DYD.