College Student Part Time Jobs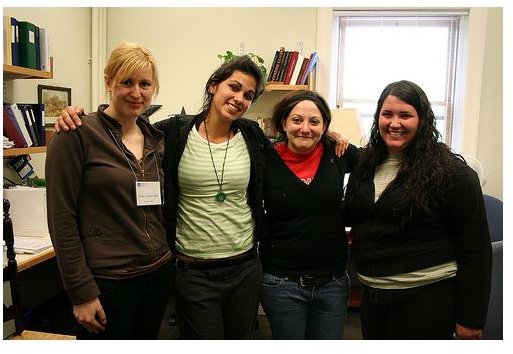 Importance of Part Time Jobs for College Students
With the rising cost of tuition, supplies and living expenses, making money while in college can be a priority for many students. Beyond paying for schooling itself, it is important for people to have spending money for activities and entertainment so that one can stay sane when the pressures of education become heavy. College student part time jobs offer one both a way to stay ahead of the bills that add up during the school year as well as help maintain a healthy social life.
Above right: Student Workers. (Supplied by the Alumnae Association of Mount Holyoke College at Flickr, Creative Commons Attribution 2.0; https://www.flickr.com/photos/aamhc/2572626161/)
Top Part Time Jobs While in College
There are a number of different options for college student part time jobs, many of which offer great options for earning extra cash while still providing flexible schedules. According to Next Path, an educational news resource, these range in hourly pay from just above minimum wage to three times as much. Plus, some offer extra downtime with which students can catch up on school work. Examples of the top part time jobs for college students include computer lab assistants, technology support specialists, administrative assistants, aerobic instructors, print center attendants, library assistants, bank tellers, hotel desk clerks and babysitters
Student Worker Programs
One of the best options for a part time job while someone is in college is a student worker program. Most colleges and universities offer opportunities for students to make money while working for a specific department or program on campus. Besides the financial benefit this provides to the student, it also has the extra bonus of allowing certain individuals the chance to learn additional facets of their chosen career path. Funding for student worker programs comes either from the federal government or the school itself, meaning students who get these opportunities generally have guaranteed employment through school.
Where to Get a Part Time Job
Obvious resources for part time jobs while in college include online job sites such as CareerBuilder, Monster or even Craigslist. However, other options include temporary employment agencies or simply word-of-mouth. Many universities and colleges also offer placement services or have bulletin boards available for students interested in finding employment. This can include options to work both on or off campus.
Considerations About Part Time Jobs During College
One of the most important things to remember when seeking a part time job while in college is the delicate balance students need to maintain between work and school. College student part time jobs can often require a strong commitment from the individual, especially when the job is not geared towards students such as businesses on campus. While in school, maintaining good grades and getting the most out of an expensive education is the most important thing to remember. Despite the financial savings one may achieve by holding down a part time job, it is a fruitless endeavor when someone fails a class, loosing both time and money.
Resources
"8 Top Paying Jobs for College Students" Next Path: https://www.nextstudent.com/nextpath/nextpath-online/blogs/students/archive/2008/08/20/8-top-paying-part-time-jobs-for-college-students.aspx
"Learning and Earning: Working in College" Brockport: https://www.brockport.edu/career01/upromise.htm