What Do Freshmen College Students Need to Prepare for Dorm Living?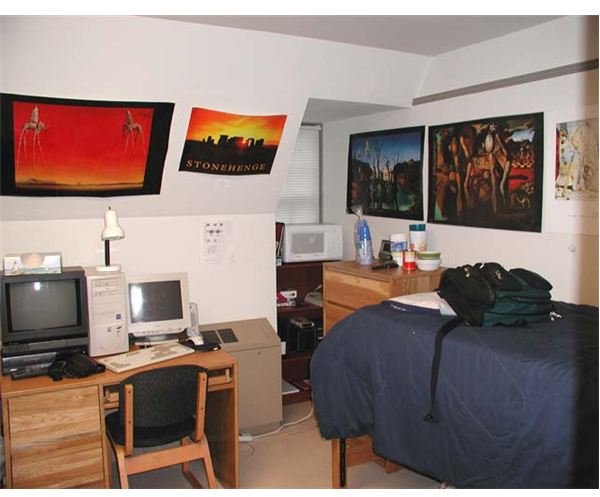 Preparing for Your Roommate
Perhaps the most important thing to consider when preparing for dorm living is to plan for the college roommate you will have. Sometimes you will know the roommate, perhaps they are an old friend; other times you will meet for the first time just before school begins. Either way, you cannot guarantee you will always see eye-to-eye on everything. Understanding that sometimes conflicts will arise is key to making sure things go smoothly between the two of you. Many colleges also offer freshmen the ability to make contact with the roommate before they move into the dorms. This gives you the chance to make additional preparations and get a feel for your roommate's personality before you meet them.
Above right: Typical American Dorm. (Supplied by Raul654 at Wikimedia Commons; GNU Free Documentation License; https://upload.wikimedia.org/wikipedia/commons/8/84/Sharp_Hall_Dorm_Room.jpg)
Homesickness
What do freshmen college students need to prepare for dorm living far from home? For many students, this is the first time they will be experiencing extended periods of time away from family and friends. One of the most important aspects of preparing for dorm living for college freshmen is to plan ways to communicate with loved ones. Having the ability to send messages and receive phone calls while in college is a very important way to stay in touch with the people that care about you. Also, setting a routine for these activities can offer some semblance of security to many freshmen. In this day and age, it is much easier to feel the closeness of home by using social media websites like Facebook.
A Change in Routine
Starting with the first day of college, students can find the routine changes to their schedule a challenge. You will be at the mercy of your roommate's schedule, the course load, and any extracurricular activities in which you may take part. While living in the dorm, it's important to take personal responsibility for time management.
You will have a number of things to accomplish each week. One of the best ways to keep on task while living in the dorm is to use a student planner, usually supplied by the school. This will allow you to schedule out events and study times as well as offer brief reminders of when projects and assignments are due. It can also be used to balance your social life. Along with this, many roommates use a communication method such as a bulletin board to relay information to each other.
Eating While in the Dorm
It's important to have a plan regarding how you will eat. Obviously food is one of the most important aspects of life and, as such, eating nutritiously is strongly recommended by medical professionals. While most campuses have diners and local hangout places that are socially fashionable and offer food, these facilities can get redundant and costly after a few weeks. However, dorms seldom offer students the ability to properly cook food that will provide nutritional sustenance. It's true that many dorms offer kitchens that are accessible to students, but this is not always the case. In addition, certain dorms have rules about what can be used in each room to cook food. It's important to check out the rules for your particular dorm before showing up with a full kitchen set.
When asking yourself "What do college students need to prepare for dorm living?, you should take into account a great many things. How will you study? How will you get along with your roommate? How will you simply survive in this new atmosphere? College can be challenging, making a concrete plan will help keep you sane and prepared for a rewarding experience.
Resources
"College Dorm Life" College View: https://www.collegeview.com/college_dorm_life.html
"What to Bring to College" The Dormitory: https://www.thedormitoryonline.com/