Ways to Decorate a College Dorm Room: Make It Your Own Space for Convenience and Comfort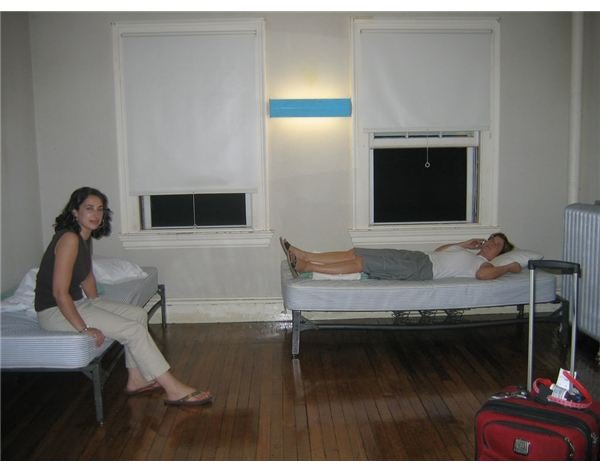 Most dorm rooms are a small space and a challenge to decorate, not only for one but for a roommate as well, yet it can be done. Spend some time planning your space you want to hang out in and study in; it's your go-to room to relax after a hard day of classes. Students usually have had the opportunity to see a model dorm room at orientation or at least are given a floor plan on paper. And, if you have been assigned your roommate before the day of occupancy, better yet! Here are some tips on ways to decorate college dorm rooms and the necessary items you will need.
Talk to Your Roommate
Most colleges provide the essential furniture you will need—a bed, desk, and chair—whiche, although sometimes primitive, are
functional. It's important to talk with your roommate so duplicate items do not show up on moving day. Try to decide on who brings what and to share necessary items versus having too much stuff and no place to sit or stand.
This is also a time to discuss colors and decor if you plan on creating a matching space. If not, do your own thing and dress up the walls and bedding to your liking and interests.
Make Your Bed Comfortable
The bed (a.k.a. the couch) needs to be the most comfortable place you have. It may be the only place to sit as well as sleep in your dorm room. Most college dorm beds are twin extra-long, so take that into account when you buy sheets for your bed. The mattress is usually thin and plastic; it wouldn't hurt to invest in a foam egg-crate topping or a feather bed for more padding and comfort.
Lighting
Lights and lamps are important as you will be spending a good amount of time reading. A desk lamp is a must as well as a table lamp next to your bed. Some dorms have overhead lighting that saves the student from buying numerous lamps to light the room. If not, try a halogen lamp which provides ample lighting as most dorm rooms are poorly lit.
Telephone and Answering Machine
Today, most students carry cell phones and this may be all that's necessary. If you choose to have a landline phone, decide with your roommate who is bringing the phone and who will supply the answering machine.
Appliances
The convenience of having a microwave in your dorm room is wonderful. Think of the uses: heating Ramen noodles, popcorn, and a whole lineup of snacks and freezer meals at your fingertips. Do check with the dorm administrators if such an appliances can be used in your room. Most dorms allow non-exposed heating elements such as crock-pots and coffee pots. One of the newest fads amongst coffee pots is the pod-type individual coffee machine. They are quick, easy to clean, and no wasted coffee to dump at the end of the day.
And, if you plan on the microwave, the accompanying appliance would be a mini-refrigerator to hold that precious food. There are mini-refrigerators that fit nicely in a dorm room (tabletop cubes or stand-alone rectangular) and are reasonably priced. Again, you must check with the dorm administrators.
The Almighty TV
Nothing is nicer than to have your own television in your dorm room versus watching the tube in a student lounge with oodles of college students. Think about the television size your room can handle before you bring it on moving day. Along side, you might want to bring the DVD/DVR to watch videos or to even record shows you will miss because of classes and events.
Storage
Other than a small closet, there is not much to say as far as storage is concerned. This is the time to visit a 'container' store to purchase under the bed storage or cubes that can also serve as a small end table or placed under the desk. Be creative with storage containers and crates; they can be lifesavers to store books, clothing, and other necessary items.
Bring in Some Green
It's always nice and healthy, too, to have a green plant living in your room. There are several varieties that are easy to keep indoors and did you think of having cacti and other desert plants. They don't need much care, and, if you decide to take a long weekend or spring break, you plants will still be alive when you get back to the dorm.
These necessary items are the basics; however, you and your roommate are the designers of your space. This article gives you a few ways to decorate college dorm rooms, and, if you research books, magazines or even watch HGTV, there are more options to make your living away from home comfortable and with style.
Sources: