Tips for Schedule Planning: Undergraduate & College Schedule Templates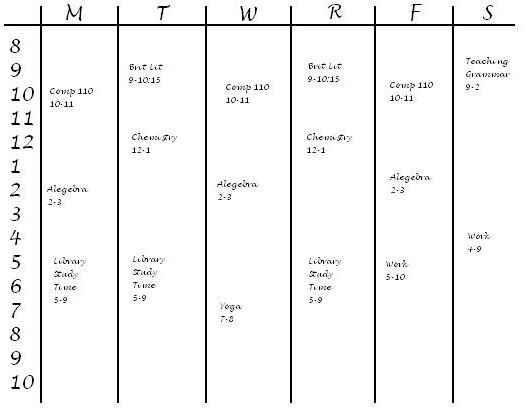 Schedule Planning
Good time management and effective schedule planning are essential skills that college students must learn and master. Without these skills, young adults will have a difficult time balancing work, study time, and other obligations with the average of 120 credit hours needed for most bachelor's degrees. This article offers schedule planning tips for college including how many courses to take in a semester and how to plan a schedule for studying or work as well as includes college schedule templates to help you plan your schedule.
Course Load and Classes
Students who want to complete the majority of bachelor's degrees in four years or less will need to take a minimum of fifteen credit hours (usually five classes) per semester. When choosing classes for the semester, first focus on any requirements yet to be completed. If you put off your required courses until the end of your college education, you may not graduate on time because all the classes you need might not be offered during your final semesters. Then, after working on fitting as many requirements into your schedule as possible, turn your attention to electives that fulfill your degree requirement. If you plan on taking any additional courses for fun, leave these until you are sure you can take the classes necessary to complete your degree.
When choosing classes for the semester, make sure you take the times and locations of classes into consideration when planning your schedule. For example, if back to back classes are held in the same building, taking both courses should be no problem. However, if you have only ten minutes to get from a class located in a building on the north edge of campus to a class located in a building on the south side of campus, you might end up being pressed for commute time. So, make sure you will be able to consistently get to your classes on time without rushing back and forth across campus.
Planning a Schedule
To plan your semester, simply follow the following directions for planning your college schedule:
Begin by creating a blank weekly time schedule. Such a schedule may be hand drawn (Image 1) or electronic such as this sample template that is available for download. Divide the schedule by the days of the week and into time slots. Use as small of time increment as necessary for your time management needs.
First insert any weekly commitments without flexible days or times such as work into the schedule.
Next insert all the possible days and times of classes you are interested in into the schedule. Do not worry if classes overlap. This step allows you to see all of your possible choices for class scheduling.
Then eliminate any classes that simply will not fit into your schedule. For example, if a class you must take is offered only at one time, eliminate all other classes that occur at the same time (Image 2).
Continue eliminating classes until you have one, if not two, schedules that would fit your needs.
Make sure you sign up for classes as soon as possible during your designated registration time to ensure you get the schedule you want.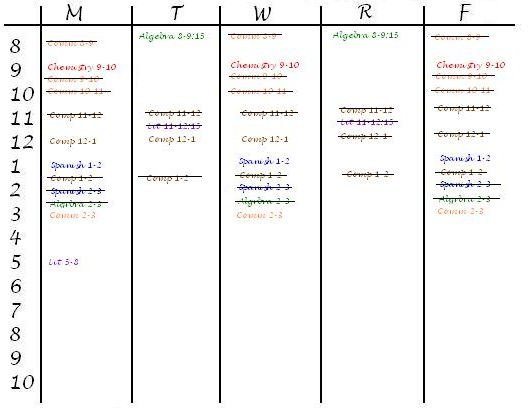 Effectively planning your college schedule is essential if you wish to earn your bachelor's degree in the usual four years. Great schedule planning skills for college will also help young adults with time management as they graduate and enter the workforce.
Sources