College Application Wizard Review: An Online Tool that Organizes & Streamlines the Application Process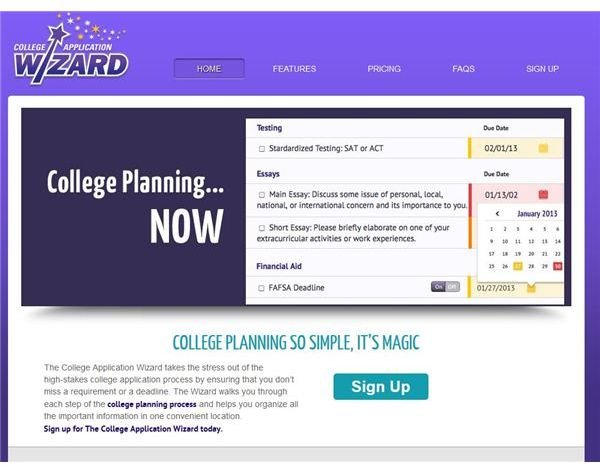 As you likely already learned as part of the college decision-making process, there are numerous websites available to help you find a college based on your specific wants and needs.
Once you've narrowed down your list and get ready to apply however, those same sites simply point you to the college website and tell you to 'stay organized'. If it's that easy, then why are there 91,000 books in Amazon on how to stay organized? Needless to say, this is not particularly useful information when juggling deadlines for college entrance, financial aid applications and more.
This is where a newly launched online tool, College Application Wizard (https://collegeappwizard.com/) is stepping in to fill the void. The tool's goal is to help high school students manage the application process independently, minimizing the need for parental involvement… or nagging.
But does it work? Before we rate the tool, let's look at the process of applying to multiple colleges.
The College Application Process
Let's imagine you have settled on six colleges that you would like to send applications to. You grab your trusty notepad and get ready to make a list of what you need to do for each college you are applying to.
Complete applications by specified deadlines, which may vary depending on whether a school offers Early Decision, Early Action, Regular Decision or Rolling Decision.

Determine standardized testing requirements, including whether or not a college offers a test optional policy. They must then release those test scores from the appropriate testing agency(s).

Determine whether letters of recommendation are required, and if so, how many, and then request those letters from appropriate teachers/mentors.

Determine if, and how many, essays need to be written. Many colleges will require one main essay and several short answers. Try to spot opportunities for overlap, where an essay or a short answer you are using for one college can be used for others as well.

Determine and submit the application fee or fee waiver. You may also have individual or customized items you need to submit to a college such as an essay for an honors program, a music audition DVD or an art portfolio.

Apply for financial aid opportunities. Review the exact requirements for each school.
The more colleges you apply to, the more this application process can seem time-consuming at best, and overwhelming for most. Founders of the College Application Wizard, Lynell Engelmyer and Kelly Herrington, saw a persistent and troubling gap in the tools available to help navigate this jungle of application requirements and deadlines. Especially as failure to complete all of the requisite steps in a timely fashion can detrimentally affect your chances of admission or optimal financial aid. No pressure there!
High school counselors typically do not have the time and resources to help, and if you want to keep parents out of the process, you are pretty much on your own. This is where the Wizard's founders are hoping their application tool can step in and provide a stress-free way to stay organized and timely throughout the entire process. Let's take a look.
Features of the College Application Wizard
Create an account and enter a college to which you want to apply. After answering a few short questions specific to that school, the Wizard creates a sortable to-do list, complete with deadlines. You can always add custom tasks to the to-do list. While due dates will pre-populate the to-do list based on the school's requirements, you may also set custom dates. If, for example, an application deadline is January 1, but you want to get the work done by December 15th, you can change the date.
The system will send you reminder emails and/or text messages about upcoming tasks and deadlines. You may also choose to share read-only access to their account with up to two other people.
To-do lists can be sorted by school, by due date or by task. So if you know you are going to spend this weekend writing essays, you can sort the list according to this variable so you can see exactly what needs to be done.
It also comes with a login locker that stores the myriad of user-names and logins required for the application process. Each college often requires a unique login to their website. Additionally, sites like the Common Application, Free Application for Federal Student Aid, CSS Profile and more require unique logins. Remembering these unique ids is a pain to say the least. It's nice to have a common area to store all of these.
My Experience Testing the Tool

Sign-up was easy: name, email address and password. No credit card required, which is nice. The tool also asked if I wanted my reminders sent to email or text message. The email to confirm my address and authorize my account arrived quickly, and I was ready to log-in.
Upon log-in, you are ready to add colleges you are interested in applying to.
This tool includes a custom database of the requirements and deadlines at all four-year colleges in the U.S. with student bodies over 1500.
I selected University at Buffalo for my test drive. Using the Wizard to apply to one college is free. Upgrading your account to $9.95 per year allows you to send applications to 15 colleges. If this tool does what it says it can, that's an inexpensive price for saving your sanity.
Once into the Wizard, it walks me through the Application screen: Early Decision? Regular? Paper? Online? The SUNY application? Common Application?
I selected my choices. On two of the choices, a screen popped up with two buttons: Set Custom Date and Completed. I'm not sure why I would want to set a custom date yet, so I decided to skip it for now.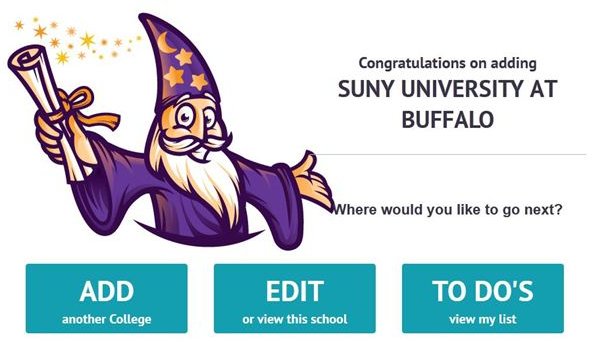 The next option is to add an application to-do, along with a due date. Examples given are audition, honors application, athletic film, etc. This is obviously an area where you can add anything that is specific to you that you may have already researched, that you must include with your specific application. I also skipped this for now.
Next screen brings up Standardized Testing Options and due dates, and another screen where I can add a customized to-do.
The Essay screen is next. This is where I add anything I need to do to prep for the essays as well as the types of essays that are due with the application.
Financial Aid is next, along with due dates and to-dos.
That's it, I'm done and I would be on to my next college to add. There are also options to edit or review my college(s), or to look at my to-dos.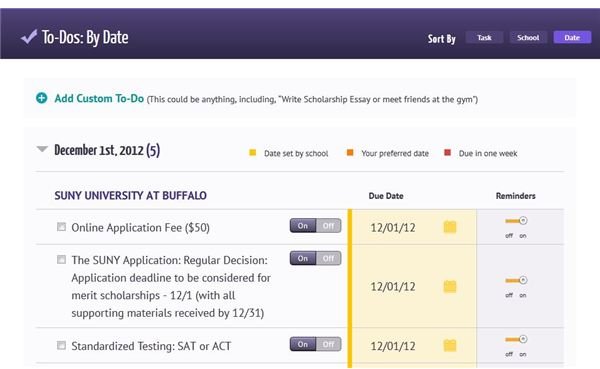 The to-do area is where you can really see how the Wizard will be helpful, and the more colleges you are applying to, the more helpful it will be.
You again have an option to add custom to-dos that are particular to your situation. So if you didn't add them during the Wizard, not to worry, you can add them here. You can turn items you don't need 'off' and can set reminders on or off. The default is on.
The tool also defaulted to 'School' View, but up on the right hand corner – a little too subtly to notice it at first – are sort options. If you are juggling multiple deadlines to multiple colleges, this is where the tool really adds value. Organizing by Task would allow you to quickly see overlap in applications and essays that are due at the same time. Grouping by dates will let you spot a particularly intense month, when there are many items due together.
Should you Buy It?
A recent survey of 2000 college-bound juniors and seniors indicated that more than half of these students expressed frustration over the challenge of finding all of the application information on a college's website1. If you've started your college search, you know this can be an exasperating part of the process. A tool like College Application Wizard provides this information to you, hassle free. And as application requirements differ by college, it's especially helpful to have a tool like this if you're applying to more than one school, which most do.
The only criticisms I have of the product are very minor. The Sort by feature is a strong part of the tool, yet it did not pop out to me right away, tucked quietly up to the right. The Set Custom Date popping up on the first screen felt a little awkward. While I know what it means to do that, I wasn't quite sure if I needed to do that yet, so it seemed a bit of an odd spot for it.
Overall, this is a simple-to-use program that gives you peace of mind and assurance. That is something I for one, and I think many others, would be willing to pay $9.95 for.
References
1 The Online Expectations of College-Bound Juniors and Seniors by Noel-Levitz, OmniUpdate, CollegeWeek Live and NRCCUA, 2012.
College Application Wizard - http://collegeappwizard.com/