College Money For Young Cancer Survivors For 2014 and 2015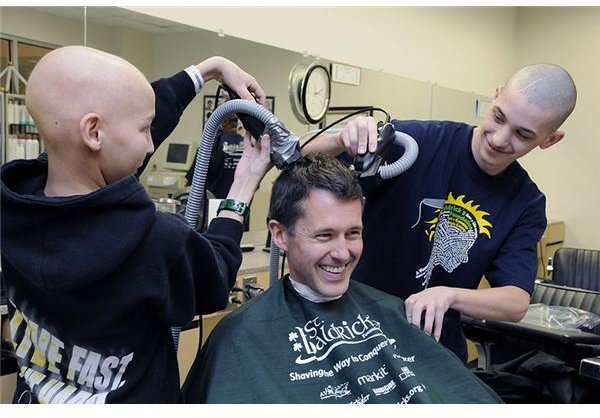 Statistical Data About Childhood Cancer
Based on studies conducted by the National Cancer Institute, one to two out of 10,000 children in the U.S. develop some form of cancer disease each year. Of them, 1,545 are expected to succumb to the disease. The institute's most recent statistical report (2007) has placed cancer as the leading fatal disease among U.S. children between the ages of one to fourteen.
Accordingly, survival rates have improved due to advances in treatment, although the cures or surgical procedures result in long-term remissions only. A state of remission denotes that there is a decrease or disappearance of the cancer symptoms but still with the possibility that the disease may still be in the body of the sufferer.
Many of the founders and supporters of charitable organizations, dedicated to providing support to cancer-afflicted children, are childhood cancer survivors themselves or with loved ones who have been afflicted by the disease. They have first-hand knowledge of what the families go through, including the harsh financial impact wrought upon their resources just to keep up the fight against the present and future effects of cancer.
Stand-up comedian and cancer survivor, Sean Kent, had quipped during a fundraising event that "…people dealing with cancer don't have long-term plans. Their idea of long-term plans is ordering lunch. The cancer survivor looks to make every day perfect in its own special way. Those are the perfect people to send to school because they really know how to live." (Source: Cancer for College: Our Story)
College money for cancer survivors is being provided by numerous organizations through scholarships, so that these young adults will have the will to make each day perfect. Interested applicants will find the related links in the Reference section below.
Ulman Fund for Young Adults
Scholarship offers are for young adults who want to continue with their education after being afflicted by cancer or after his or her family member has been afflicted by a cancerous disease. Scholarship awards amount to $2,500 covering two semesters and are open to applicants who must have been 15 years of age or older during active treatment or when a parent or sibling underwent active treatment.
However, the chosen applicants are obligated to perform 40 hours of community service. Only one application is needed for evaluating a student's qualification to any of the following available scholarships:
Howard County Resident Scholarship
University Specific Scholarships
Scholarship for a Resident of Maryland, DC or Virginia
National Scholarship for Young Adults in Active Cancer Treatment
National Scholarship for a Young Adult Affected by Cancer Through the Diagnosis of a Parent or Guardian
Printable application templates are in MS Word Document format which can be retrieved from the Ulman Fund website for Ulman Fund for Young Adults. Applications are now being taken for 2015.
Patient Advocate Foundation (PAF) Scholarships for Survivors
PAF's scholarships are open to cancer-afflicted applicants who are 25 years old and below and undergoing or have been actively treated for a life-threatening disease, within the past five years. The scholarship amount is for $3,000 that is directly payable to the college or university in equal amounts per semester, for purposes of defraying cost of tuition, books and other fees.
PAF's Eligibility Requirements:
The applicant must be pursuing an associate's degree as a bridge to a bachelor's degree or higher.
He or she must maintain an overall 3.0 GPA.
Must be willing to devote full-time as a student.
Must be willing to sign an agreement that the student will complete 20 hours of community service for every year that the scholarship money is dispensed. A written confirmation from a supervisor must attest to the fact that the service has been completed.
A written essay (1,000 words maximum), on how the applicant's diagnosis has affected his or her life and future goals, must be submitted along with the application.
Submission of acceptance letter coming from the college or university where the applicant intends to attend.
A written documentation of the applicant's medical history issued by the treatment physician.
Submission of two letters of recommendation coming from any two of the following: teachers, coaches, community leaders or any similar non-related persons.
Submission of the official high school or current college transcript of records bearing the school's original seal.
Must submit a document to demonstrate the applicant's financial need plus a copy for each of the first two pages of a tax return.
Applications can be downloaded from the PAF website. Scholarship information for 2015 will be available in October 2013.
National Collegiate Cancer Foundation (NCCF)
The NCCF Scholarship Program is a need-based financial support open to young adults between the ages of 18 to 35, diagnosed with cancer but with a "will win" attitude. The scholarships are a competitive award for $1,000 granted annually, although previous awardees are encouraged to apply each year by submitting new applications. A quality essay about the applicant's overall story of his or her cancer survivorship experience is one of the criteria for evaluation. Other requirements include:
Being a young adult cancer survivor or currently under treatment for cancer.
Being a U.S. citizen or a permanent resident thereof;
Having a demonstrated financial need;
Having plans of attending or is currently attending an accredited university, college, or vocational institution;
Having a "will win" attitude and commitment to education;
Having quality recommendations.
The application for the season is already closed; applicants are encouraged to apply for the 2014-2015 year in March 2014.
The Cancer For College Scholarship
Cancer For College is a 501(c)3 charitable foundation that provides hope for cancer survivors and amputees through college scholarships. However, due to the increasing number of applicants, eligible residents of California are being given first priority over the four-year college scholarships while those attending Southern California community colleges will be considered for minimum scholarship level. All other eligible applicants will be entitled to one-time awards ranging from $500 to $4,000.
Cancer for College's eligibility requirements include:
Being a U.S. resident enrolled in an accredited university or community college.
Being a cancer patient, cancer survivor or an amputee.
Willingness of the chosen applicant to attend Cancer for College's regional events related to the scholarship awards, or to be available for selected interview and media coverage, as well as permit the organization to use the scholar's photographs and personal statements as promotional materials.
The submission deadline for 2013-2014 has passed. Those interested in 2014-2015 may download the two-part application form and find more information about the required attachments from the organization's scholarship application process webpage between October 1, 2013 through January 31, 2014.
Stephen T. Marchello Foundation Scholarship
The Stephen T. Marchello Foundation Scholarship is open to recent high school graduates residing in Colorado or Montana who have survived childhood cancer. The minimum requirements by which determination of awards will be made, include the following:
Copy of transcript of records and applicant's high school GPA.
SAT or ACT test scores.
Treatment information provided by the doctor, hospital, or clinic.
Information coming from two non-related persons in the form of a reference letter.
Proof of acceptance by the higher education institution where the applicant intends to attend.
Initial screening based on application and personal interview after a final decision has been made.
Applicants awarded with a renewable scholarship are required to inform the foundation about their progress in school, as this will serve as basis for the continuance of the scholarship money for the succeeding semesters.
Applications are available at the Stephen T. Marchello Scholarship Foundation located at 1170 Long Place, Centennial CO 80122. Deadline for submission of applications is on every March 15 of the year at 5:00 P.M. If the said date falls on a Sunday, the deadline will be on March 16.
The American Cancer Society Young Cancer Scholarship Program
The American Cancer Society provides scholarship programs by awarding stipends to college-bound cancer survivors for tuition fees, books and supplies. This will be paid directly to the educational institution located in the applicant's state location, for up to $7,500 annually. Information and inquiries about the need-based Young Cancer Scholarship Program may be directed to the American Cancer Society Offices in the following U.S. states. Scholarship amounts and eligibility requirements vary from state to state:
There are many other private scholarship funds that provide college money for young cancer survivors, administered by the local state office or by state universities or community colleges. These are usually bestowed by the families of a cancer victim or of a cancer survivor of a particular state, or of a former student of an educational institution.
References