Discover what is a Major in Science Education Degree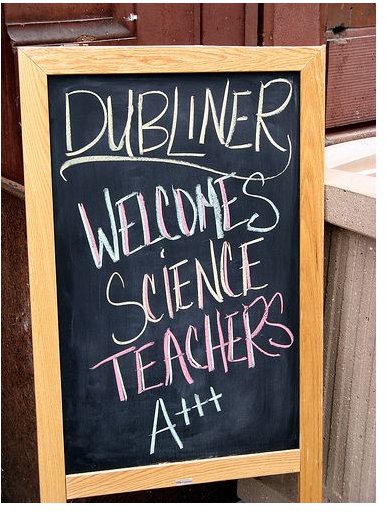 Students who are looking to enter college, have a penchant for physical, life, earth or space sciences and see themselves as potential leaders or teachers should seriously consider a major in science education. This particular facet of the educational system is still severely lacking with a 14 to 19 percent growth rate projected from now until 2018. The median salary for science teachers varies by education with those holding a bachelor's degree earning an average of $54,390 annually. Of course, this is nationally based and averages may be upwardly skewed by higher paying areas like California and Hawaii.
Major in Science Education
What is a major in science education? It is a liberal arts degree that will prepare a graduate to teach elementary or secondary classes in the physical, life, earth or space sciences. Some other areas that this degree may merge into are secondary level physics, mathematics or applied technology.
There are several different avenues to take to receive a degree in science education but all of them will require some basic courses. Modes and models of education, planning, assessment, and speech classes will almost certainly be among these. Each school will have individualized curriculum but the goals are always the same, to teach students how to learn through analyzing their own thought processes and exploring their world within the framework of the scientific method.
Several major teaching colleges offer bachelor degree programs. At Eastern Michigan University they offer the Secondary Integrated Sciences Comprehensive Group Major- Secondary Teacher Certification that prepares a student to teach life, physical and earth/space science. Michigan State University and Stanford also offer both undergraduate and graduate degree programs that focus on particular facets of science education.
Degree Programs and Costs
The educational costs associated with earning a bachelor's degree go beyond just tuition and fees. There is also a need for books, which, because of the technical nature of science, will run about twice as much as those of most other degrees. The average cost of a four-year degree in education runs between $52,000 and $68,000 (as of 2011). Depending on your choice of University, the cost could be significantly higher or lower.
There are ways to reduce this cost such as enrolling in a Community College/University split degree where the first two years of study are done at a local community college and the last two are completed at the major university. This can cut almost 25 percent of the total tuition and fee costs. In addition, any science education teacher that spends five years teaching in a title one school can earn up to $17,500 a year in student loan forgiveness.
What Careers are Available after Graduation
With a science education degree, it is possible to get a job as a teacher in elementary or secondary education. The best thing about this particular field is that there is growth in 49 of the 50 states. Teachers enjoy a host of benefits including summer and winter vacations, comprehensive health benefits, union protection and retirement plans.
There is also the possibility of working in the private sector as a consultant for energy, construction, aeronautic or other science based companies. Top consultants make well over $100,000 a year while those fresh out of college can expect anywhere from $36,000 to $55,000 to start. Many of these consulting jobs involve training individuals or small groups in the latest techniques in their field and implementing computer software to keep companies competitive in the marketplace. Training as an educator can also help solidify the chances of an applicant looking for a job in human resources or any other area where training is involved land a job.
College Checklist
When you begin looking for a degree program there are several questions to ask. These questions will help you compare the advantages and disadvantages of particular programs. If you don't ask these questions, you run the risk of entering into a contract at a school that isn't equipped to handle your particular needs or help you achieve your career goals.
The first thing you will want to know is whether the school you have chosen is fully accredited by the NCATE (National Council for Accreditation of Teacher Education) and the state board of education. If the school isn't accredited you will not be able to get a job in a public school even with a bachelor's degree. Another important question to ask is if the University offers employment assistance programs. Will the school help you find a job once you graduate?
Some other important information that you could get in your initial investigation that will help in your decision making is whether you will be getting a general education degree or if it will be in a specific branch of science (earth science, physics, etc.), if you will be able to teach out of state with the degree, what grade level certifications are offered and what is the minimum GPA that you have to achieve to gain accreditation.
It is important to know what a major in science education is and what can be done with it so that you can make the correct decision regarding your future education and employment. With the projected upward trend in teacher need, this is a good bet for future employment stability.
References
Black Hills State University; "Major in Math and Science Education" https://www.bhsu.edu/Academics/TheColleges/CollegeofEducation/DepartmentsandPrograms/MathScienceEducation/tabid/5128/Default.aspx
College Board; "Major: Science Teacher Education", https://www.collegeboard.com/csearch/majors_careers/profiles/majors/13.1316.html
Dakota State University;"Bachelor of Science in Mathematics Education with Computer Education Minor ", https://www.dsu.edu/majors-programs/math-education.aspx
"Secondary Integrated Science Comprehensive Group Major-Secondary Teacher Certification." Eastern Michigan University. Web. 13 July 2011. https://catalog.emich.edu/preview_program.php?catoid=1&poid=325&returnto=16
"Teacher." U.S. Bureau of Labor Statistics. Web. 13 July 2011. https://www.bls.gov/k12/help01.htm#pay
"Teachers Kindergarten, Elementary, Middle, and Secondary." U.S. Bureau of Labor Statistics. Web. 13 July 2011. https://www.bls.gov/oco/ocos318.htm.
Image courtesy of debaird @ FlickR, https://www.flickr.com/photos/debaird/452659109/sizes/m/in/photostream/
Resources
"MSU RO: Academic Programs: Physical Science - Interdepartmental." MSU RO: Office of the Registrar - Michigan State University. Web. 13 July 2011. https://www.reg.msu.edu/AcademicPrograms/ProgramDetail.asp?Program=3802
"Undergraduate Honors in Education | Stanford University School of Education." Home | Stanford University School of Education. Web. 13 July 2011. https://ed.stanford.edu/academics/undergraduate/honors