Do You Need College Graduates Book Gift Ideas? Here's an Awesome List of Our Favorites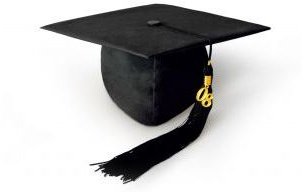 Even if your special graduate isn't a big reader, there are books he or she might appreciate as a gift. Art majors, for example, might enjoy a nice coffee table book featuring his or her favorite artist's works. Just about everyone can appreciate a gift of a book that has humor in it - especially when a pickup is needed after a hard day of work or job searching. No matter what the situation is, and what your graduate's interests are, there's a book that will be a great - and perhaps even useful - addition to his or her library.
The Fun
Fun books can create a smile on anyone's face. While these books might not serve a practical purpose in your graduate's life, they nonetheless are an enjoyable part of it! They're also an outstanding gift idea for the hard-to-buy for individual. Consider giving one of these books - and a gift card for the graduate's favorite book store - as a lovely option.
Dr. Seuss's Oh the Places You'll Go! is the classic in this genre. This children's book is colorful and entertaining. However, it is also a very common gift when it comes to graduations. Chances are, if the recipient hasn't already received the book for his or her high school graduation, he or she may receive it from someone else. Not to worry! There are other choices in this genre.
There's another selection from the children's section that you might find to be an outstanding option when considering a gift - and it is sure to cause much laughter at the graduation party. Can I get a verb please? Can I now get a plural noun? Okay, one more word - I need an adverb. Outstanding! Let me read that back to you: She stampeded down the library pizzas when she was daily for her final. Do you recognize this game? It's Graduation Mad Libs, and it's a hoot!
For the male college graduate, Dan Gura and David deMontmollin have written a book that would make Van Wilder proud. The book features lessons such as "Staying in School Longer May be a Viable Option" and "Boost Your GPA the Easy Way." While it's meant to be funny, the book also has some decent tips for the graduate who hasn't quite lived up to expectations academically. The book, titled Life Before Noon: The Guy's Little Black Book for Success After College, can be a great way to give a practical gift with tips wrapped up in humor.
The Practical
Speaking of the practical, perhaps you will want to consider books that will help your student become successful after college. While books like What Color is Your Parachute are quite popular amongst this demographic, you might want to consider books that are practical in other ways - especially if your recipient is lucky enough to have already procured a post-graduation job.
How to Survive in the Real World by Hundreds of Heads is a book that has many tips by - you guessed it - lots of different people. This is a great book for the student who has no clue as to what might happen after college. Chapter titles include "Oh the Places You'll Go! On Traveling and Settling" and "Back to School: Opting for Graduate Work." This book is helpful for two reasons. First, your student can see that he or she is not alone in feeling lost in the "real world." Second the tips in the book are invaluable for someone starting out on his or her own.
Another fun book that talks about having a successful post-college life is Michael Rosenbaum's Your Name Here Guide to Life: The Book You'd Have Written, if Only You'd Had the Time. Readers will find that this book has tips like "Love failure" and "Know yourself." While there are great tips, there are also many interactive suggestions that come with those tips. The idea behind Rosenbaum's book is that the reader will also become the co-author (and perhaps even write his or her own name on the cover).
In the last section, I included a book for the guys. Here's a book for the woman on your list: Nina Willdorf's City Chic: The Modern Girl's Guide to Living Large on Less. This book moves away from talking about career and into talking about ways that someone can have a fabulous life, while avoiding going deep into credit card debt. There are tips on decorating a home, keeping in shape for less, eating and drinking on the cheap, and yes, saving money on clothing. I still refer to this book when I need new ideas on how to cut back. My favorite tip? Furnish your apartment for free! Let your graduate find out how.
The Aesthetically Pleasing
Coffee table books can make an excellent gift for your favorite college graduate. You'll want to choose a book that meets the graduate's interests, but also that symbolizes the milestone. Books with inspirational or motivational themes are excellent choices - especially if the photographs are of people doing great things. These books are especially good for those who aren't much into reading, but whom enjoy books.
National Geographic never disappoints with their photography. Live, Laugh, Celebrate is an outstanding gift idea for your recent graduate. This book has images from around the world depicting people celebrating their triumphs. The photographs are accompanied by short essays explaining what's significant about that work in terms of the theme of the book. Some of the images include bicycle race celebrations, birthday parties, and fireworks.
Another great coffee book idea is to give the graduate a photo book that depicts images from the school or college town he or she went to. While you could find something like Notre Dame's football team books, don't be afraid to venture outside of that box. For example, my alma mater was California State University, Chico. There's a great book called The Murals of John Pugh by Kevin Bruce that depicts the beautiful paintings you find around this college town.
The Adventurous
Many times, students travel the summer after graduation to celebrate the accomplishment - and with good reason! Travel is an excellent way for someone to broaden his or her horizons. While some graduates will have been planning their journey for a while, others will have not started to plan their journey until after graduation. If you find out where he or she is going, you might gift a travel guide, or a travel essay book. For those students who enjoy travel, these are some great potential gift giving opportunities!
Travel essay classics like Peter Mayle's, A Year in Provence and Under the Tuscan Sun by, Frances Mayes are great gifts for the graduate who is a travel fan. In fact, you could almost pair these with a basket of wine and cheese. This is an especially great idea since both books will make the reader hungry while reading them (at least I got hungry reading about all the different food options!) All joking aside each is the first book in a series and each will fill your traveler with yearning to see European soil.
For the student with a restless spirit, the book Bon Voyage: A Gift Book of Travel and Adventure Quotations by Helen Exley is a very nice option. This book has pithy quotes from authors such as Walt Whitman, Yogi Berra, and Ed Buryn. It can stand alone just fine on its own, or it can be given with another gift such as a passport case or a personalized luggage tag.
The Traveler's Tales series is another idea you can take advantage of. One of the books in the series, The Spiritual Gifts of Travel: The Best of Travelers' Tales has many short essays the travel aficionado will appreciate. Essays include "We Shall Live Again," "The Road Within" and "Restless Ghost" among others.
Personalizing Your Gift
Sometimes people like to write in the books they give to graduates as gifts. You can certainly do this as a nice touch. But keep in mind the following: If the student already owns the book or receives duplicates, she cannot exchange it or return it for another book. If this might be a concern, but you still want to personalize the gift, you might consider a bookplate. These inexpensive stickers can be placed inside the book once the graduate decides to keep it. Simply sign the bookplate, leave it on the backing, and place it either in the book or the card.
References
The books mentioned in this article:
Life Before Noon: The Guy's Little Black Book for Success After College
How to Survive in the Real World
The Murals of John Pugh: Beyond Trompe L'OEIL
Gift Book of Travel and Adventure Quotations
The Spiritual Gifts of Travel: The Best of Travelers' Tales
Ronda Roberts worked as a lead bookseller for seven years at Barnes and Noble and helped many people to find the perfect gift for their favorite graduates.
Image courtesy of https://www.sxc.hu/photo/993663