5 College Scholarships for Valedictorians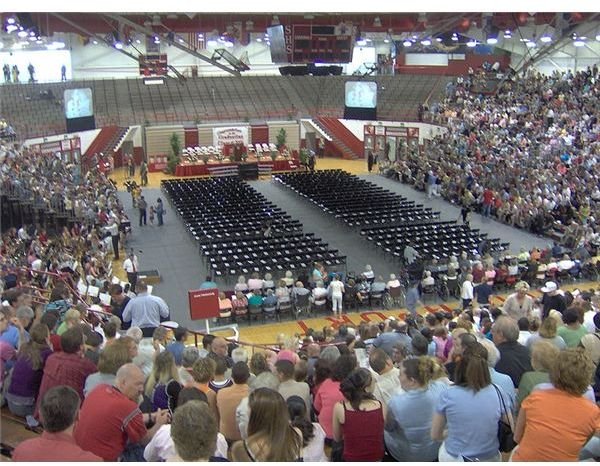 First Things First
Valedictorian or not, college applicants must put together an application package for the schools they are picking out. Scholarships are offered to these contenders but not guaranteed; even as some schools offer more than one grant per semester, they are still hotly contested by students hoping to decrease the out-of-pocket cost of a four-year college education.
An application package usually consists of a high school transcript, letters of recommendation and also a brief but concise introductory letter. The student uses the latter to let her personality shine and offer some insights into academic interests. It also underscores why she is a great fit for the college – not just academically but also with respect to long-term goals.
One-time Funds from Schools
Mississippi State University: Apply for this scholarship by February 1. Valedictorian students qualify for a one-time $1,000 award. Supporting paperwork from the high school principal or a guidance counselor must be on file with the admissions office by August 1. (It is noteworthy that the school also offers a PMBA program for working professionals.)

Western Illinois University: The school rewards valedictorians with a $500 non-renewable A.L. Knoblauch scholarship. It is open only to entering freshmen and the school must receive the application no later than February 15. Western Illinois University offers five awards each school year.

Jackson Community Foundation: The organization offers a variety of scholarships to top-rated graduates of Jackson County, Michigan high schools. For example, the $1,000 Eleanor A. Ernest Scholarship is available to the valedictorian of a high school with less than 148 students in the graduating class. For schools with more students, the $1,000 Robert P. Ernest Scholarship provides additional opportunities to top-honors students. Neither of these scholarships is renewable. Applications are accepted year-round.
Renewable Scholarships
University of South Carolina: The Valedictorian Scholars Award is a renewable $3,000 scholarship. Successful candidates may renew it three times, for a total financial award of $12,000. While at the University of South Carolina, the student must maintain a "B" average to do so. The high school guidance counselor must mark eligibility on the college application and return it to the school on or before November 15.

Long Island University, C.W. Post Campus: The C.W. Post Valedictorian/Salutatorian Scholars Award is open to eligible freshmen who are entering the school on a full-time basis. Standardized test scores must feature a 1300 in critical reading and math or a 1950 in critical reading, math and writing. In the alternative, the student must present with an ACT score of 29 or better. This award is high: $21,000 per year, with possible renewal up to four years. Apply by March 1 (for fall) or November 1 (if entering in the spring).
College scholarships for valedictorians are plentiful. High school students and their parents will do well to look into the renewable awards first, since they may pay the student's way through college. The downside is the fact that these high-dollar awards limit school choice. Non-renewable scholarships – for the student who may rely on a different grant or scholarship for future semesters – broaden college or university options while slightly decreasing the amount of money that the freshman or the parents have to pay.
Sources