How to Write a Letter of Intent for University Entrance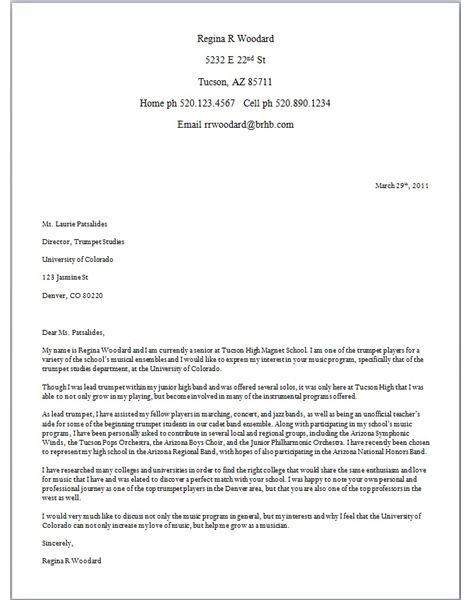 You've finally decided on a few choice colleges, and now you're getting your transcripts together in order to prove your academic worth. However, one of your choices wants a letter of intent. Some colleges and universities may ask their potential students to not only send in their transcripts for consideration but also an essay stating why you're going to make the best Wildcat, Hurricane, or Blue Devil ever.
How do you write a letter of intent?
What Is a Letter of Intent?
A letter of intent for university entrance is a sales pitch. Think of it as a school cover letter that you send along with your transcript to tell a university or college you are interested in their school, their particular program, or athletic sports department. Just as you write a cover letter for an employment opportunity to send with your resume, a letter of intent gives a potential school a little more information than they may glean by just looking at your transcripts.
While your transcripts might speak of your academic merits or show that you have taken all the necessary required classes and tests in order to get into college, they don't really say anything about you as a student. Transcripts don't mention that you are the star quarterback of the football team, you are the lead trumpet in several ensembles, or that you volunteer your time as a computer programmer. This is the purpose of the letter of intent.
What Should Be Included?
As mentioned, the letter of intent is a sales pitch; you're selling yourself to a school to make them believe that you will be an asset to the department for which you apply.
For instance, if you have an interest in the University of Texas' music department, you would want to highlight all of your musical achievements. If you are the lead player of the section, or you have been chosen for several solos, you should mention that, as well as any local, regional, or national performance contests that you've been involved in.
The same is true if you're interested in a particular athletic department. As an example, if you are the star forward of your high school's basketball team, and you want to try for the same position with the Arizona Wildcats, mention how you may have helped the team achieve regional or national tournament success.
Writing Tips
Even though you are discussing yourself, a letter of intent for university entrance should be written in a professional and business like manner. You should first introduce yourself, with your first and last name, the high school you attend, and why you are writing. Mention how you heard about the university or college and why the school or department is of particular interest to you.
As mentioned earlier, if your interest is in the physics department, mention why this particular physics department captured your interest. Are there opportunities to do a lot of the type of research that you enjoy? Is the program involved with cutting edge technology in physics that you find fascinating? Perhaps it is the only department that has the type of physics that you are involved in; whatever the reason is, make sure to include that information.
Politely request that they respond and always include your phone number or email address. Sign your name and proofread it carefully before sending it so that it is error free. Research to find the exact name of the person who needs to read your letter, which is usually the head or director of the department or program. This information should be available either through the department listings or by doing a name/subject search through the school's directory or online listing.
Writing a letter of intent does not need to be stressful. Just focus on why you want to go to a particular school, and why they held your interest in the first place. The key thing to remember when writing the letter is to be honest and to be yourself. If the school sees that your academic grades match what they are looking for and that your interest is sincere, they'll notify you of their interest.
References
Image contributed by the author.