Take a College Placement Practice Test for Free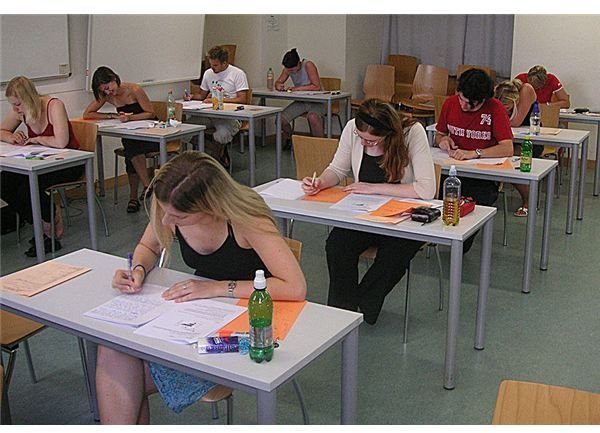 Why Take a Free College Placement Practice Test?
Doing well on a college placement test eases a student's way into the college of her choice. It minimizes the odds of having to take remedial classes – usually at an additional cost – to bring required knowledge up to par. Doing sufficiently well on these tests – and avoiding additional courses – also speeds up the overall time that the student stays in school; the sooner she graduates, the sooner she can compete in the marketplace for a job.
Even though getting into the school is not a determining factor in this testing, a free college placement practice test sets up the test taker for money-saving success. Having to repeat the tests after taking remedial coursework in one or more subjects – in cases of low scores – frequently results in out-of-pocket costs for the student.
Accuplacer
The College Board (which also offers AP scoring and reporting) releases the Accuplacer as an online or simple computer-generated test for assessing reading, writing and arithmetic skills. It focuses on reading comprehension and sentence structure skills, basic and advanced college math as well as algebra and trigonometry. Colleges and universities use this test to determine new students' course placements. There is also an essay component that measures the student's ability to clearly communicate in written English. The test creator offers a free writer placer(1) guide with sample essays for review.
In addition to the essay portion, there are approximately 20 questions for the reading comprehension portion and another 20 for a writing assessment. Twenty questions also cover college-level mathematics. The placement test is timed in part and multiple-choice without time limit in another part.
Take a free Accuplacer course from Test Preview(2); it will not be scored automatically but introduces the student to the types of questions that make up the basic algebra, geometry, punctuation and grammatical components. An answer key provides the students with an assessment of right and wrong responses. Howard Community College(3) offers a free practice test for the college level mathematics portion only.
Compass
Devised by the American College Test Program (it also administers ACT testing/scoring), the Compass exam is a combination of tests requiring multiple choice answers. The number of questions varies by student, depending on the number of right and wrong answers. Given online, the test questions adapt to the test taker's answers in quantity and level of difficulty based on the responses given.
Reading, writing and mathematics skills are measured and recorded. There is no strict pass/fail but just like the Accuplacer it supports a more specific course placement strategy. The test maker offers a number of sample test questions(4) that the student may work on as a practice test.
Depending on the school, there are colleges and universities that offer one or more sample components of the Compass or Accuplacer as free college placement practice test options on their websites. A good example is Oakland Community College(5), which highlights the mathematics practice tests for incoming students.
Sources
Photo Credit: "Test takers" by KF/Wikimedia Commons