High Test Scores and College Admittance: What SAT Scores and ACT Scores are Required for Admission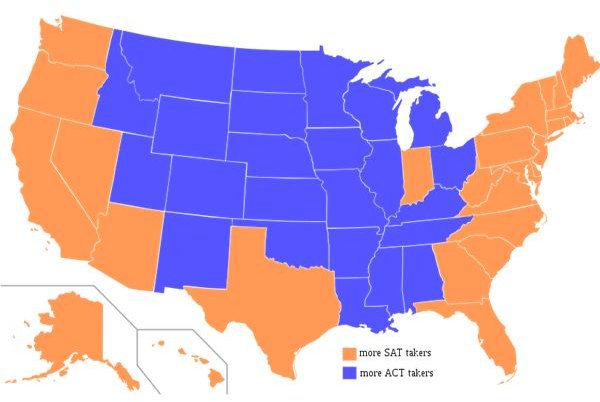 Standardized Testing: High Test Scores and College Admittance
There are multiple standardized tests that students can take for university or college admission. Although there are no universally-defined score requirements for admission when it comes to standardized testing, it probably goes without saying that most schools prefer applicants' scores to be above average. However, a below average score may be acceptable at certain schools when students show strengths in other areas. Admissions requirements vary widely. Test score requirements for football players will obviously differ from the entrance requirements of Harvard Medical School. Nevertheless, the more selective colleges in the nation require higher standardized testing scores than other universities.
The two most well-known tests that are widely used by high school students in the United States are the SAT and ACT. Most colleges value SAT and ACT scores equally when it comes to admissions, although the ACT is more frequently used by students in the Midwest and the SAT is preferred by schools on the East and West Coasts. When deciding which tests to take, it is helpful to understand the differences between the SAT and ACT. Many students choose to take both tests to see if they score higher on one over the other. Learn what you need to know about high test scores and college admittance here.
SAT Scores
Each portion of the SAT is graded on a scale of 200-800, with two subscores for writing graded from 20-80. Scores can range from 600 to 2400. National average SAT scores are usually close to a total score of 1500 (roughly 500 in each content area).
Colleges and universities publish data about the average scores of incoming students within a specific percentile range. Acceptance figures from Harvard, for example, show that admitted students who fall between the 25th to 75th percentiles score an 1800 to 2400 on the SAT. In other words, this range shows the average score of the middle 50% of students. Students scoring a perfect score of 2400 make up 25% of those accepted into Harvard.
At Ivy League schools, the SAT scores of students within the 25/75 percentiles usually range from 2000 to 2400.
At selective liberal arts colleges, the 25/75 percentile values fall somewhere between 1500 to 2100. Top state universities usually accept a similar median range, although many public schools will still have lower average SAT scores. However, higher SAT subject test scores can still be sent to improve your college application.
A list of average SAT scores at top tier universities from accepted students may be helpful if you want information about a specific school.
ACT Scores
ACT scores in the four subject areas range from 1-36. An overall composite score is formulated by calculating the average of all scores. Average ACT scores by state range from 19 in poorer performing states to 24 in the highest scoring states. The average high school test-taker will receive a composite score of about 20. Most colleges require at least an 18 for college entrance.
Like SAT scores, colleges and universities publish data about the average scores of incoming students. At Harvard, the 25th to 75th percentile of students scored 31 to 35 on the ACT. Students scoring a perfect composite score of 36 make up 25% of those accepted.
At most elite or Ivy League schools, the 25/75 percentile of composite scores range from 29 to 34.
At more selective liberal arts colleges, the 25/75 percentile of composite scores roughly range from 25 to 33.
For top public state universities, 25/27 percentile scores encompass a wider range, anywhere from 23 to 30.
Many public universities accept students who average a composite score between 19-24, although these averages can be lower or higher depending on location and many other factors. The most competitive US colleges usually admit less than half off all applicants. At universities with higher acceptance rates, students with low ACT scores are more frequently admitted.
SAT and ACT Overview
The SAT
T
he SAT is governed by the College Board, with its first roots dating back to the creation of the College Entrance Examination Board in 1900. In addition to the SAT, the College Board administers SAT Subject Tests. The primary SAT Reasoning test was previously known as the "Scholastic Aptitude Test" or the "Scholastic Assessment Test." It consists of three sections that include Mathematics, Critical Reading and Writing. The SAT Subject tests, also known as the SAT II or the SAT Achievement Tests, can be used to enhance your college application with supplemental score information in specific content areas.
The ACT
Since its creation in 1959, the ACT has risen in popularity and is commonly taken by high school students in the Midwest. In 2009, roughly half of the country's high school graduating class took the ACT. On the map shown to the right, the majority of students in blue states take the ACT, while the orange states show those where the SAT is more commonly used. The ACT test includes four subject areas with an optional writing section. Tested subjects include English, Mathematics, Reading and Science Reasoning.
Other Admissions Tests
Certain colleges may also consider other scores or criteria for college admittance. The role of student's grade point average or GPA is one of many important factors. Other examinations considered by colleges for admission include:
Texas Higher Education Assessment
Graduate Record Examination (GRE)
High School Diploma Equivalent (GED)
References
Image Credit: Wikimedia Commons.