A Guide to College Preparation DVDs that Help Prepare You for College Life
Why Use a College Preparation DVD?
So, you've just been accepted to the college of your choice and are waiting for your first semester to begin. What do you do? Well, there are many aspects to prepare for when entering college for the first time. The current college preparation DVDs on the market are geared toward students and their parents. Topics include packing up and planning your trip to the college campus, moving in (for out-of-state students) and preparing for college studies (time management, studying for tests, taking lecture notes). Below are 5 choices for the best in college preparation DVDs.
A Review of the Top Five College Preparation DVDs
**
DVD #1: REAL LIFE TEENS: PREPARING FOR COLLEGE
20 minutes, Grades 8-12, $64.95
Description:
This DVD is part of a 35-title series entitled, Real Life Teens created by the TMW Real Media Group. The DVDs in this series present an honest portrayal by teenagers who tell their experiences with the issues in their own words. Other titles in the series are more controversial than this one. They include – Smoking, Drugs, Peer Pressure, Weapons & Violence and Bullying. This DVD presents progblems encountered by students in preparing for college life. With it, parents and teachers can discuss with students the importance of getting good grades, having good study habits and choosing future careers. Students in college talk about the consequences of not having great grades and how being successful in college depends on having developed great study skills for studying and test taking. A full catalog of titles are available at Chronicle Guidance Publications, Inc. This is a good gift from a parent or grandparent to a college-bound student. Parents watching these DVDs with their children can really gain insight into what their own children are feeling about growing up and becoming young adults.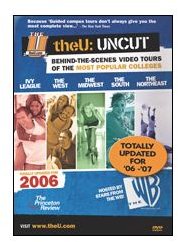 DVD #2: U: The UnCut DVD Collection
565 minutes, Grades 9-Adults, $34.95
Description:
This is a 5-disc box set of uncensored videos created by students for students. In all there are 50 schools chronicled in a very uncensored and candid presentation. The hosts for the video series are popular celebrities from the WB network television channel which makes the series more hip and fun to watch. The videos are not endorsed by any of the colleges they portray so the discussions in some cases are not the most polite. The tours on each video are about 20 minutes and are broken up into segments entitled, Academics, The Setting, The Scene, he food, the Shelter and Getting In. This DVD represents a video tour of 50 college campuses in various categories such as West, NorthWest, South and Ivy leagues. The focus on the campuses, students and classes and giving an honest portrayal – the "good", the "bad" and the "ugly" on each campus. Some of the schools covered are - Stanford University, University of Arizona, UCLA, USC, UC Berkeley, Brown, Columbia, Harvard and Yale. If you are interested in a big name school that is covered, a DVD from this set is worth getting. This box set is one of the best college preparation dvds on the market because it can save you time and money spent in touring these schools.
A Review of the Top Five College Preparation DVDs (continued)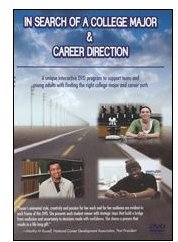 DVD #3: In Search of a College Major and a Career Direction
50 minutes, Grades 9-adult, $34.95
Description:
The focus on this DVD is choosing the right major and career paths and the importance of pursuing career while in college through the right courses. It was created by Susan Posluszny who has over 20 years of experience as a career counselor and college instructor. The video consists of self-paced program segments with exercises for determining your personal likes and dislikes in addition to personality traits that are targeted towards certain careers. The DVD also comes with a parent guide and student guide to follow along with the program. Susan has a very personable and funny style which makes it easier to follow along each segment. She encourages you not to skip around the segments but instead to follow the DVD step by step. Also, the video was field tested and improved for over 2 years with input from students, teachers and other counselors. This video is similar to having your own college career placement counselor at your fingertips. It may be more appropriate for college freshman than for high schoolers. You can view sample clips from this DVD directly from Susan's website.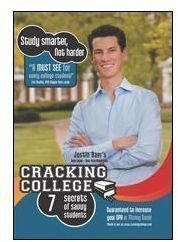 DVD #4: Cracking College: 7 Secrets of Savvy Students
36 minutes, Ages 11-adults, $19.95
Description:
The creator of this DVD, Justin Baer is an NYU graduate with honors and claims from his website that this DVD has been rated #1 by Amazon.com. In the video, Baer shows students efficient, savvy ways to excel in college. "Studying smarter not harder" is one of Baer's many pieces of advice to students. Some of his strategies for students include - choosing the best teachers and courses, finding great places to study, making and homework assignments easier. According to the website, the video is being used by school counselors and students all over the country. This is a good video for a student's personal account of what strategies and techniques he used to succeed at a big name school like New York Univerisity. Justin also started and sold another successful business venture prior to this one. His website indicates that he works in finance and is a social activist and a "serial entrepreneur". This is one of the college preparation dvds that is worth looking at for shortcuts to help you come out at the top of your college class.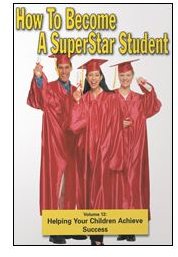 DVD #5: How to Become a SuperStar Student: Helping Your Child Achieve Success
30 minutes, Ages - adults, $34.95
Description:
This is the last DVD in a 12-part DVD series presented by "SuperStar Teacher" Dr. Tim McGhee. He is well known as a high school teacher at Worland High School in Wyoming who since 1988 has turned out award-winning, college-bound classes of students with superior learning skills. His students from Wyoming achieve top scores on tests, get into top schools and win full scholarships to attend them. DVDs number 1 through 10 focus on giving students concrete and memorable techniques on learning from school lectures, active reading, taking effective notes, preparing for exams, writing research papers and studying for success. Dr. McGhee's premise is that problems in student success are often not with the teacher or the student intelligence but instead stem from the fact that students have not been taught to learn properly. The last two DVDs, numbered 11 and 12 are devoted to parents. This DVD gives familiarizes parents with McGhee's innovative learning techniques taught to students and then gives them advice on preparing their children for college life. Parents are encouraged to start preparing students before the senior year in high school. This is a comprehensive series on learning and succeeding that it would be beneficial to purchase all of the DVDs as soon as children start to become concerned about doing well in school which in most cases is by grade 7 and up. Academically, this series is by far one of the best college preparation dvds on the market.
References
MSN.com: Get your teen ready for college - https://today.msnbc.msn.com/id/14267611/ns/today-parenting/
Off to College - https://www.offtocollege.com/first_time/college-move.html
Library Video: Academic DVDs - https://www.libraryvideo.com/
Photo Credits: