College Dropout: Top Reasons for College Dropout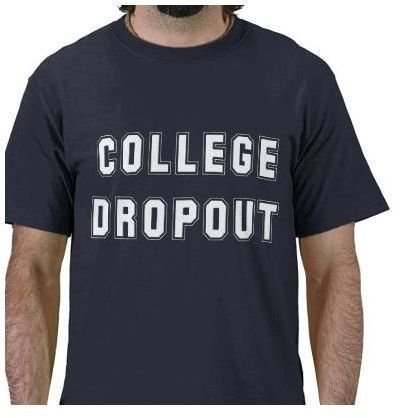 Freshmen students are perhaps the most vulnerable to dropping out of college; it's a time of testing the waters, as it were, and figuring out whether or not the long research papers and late night studying is for them. Some estimates say that one in four college freshmen will drop out. It can be a very difficult transitional time in an 18 or 19-year-old's life; that is for sure. Some of the other reasons on this list can happen to anyone at any point in one's academic career. If you're thinking about dropping out, check out some of the top reasons for dropout and know that you are not alone; most colleges offer free counseling to help you think through these big decisions and make well-informed decisions that are best for you. Friends and even professors can make good listeners, too. The following college dropout top reasons are not in any particular order.
Homesickness
I recently had a conversation with the director of counseling at the university where I teach about this very issue. According to him, they are seeing an increasing number of students who are battling with homesickness. Far from being a simple or dumb concern, as some students or even professors might think, severe homesickness can bring one's life to a standstill. If you're struggling with this, the best thing you can do is not let these feelings brood and take over - talk to someone at your college's counseling center. They will not make fun of you or dismiss your pain as insignificant.
Injury and Sickness
Injuries, for starters, cause students to miss a lot of class time. Just last semester, I had about 10% of my students miss at least one of my classes due to documented injuries (as opposed to those undocumented "injuries"). Severe injuries as well as illness and sickness force many students each year to take a semester or more off from college. On the positive side, all colleges and universities can provide students in need with accommodations to help them stay in school. While these accommodations are generally for students with disabilities, injuries and illness can sometimes require similar arrangements to be made between the student and his or her professors. If this happens to you, talk to your advisor about the best course of action at your college. Feel free to get a second opinion, too, since academic advisors can be really hit or miss.
Underprepared for College
More and more students are coming to college underprepared, which makes the transition all the more difficult. There are many reasons for this, but suffice it to say, students have their work cut out for them. This can put a tremendous burden on the student as he or she struggles with feelings of inadequacy and worthlessness. If you're feeling overwhelmed, know that most students, especially freshmen, go through periods like that; you are not alone. And there is help out there. Pinpoint the classes and units that you're having the most trouble with and then get the help that you need to succeed - that is your responsibility. See professors for extra help, visit you Writing Center, attend tutoring sessions, etc. Help is out there, but you need to take the initiative to ask for it.
Party Time
Everyone talks about the "college experience," which we all understand to include exploration of various types and immersion into new experiences. Be aware though that many students are getting into academic trouble because they devote WAY too much time to partying and social engagements. At risk of sounding a little too much like a parent, know that your primary reason for being at college is to focus on your academic studies; nothing should interfere with that, certainly not partying. Life should be lived in moderation. You don't want too much of a "good thing" or a bad thing. Know that many students have been forced to drop out of college simply because they spent more time drinking at frat parties than studying, reading, and writing.
Need to Work
During my undergraduate years, I worked anywhere between 25-35 hours a week on top of a 15-18 credit hour course load. And let me tell you, it takes a toll. Some students have to work full-time. College (1) costs a lot of money and (2) takes a lot of time. Sometimes, the work-school situation can just be too difficult. Before deciding to drop out of college though, take the time to talk to a good academic advisor about it, or even a professor that you respect and trust. They might be able to make you aware of a solution that you didn't know about. It's worth at least checking into.
Finances
Oftentimes related to the last issue, financial stresses cause many students to forget the dream of going to college and focus their time and energy on working and building a career through work experience alone. Sometimes this is the best choice, but one should be sure. After you crunch the numbers, visit your college's financial aid office to see if they can do anything for you. Whether it's applying for Stafford loans or getting grant and scholarship money, these offices can be helpful to you. Some colleges even keep "slush funds" around to help students out that are in really tough situations. It can be kind of embarrassing to ask for money, but the worst they can say is no. It's not like your asking for money for drugs; you want to learn and better yourself. Don't let pride or shame get in the way of your college education.
There are many other reasons that students drop out, but these are some of the most prevalent college dropout top reasons.
References
https://www.blogcdn.com/www.tuaw.com/media/2010/11/256x-word2011icon-tjl.jpg
https://findarticles.com/p/articles/mi_m0BTR/is_4_22/ai_84599442/
https://www.stateuniversity.com/blog/permalink/7-Reasons-Why-Students-Drop-Out-Of-College.html
Image - college dropout t-shirt from https://rlv.zcache.com/college_dropout_tshirt-p235781312597325235q3vu_400.jpg