Dynex External USB 2.0 Multiformat Memory Card Reader Review
Overview of the Dynex Multiformat Memory Card Reader
Although it's possible to connect most digital cameras, MP3 players, PDAs, and other devices directly to your Windows computer without the need of a media card reader, doing so can be cumbersome and time-consuming. Plus, there's the additional fact that you can't use the device while it's hooked up to the computer uploading its files. Because of this collection of minor annoyances, I recently started shopping around for a memory card reader.
I picked up the Dynex External USB 2.0 Multiformat Memory Card Reader for two reasons – it could support multiple types of memory cards and the price was right. After using for a couple of months, I've found a lot of other features that I like about it, too.
Memory Cards Supported (5 out of 5)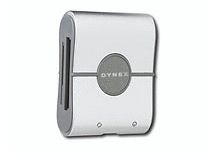 The Dynex External USB 2.0 Multiformat Memory Card Reader touts itself as an all-in-one card reader. With five different slots, it has the capability of reading up to 25 different types of memory cards including CompactFlash, Microdrive, xD-Picture Card, MagicGate, Memory Stick, SmartMedia, MultiMediaCard, SD and Secure Digital.
Although I've only used the reader with CompactFlash, Memory Stick, and mini SD cards, I've had no problem with it recognizing the card immediately and processing the data.
Plug-and-Play and Hot-Swappable (5 out of 5)
In my experience, the phrase plug-and-play does not always mean plug-and-play. Because of all the miscellaneous gadgets that I can't seem to stop myself from acquiring, there's no such thing as a free USB port on my computer. I end up doing a lot of swapping in and out, depending on what particular device I happen to be using at the moment.
While it may not take that long of a time to run through the set-up process when plugging a different device into a USB port, it's still annoying. Thankfully, I haven't had any such problems with the Dynex memory card reader. The instant I plug it in, it's ready to go.
Also, since the memory card reader is compatible with Windows 2000, XP, and Vista operating systems, I've been able to use it with all of my computers. I've even taken it with me to use on friends' machines.
Size (5 out of 5)
The Dynex External USB 2.0 Multiformat Memory Card Reader is small enough to fit in the palm of your hand. With dimensions of 2.9" x 2.3" x 0.7", it only weighs a couple of ounces. It easily fits into a laptop carrying case or digital camera bag.
Price (4 out of 5)
With a price of under $40, it will be hard to find a cheaper external memory card reader that accepts this wide a variety of memory cards. If you only use a single type of memory card, such as CompactFlash, you can probably pick up a reader for around $10. However, if you do use multiple types of memory cards or think that you might in the future, this model is worth the price.