Review of Crimson Editor - A Free Text Editor with Tons of Features
A Free Alternative to Notepad
Unlike other text editors that claim to be free but are really shareware or demo versions that expire after a specified trial period, Crimson Editor is a completely 100% free product. Although there are several versions of Crimson Editor available, the most popular one seems to be Version 3.70. The text editor only requires 4 MB of disk space and can be downloaded from a multitude of sites including CNET's download.com.
Feature Highlights (5 out of 5)
The following is a list of feature highlights of this free Windows text editor.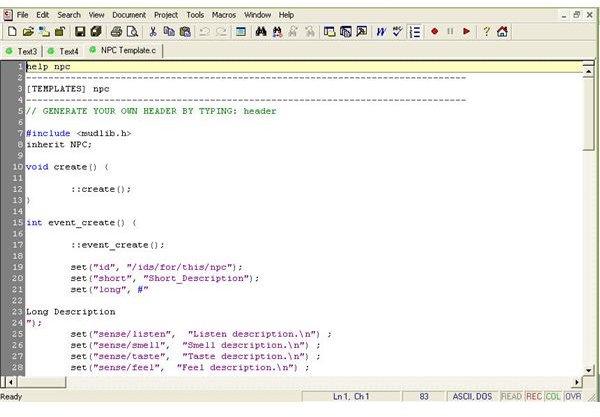 Crimson Editor includes standard text editor features such as a spell checker, a find and replace tool, and optional word-wrapping.

The multiple-level undo and redo feature has an unlimited buffer. You can undo any changes made to the document, one by one, up to the last save of the file.

The tabbed workspace of Crimson Editor allows you to have several documents open at once for easy editing.

Crimson Editor comes packaged with syntax highlighting preconfigurations for more than 100 programming languages including HTML, PL/SQL, CSS, Perl, C/C++, Java, and ASP. In addition to this, you can create your own custom configuration.

A built-in FTP client lets you edit remote files without ever leaving the Crimson Editor interface.

Unlike most other free editors, Crimson Editor also includes a macro tool that allows you to create custom keyboard macros for commonly-used routines. If you program in multiple languages, you have the option of setting up a macro file for each one. In fact, you can create as many different macro files as you want, and simply load the one you want to use when editing your document.
Overall Rating (5 out of 5)
Not only do the capabilities of Crimson Editor exceed other free text editors, they're actually better than most of the ones that come with a price tag. Even with all its powerful features, the user interface is still clean and intuitive.
This makes the learning curve of the software go pretty fast. If you do run into problems, Crimson Editor also comes supplied with a comprehensive help manual that's easy to navigate. All in all, it's hard to go wrong with this choice.