Panasonic CF-74 Toughbook Semi-Rugged PC Review
Panasonic CF-74 Toughbook
I work for a large city government, and over the past year we have purchased over 200 Panasonic Toughbook laptops to be placed in our police vehicles. We set up a secure wireless network to cover the whole city, and the laptops were put in cars for officers to run vehicle tags and criminal background checks on people out in the field. In order to survive the rigors of being inside a police vehicle we needed a laptop that could take a lick and keep going. For that reason, half our Toughbooks were CF-30's and the other half were CF-74's. This review is for the CF-74 model, which we intend to be used by supervisors and other officers who don't normally get into car chases.
The Panasonic CF-74 Toughbook is the semi-rugged part of Panasonic's Toughbook series. It retails for around $3,000 and is available from a variety of retailers. After reading this review, in which I will detail all the hardware components, you should understand why this laptop is so expensive. This isn't something the average home user would buy, as it is intended more for people who travel extensively and need something that has been 'ruggedized'. Regular laptops, with their plastic casing and sensitive internals often don't last long when being used in the field. These Toughbooks are designed for people who need a computer in an environment that isn't always friendly toward regular computers.
CF-74 Toughbook Features
Originally, Panasonic put the Intel 1.83 GHz Core 2 Duo processor in this unit, which is plenty fast, but only gave it 512 MB of RAM, which I thought was a little cheap on their part. Now the CF-74 comes with an Intel 2.4 GHz Core 2 Duo processor and a full GB of RAM. They also increased the 80 GB hard drive to 160 GB, and it still comes with some special features to help it absorb shock, but more on that later. The screen is a very brightly lit 13.3 inch touch screen, and a stylus is included. Panasonic says their batteries will last up to seven or eight hours, though I think it's more like five. You could probably get lucky and pull seven hours out of it if the PC sat idle for most of that time.
The hard drive in this laptop is not actually mounted to anything. In a notebook computer, the most sensitive piece of equipment is the hard drive since it has moving parts and is susceptible to damage from shock. Panasonic packs the Toughbook hard drive in a gel surrounding that lets it safely bounce around inside while the gel softens the blow. I've read that this thing can be dropped from a couple of feet in the air while it is still running, and it won't skip a beat. It probably wouldn't be wise to try that on your own.
One of the biggest differences I've noticed between the CF-30 and CF-74 models is the mouse pad. On the CF-30, which is the toughest of all the Toughbooks, the mouse pad is very sluggish thanks to heavy ruggedization. On the CF-74, it is very smooth and easy to use, like the mouse pad on most any other kind of laptop. The CF-74 is also much lighter and slightly smaller than the CF-30. Both computers also have a big handle on the front that makes them easy to carry. The case of this computer looks like it is made of silver plastic, but it is actually a magnesium alloy that is incredibly tough. It also makes heat a non-issue.
In terms of connectivity, Panasonic loaded this computer down. It supports wireless and Bluetooth, plus it has a regular Ethernet port. For the wireless system that we put up in the city, we went with an outside vendor and use a different kind of wireless system, so I have never tested the Bluetooth or wireless connectivity on these Toughbooks. In fact, we had to disable them in order not to interfere with our own wireless system. This computer also has the standard ports - two USB, external VGA, and so on. They are covered behind some little fold-out flaps that protect the ports, and they aren't labeled particularly well. You'll just have to learn where things are located.
CF-74 Toughbook Display
We wanted the touch screens to work with the police software so that the officers don't have to type so much. It allows them to quickly access open dispatch calls and other functions without having to type anything, especially while driving. The screen is covered in a protective sheet that cleans very easily, thanks to the included cloth. I did notice the screen slightly obscures the image, but this type computer isn't made for doing fine tuned photo editing anyway. You won't notice the sheet even being there unless you put your face a foot or so away from the screen.
The display on this laptop is ridiculously bright – far brighter than any standard laptop. It is made that way because these Toughbook machines often get used outdoors, and the screen will have to be very bright for you to see it in sunlight. If you've ever tried to use a laptop or cell phone in direct sunlight you may notice it can be hard to see. I've been in a couple of situations where I was working on one of these computers while it was mounted inside a police car with sunlight glaring through the windshield, and I could still see well enough to read what was on screen.
The max resolution on the screen is only 1024 x 768, but that is because of the brightly lit display and touch screen. You simply wouldn't want it much smaller because things would be harder to see and the tough aspect would require a lot more work. Since the screen is only 13.3 inches diagonally across, the lower screen resolution looks just right. If you hook it up to an external monitor, you can increase the output resolution up to 2048 x 1536.
Overall Rating
So far, we have been very happy with the Panasonic CF-74 Toughbook models. I've had to send one back with a bad motherboard, but it was fixed and returned in just a few days. Out of all the machines we ordered, we also had a few with dead pixels, which surprised me. Before you buy one of these, make sure it covers all you need it to do. While it is rugged and can stand the rigors of outdoor use, some features common to other cheaper laptops were sacrificed. If you buy one of these just because you think they are cool, you might be wasting your money.
Pros: Very bright screen, Tough casing and shock absorption, Long battery life.
Cons: Screen only runs at 1024 x 768, You can pinch your fingers in the handle if you aren't careful, Very expensive.
Images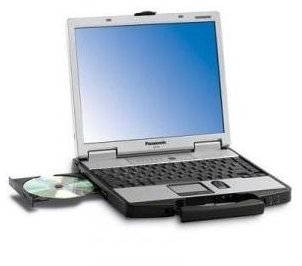 Related Reading
>» Emerging trends – Enhanced technologies make the tablet PC an excellent business companion
>» Panasonic Toughbook CF-T7: Another robust tablet PC from Panasonic that doesn't disappoint