Review of the Best Laptops for Going to School - The Samsung R410
The Samsung R410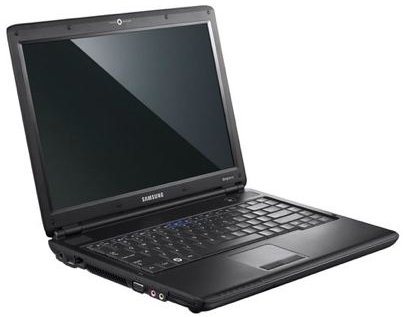 Inside the Laptop
As is the norm with all Samsung laptop technologies, the R410 comes with the trademark all black finish, which will delight some users, but not others. While it gives a slick and professional presence to the naked eye, such a color scheme does nothing to enhance the laptop's desirability when viewed online. With this in mind, it is strongly advised that any potential purchaser doesn't simply discount the Samsung R410 having simply viewed the unit via the Internet or printed media. Viewing one 'in the flesh', and certainly getting your hands on one in person, the R410 is a superb build which delivers a very professional user experience.
Most impressive is the Samsung R410's glossy LCD covering which works beautifully with the textured matt finish that covers the rest of the laptop. This mixture of all black gloss and matt finishing certainly does make the laptop look more reserved when standing next to the flashy HP Pavilion dv6985se with its copper 'Special Edition' chassis or the varied color scheme personalization of the Sony VAIO NR498E.
As with most laptops in today's climate, the Samsung R410's keyboard is superb. Being almost full size, it is in keeping with most of those reviewed for this series (the Asus 5313 aside) and makes for an excellent navigational experience. Keys are responsive and with optimum flex, for comfortable use during short bursts of activity or long drawn out periods of keyboard use. As with the keyboard, the touchpad is also sensitive to touch and control.
The 14.1in screen is smaller than most reviewed here, which makes it much more robust than a traditional 15.4in display. The screen delivers 1,280x800 resolution, and while this specification is a mid range offering, the screen displays output that is excellent. It is positively radiant when used indoors, with a great balance of contrast and brightness (adjustable). The screen is smaller than most in this range but its clarity and vibrancy are stunning. It also comes equipped with a fantastic reflective coating which adds to the visual pleasure the display can provide. This reflective covering does make it difficult to use the Samsung R410 in external settings. Thus, while the screen may be best in class for durability and indoor use, it is a devil to view in bright sunlight. For scholars or budget users requiring a laptop for mobile use - on a train, bus, or other mobile setting - this may not be the best option. That said, housing a 14.1in screen, the laptop comes in at a manageable 2.4kg, which provides excellent portability.
With an Intel Core 2 Duo T5750 1.83GHz processor, the Samsung R410 is an above average performer. It is in no way a flying machine and with only 2GB Ram, it is a disappointment that Samsung has not installed an extra GB of Ram, just to give the model the little extra 'oomph' to get it over the hill when it comes to multi-tasking and 3D graphics. This is even more crucial when you consider that the integrated ATI Radeon 1250 graphics chip is a stellar performer, but limited by the current processor and memory combination of this unit. With a 2Ghz processor and 3 or 4GB Ram, the ATI Radeon 1250 graphics card would provide much more impressive results, to (almost) match the Fujitsu Siemens Amilo. The Samsung R410 does come with a fantastic 320GB HDD, which is ample storage capacity for any scholar's needs, social or work related.
With a smaller screen than others in its class, the Samsung R410 drains less battery power than its 15.4in cohorts. The 6-cell battery only delivers average battery life - around 1.5hrs during heavy processor usage periods (media playback), and at best 2.5hrs in normal use. Also disappointingly, the R410 comes with the minimum 3 USB ports and there is no digital video output. It does have a nice selection of other features - DVD Burner, Ethernet, integrated webcam, Wireless G and Bluetooth aerial.
Star Rating: Samsung R410 (4 out of 5)
The Samsung R410 is a very nice laptop for the budget or student user, professional in its looks and delivery of applications. It is tremendously clean looking with a slick chassis, excellent component specification and most, if not all, the features you would want from a back-to-school / budget laptop. Such a laptop is needed for a plethora of activities and is sure to be put through its paces in a multitude of settings. With that in mind, its huge 320 HDD and performance ratings across the board are good, if not exceptional. However, with integrated graphics, 2GB Ram and only a 14.1in LCD display, this is not a laptop that will appeal to the graphics enthusiast or more static of user requirements. It could also do with another USB port and a better battery pack. But in terms of laptop value for your under $1000 budget, the Samsung R410 is a good laptop and a worthy top 10 addition to any laptop shopping list. Even if, being hyper critical, it is no Dell Studio, HP Pavilion or Fujitsu Siemens Amilo.
This post is part of the series: Best Budget Laptop Reviews: Buyers Guide to Laptops Under $1000
In this series of reviews we look at the best budget laptops under $1000, which cater for the eclectic needs of a scholar or budget user. These are a selection of great laptops which offer a diverse mix of features, resilience, storage capacity, and excellent all round performance.