Review of the Best Laptops for Those Returning to School - The Toshiba Satellite Pro A300D-131
The Toshiba Satellite Pro A300D-131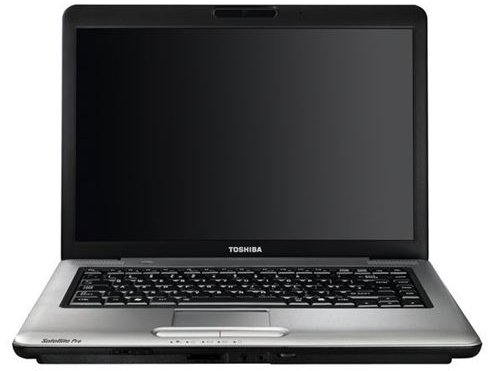 Inside the Laptop
The Toshiba Satellite Pro A300D-131 is another solid laptop offering in the under $1000 range. At first glance it is a good looking, but not sparkling laptop. However it does have the style and build quality of the Dell Studio S1535-125B and HP Pavilion dv6985se. It looks a little mundane with its metallic gray keyboard slate and non too flashy chassis, but the designer's focus has primary been concerned with build robustness. It handles like a dream in use and in transit. The internal components and fittings of the unit are also solid, especially the hinges, which securely move the screen and are best in class of those reviewed here.
The Satellite Pro A300D-131 also has a superb keyboard, which is tremendously secure, but still has enough touch sensitive flex to the individual keys. It is spaciously fitted into the keyboard slate and has a recessed touchpad that is slightly offset from center- which is much more appealing and helps keep straying hands from roaming over it, thereby eliminating accidental movements of the cursor. This is a nice touch, but could be even more easily rectified with a simple on / off toggle option for the touchpad itself which would entirely eliminate such accidental movements and mishaps.
The 15.4" TruBrite TFT screen displays 1,280x800 resolution, which is supremely bright, and works well both inside and out. With a vivid image projection, the Toshiba Satellite Pro A300D-131 delivers brilliant visuals, which complete in transition smoothly and can be viewed at extreme angles. The screen does struggle in direct sunlight, but few in this price range are going to have the screen technologies to combat light anyway.
The Satellite Pro A300D-131 is the only one of those we have reviewed in this series that comes with an AMD chipset, and the Athlon 64 TK-57 which runs at 1.9Ghz is not in the same league as the Intel group of similar spec processors. Coupled with only a minimal 2GB Ram, the Toshiba Satellite Pro A300D-131 is a very modest performer. It would be much more impressive as a performance laptop if it had an AMD Turion Ultra processor and an additional 1 or 2GB Ram. With the current specification it is an adequate performer but as time goes by applications become more processor intensive, and even now, since Windows Vista and media streams hog the CPU so joyously, an upgrade will be needed sooner rather than later. That said- for the price, this is a good investment for running office applications and online media in the current climate. The ATI Radeon X1250 graphics chip helps in this respect, making up for the inadequacies of the processor and ram allocation to help deliver Windows Vista and moderately graphics intensive media streams. It is also perfectly capable of running basic applications in multi-tasked states.
The installation of the AMD chipset also creates another problem for the Toshiba Satellite Pro A300D-131, in that these processors aren't the best for power efficiency, and this is nowhere more evident than in the battery life of this unit. You would certainly have expected the 4,000mAh battery to last longer than the meager 2hrs of normal use. During high intensity multi-tasking and media playback it only lasts just over 1hr. Another disappointment of the Satellite Pro A300D-131 is the 120GB HDD. Such a low end capacity of storage isn't going to impress media junkies and is really a bare minimum for a student or family with multiple needs for PC use.
The Toshiba Satellite Pro A300D-131 does come with many essential communications features - 4 USB ports, standard video and audio communications, Ethernet, Wireless G, multi card reader and DVD burner - but there is no Wireless Draft-N, webcam, digital video output or Bluetooth. The Toshiba Satellite also has tremendous audio output, which are delivered by best in class speakers which enable users to listen to audio – music, DVD's, etc., direct from the laptop itself. This is an impressive and rare feat these days when speakers are becoming more and more cramped and an afterthought in the build sequencing process.
Finally, with a weight of 2.8kg, the Toshiba Satellite Pro A300D-131 is not in the ultra-portable range of laptops, but it is a slender unit that carries well and evenly distributes weight better than many in the under $1000 price bracket.
Star Rating: Toshiba Satellite Pro A300D-131 (3 out of 5)
The Toshiba Satellite Pro A300D-131 as a complete package is not a supreme laptop in this range, but it is highly functional and practical to use, especially with its superior keyboard and brilliantly placed touchpad. The chassis is robust and very nicely designed, with accentuated rounded edging. It does have one of the poorest performance ratings in this category, and a very average HDD capacity which is a great disappointment. Overall, this is a no-frills laptop and a good value buy for the student or budget need. It certainly can be purchased for considerably less than the Dell Studio or HP Pavilion and unless you are a student with refined social media tastes (or tend to run tens of sessions from your laptop) then this will be a perfectly solid performer.
This post is part of the series: Best Budget Laptop Reviews: Buyers Guide to Laptops Under $1000
In this series of reviews we look at the best budget laptops under $1000, which cater for the eclectic needs of a scholar or budget user. These are a selection of great laptops which offer a diverse mix of features, resilience, storage capacity, and excellent all round performance.