Review of the Best Laptops for Those Returning to School - The Advent 5313
The Advent 5313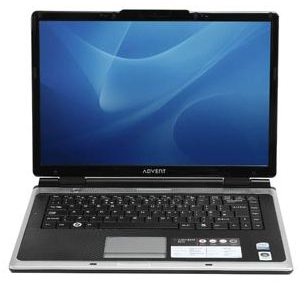 The Advent 5313 is the poor relation in this laptop review series, but it still has an appealing upside. Most importantly- it comes in cheaper than any other laptop we have reviewed here by a couple of hundred dollars- but of course that comes with its obvious deficiencies and drawbacks. That said, if you want adequate pop for your buck this is a sound investment, offering a range of features and only a minimal drop in performance – compared to the heavy hitting Dell Studio S1535-125B, HP Pavilion dv6985se and Fujitsu Siemens Amilo Pi 2540.
Inside the Laptop
On looks alone the Advent 5313 is a beautiful laptop both in a closed or open state. It has the slender ribbed look of the Dell Studio and the professional finish of the Fujitsu Siemens Amilo, which is a good start for a laptop that comes in considerably cheaper than those two demon offerings. The chassis overall doesn't look cheap, and component parts are aligned neatly. The metallic edging and touch pad is a particularly nice addition which sets the keyboard slate apart from the overall wrist rest area. That said, the keyboard, with its dark gray plastic finish, does not have the same stunning visual effect as others in this range, and the keyboard itself, which looks reasonably robust and aesthetically pleasing with the incorporation of soft edgings, is without question the poorest of all the keyboards we have reviewed in this series. The keys are flimsy, create considerable rattle and aren't as responsive as we would like. What is more, it is puzzling why the keys are all at different heights (and tapered, like the Dell Studio – but with far less impressive results). That said, our Advent 5313 'keyboard bashing' is only really highlighted as so brutally damning because the 5313 is unfortunate enough to be in competition with some truly impressive keyboards on other laptops in the under $1000 range, which offer supreme input and durability.
The Advent 5313 comes with a 15.4in TFT display which is vibrant when run off plug power, but lacks clarity when running 3D graphics and loses considerable brightness when powered by battery. The lack in good 3D image projection is a result of the meager integrated graphics chipset and processor, which aren't best suited to handle Vista and multimedia graphic representations, especially motion pictures.
With a Core 2 Duo T5750 processor, performance is adequate, and with 2MB Ram application delivery / minimal multi-tasking is about the best you will get from this model. It certainly is going to struggle to run Windows Vista and media playback over the long haul . Overall performance left a little to be desired, and didn't shape up well in direct competition with others reviewed here. Again, it is important to appreciate that this is a considerably cheaper model of laptop and this is really where the cost savings come from.
For graphics and processor intensive applications the Advent 5313 is very clunky – it certainly cannot handle gaming or 3D graphics, where picture quality is anything but seamless or smooth in transition. In truth, it is also only just able to run Windows Vista and could really do with a 1GB (minimum) upgrade. That said, the Advent 5313 still provides adequate performance for general application and web browsing user requirements.
The 200GB HDD is impressive, and at 2.4kg the Advent 5313 is a lightweight laptop, if not the stealth-like MSI Wind. It comes with tiny internal speakers which provide muffled, barely audible sound. It does have a good mix of ports and communications features, a minimal three USB ports, video and audio, SD Card slot, and DVD burner.
Another knock on the Advent 5313 is its 2,200mAh battery, which delivers worst in class power duration. You will be extremely lucky to get much over an hour of life from the laptop during processor intensive tasking such as media playback, and you certainly won't get 2+hrs of use even during normal use. This is not a laptop for the road warrior, and if a student demands something for those long journeys home or back to school, it is suggested you go for a Fujitsu Siemens Amilo or HP Pavilion.
Star Rating: Advent 5313 (3 out of 5)
With all that has been said above, Advent 5313 is STILL a top 10 laptop for the budget user or scholar. It has a fantastic price to performance ratio, and a great professional look for such a cheap laptop. It certainly could pass for a laptop in the mid to high price bracket on looks and feel alone. The 5313 may not provide the dazzling multimedia experience some will desire, and it won't impress your friends like a Dell Studio or HP Pavilion, but it is functional and performs well. The terrible keyboard and minimal battery power aside, this is an admirable addition to the Advent portfolio. A solid unit with high end resilience for a laptop that is built for the budget / home user.
This post is part of the series: Best Budget Laptop Reviews: Buyers Guide to Laptops Under $1000
In this series of reviews we look at the best budget laptops under $1000, which cater for the eclectic needs of a scholar or budget user. These are a selection of great laptops which offer a diverse mix of features, resilience, storage capacity, and excellent all round performance.