Review of the Best Laptops for Those Returning to School - The Sony VAIO NR498E
The Sony VAIO NR498E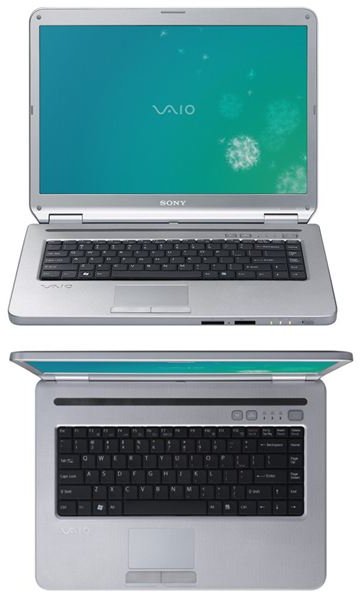 In terms of design and aesthetics, the Sony VAIO NR498E stands out with a tried and trusted build formula, as opposed to following the trend of other laptops of this generation, by integrating a soft textured finish both to the exterior and keyboard slate. And whether you like a textured or glossy finish by preference, this is a really superb looking laptop.
Inside the Laptop
With a choice of five color schemes - navy, silver, brown, pink and white, the Sony Vaio can certainly be tailored to your own personal taste. (Call me a traditionalist, but I personally like the more mundane silver and navy choices, which seem more appropriate for a professionally elegant laptop). With these colors in mind I would suggest staying away from the white color scheme, as it tends to look dated after a while, doesn't maintain its vibrancy and shows up scratches and smudges much more visibly. The Sony VAIO NR498E is also a robust laptop, highly durable for confident exposure in most external and internal settings. And even with its on the thin side plastic chassis, it still feels secure and doesn't have any flimsy edgings or hinges.
Along with the Toshiba Satellite Pro and MSI Wind, the Sony VAIO NR498E has a superior keyboard in layout and design. It provides a solid interface, responsive keys and a wonderful touchpad that is as slick as any I have come across in recent times. It would be good to see an on / off toggle for the touchpad, and some additional media controls on the keyboard slate (as the The HP Pavilion dv6985se has). There is ample room for such features and this would add considerable multimedia flexibility to a laptop that has been rolled out to market in direct competition with the HP, Dell and Fujitsu's in the under $1000 price range.
The Sony VAIO NR498E's 15.4in Xbrite-Eco LCD screen, with 1,280x800 resolution is efficient and bright. It is a standard specification for laptop models in this price range, and as you would expect for a multi-dimensional laptop such as this, it is heavily geared towards media savvy users, thus providing almost faultless image clarity. Contrast and brightness are not on a par with the Fujitsu Siemens Amilo Pi 2540 or HP Pavilion but images do project well at extreme angles.
Housing an Intel Core 2 Duo T5750 processor, the VAIO NR498E is a mediocre performer in this review cycle, which is a shame considering its target market and competitors in the multimedia laptop range. However, that may be an unrealistic jibe at a model of laptop that fits the bill perfectly for anyone in the back-to-school or budget bracket. What is more, it performs adequately, if not exceptionally, and with an impressive 3GB Ram, it delivers best in class boot speed and drives applications across the Windows Vista platform, with superb results. If we were to be ultra picky, it does tend to wobble a little during 3D transition, but overall the Sony VAIO NR498E is a good laptop for application launching and interfacing. Again, as with most others in this range housing a standard Intel GMA X3100 integrated graphics chip, the NR498E offers good media playback but nothing sparkling, so media junkies and gaming experts- beware.
With a multitude of communications ports, the VAIO NR498E is suitably equipped for any student's needs, with video and audio ports as standard, an excellent four USB ports, SD card reader (but no multi-card reader), Firewire, Wireless G and Draft-N, DVD Burner and Bluetooth. What is also impressive is the 250GB HDD, which combines great storage capacity with speed of data retrieval.
The VAIO NR498E comes with a 6-cell battery as standard which provides an adequate 3+ hours of use even during processor hungry media playback. This can be stretched to over 4hrs during normal application use.
Star Rating: Sony VAIO NR498E (4 out of 5)
At 2.8kg the Sony VAIO NR498E may not be the lightest or most portable laptop in this price bracket, but with its professionally textured finish, choice of colors and dynamic feature set, it will cater for most in some way or other. The keyboard and communications features are top drawer and battery life is sufficient for a mix of mobile and static use. The Sony VAIO NR498E does lose points compared to the Dell Studio S1535-125B and HP Pavilion dv6985se in this price range. It lacks true multimedia controls and an integrated webcam, which is a shame, as incorporating such features wouldn't cost the earth to produce and install, but would add considerable feature enhancement and certainly greater flexibility for use. However, for the scholar or budget user the VAIO NR498E does provide good performance across the board and is an impressive laptop that will suit many people's needs.
This post is part of the series: Best Budget Laptop Reviews: Buyers Guide to Laptops Under $1000
In this series of reviews we look at the best budget laptops under $1000, which cater for the eclectic needs of a scholar or budget user. These are a selection of great laptops which offer a diverse mix of features, resilience, storage capacity, and excellent all round performance.