Review of the Best Laptops for Going to School - The HP Pavilion dv6985se
The HP Pavilion dv6985se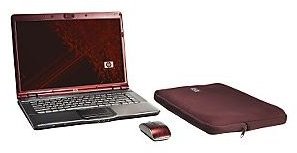 One of the most popular laptop ranges in recent years has been the HP Pavilion, certainly in the low to mid $1000 range, and one model which stands out as a superior choice for the scholar is the HP Pavilion dv6985se. A stylish and thoroughly professional looking unit, the Pavilion dv6985se offers a highly impressive specification and delivers outstanding performance, storage capacity and battery power.
Inside the Laptop
To the naked eye the HP Pavilion dv6985se is a highly impressive looking laptop. Coming as it does with a 'Special Edition' tag, the Pavilion dv6985se has a solid chassis with copper finish (exterior lid) which will appeal to some more than others, and a slick glossy look when opened up to reveal the keyboard slate. The wrist rest area and keyboard itself are kitted sufficiently and have a lovely glossy silver coating. As with all glossy finishes the slate area is prone to fingerprint marks.
The keyboard is almost full size and has superb feel, providing great comfort when used. Keys are perfectly responsive to the slightest touch and the elongated touchpad is smooth, making cursor movements slick. There is also the option to toggle on / off the touchpad which is a nice touch and not common amongst laptops in this range.
The HP Pavilion dv6985se has a 15.4in widescreen display which provides 1,280x800 resolution and projects wonderful color and contrast across impressively wide angles of viewing. The screen does have a somewhat glossy finish which doesn't render well in external settings but it does add to the overall look of the unit and doesn't hinder image projection in internal settings- in fact it positively aids viewing pleasure when running media streams.
The processor is a standard 2.0GHz Intel Core 2 Duo which performs nicely and with a whopping 4GB Ram the dv6985se is a superb laptop for those wanting to run Windows Vista in all its 3D glory. The HP Pavilion range doesn't deliver best in class graphics, (that crown goes to the Fujitsu Siemens Amilo Pi 2540), as the integrated Intel GMA X3100 graphics card is no match for a Radeon HD 2400. This chip is however standard across laptops in this price range and the Fujitsu Siemens Amilo is unique in this regard. Couple this performance with a 250GB HDD and you have a laptop with a wonderful combination of speed and storage capacity to suit any scholarly need. Making the Pavilion dv6985se one of the best laptops to come along in a long time (at under $1000) for application delivery, multi-tasked operations and smooth multimedia playback.
What also stands out (in more ways than one) is the best in class 12-cell battery which provides an amazing 6+ hours of power during normal use and 5+ hours during heavy (media playback) use. This makes the Pavilion dv6985se a serious road warrior, ideal for extended use, even full shifts where adapter power is an issue. However, such a heavy duty battery adds considerable weight to the unit and at 2.9kg you need to consider how much actual 'handheld' use will be required. It's a supreme model for desktop use – say, placed on a knee, or table - but not for those wanting a pure handheld device. It is a shame that the Pavilion dv6985se doesn't also come with an option to install a smaller battery pack.
Other nice features on the Pavilion dv6985se include integrated media controls which provide quick access to playback features. It also has all the necessary ports of a multi-dimensional, multimedia laptop – video, audio, three USB, Firewire, multi-format memory card reader, Wifi G and N, a DVD burner and integrated 1.3 mega pixel web camera. But it doesn't come with Bluetooth.
Star Rating: HP Pavilion dv6985se (5 out of 5)
The HP Pavilion dv6985se may not be the most portable of laptops in this class- so ultra mobile users beware. The 'Special Edition' copper-topped finish will turn some people's heads but repulse others, and I would advise potential buyers to check one out in person before making a purchase decision based on online images alone. In all the HP Pavilion dv6985se is a stunning looking laptop - best in class for elegance and when you consider the power levels you can extract from the batter, high level specification and array of features, this laptop, for price – performance, is the best in the Pavilion range and a top back-to-school laptop that won't disappoint anybody.
This post is part of the series: Best Budget Laptop Reviews: Buyers Guide to Laptops Under $1000
In this series of reviews we look at the best budget laptops under $1000, which cater for the eclectic needs of a scholar or budget user. These are a selection of great laptops which offer a diverse mix of features, resilience, storage capacity, and excellent all round performance.