Review of the Best Laptops for Going to School - The MSI Wind
The MSI Wind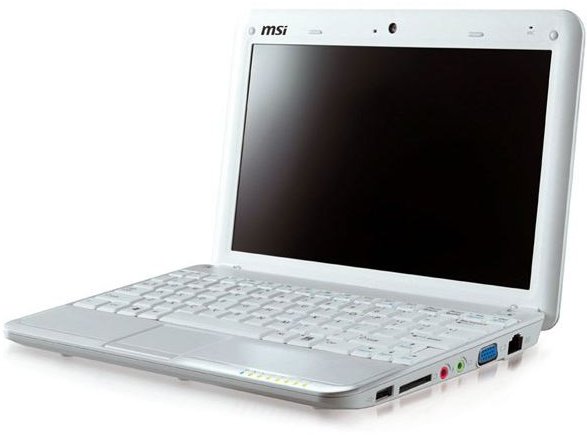 Another of the less popular brand names when it comes to buying a reputable laptop comes in the form of the MSI Wind. However, do not be put off if you are in the dark when it comes to MSI technologies. In the MSI Wind you'll find an ultra portable alternative that may not have the high powered spec of the most expensive and flashy ultra portable laptops, such as the Samsung Q45 or Dell XPS 1330, but it certainly is a viable and more cost effective solution.
Inside the Laptop
The MSI Wind is another elegantly designed laptop with a great looking chassis and resilient component design. What makes this laptop standout from the crowd is its super lightweight build (the unit weighs in at only 1.156kg). That puts it on a par with the Apple Macbook Air and Lenovo ThinkPad X300 as one of the best ultra portables for maneuverability.
With such a weight differential compared to others reviewed here, there is a compromise in other areas. One of these is in the small 10in screen, which isn't going to appeal to a lot of users, especially those who require a device for extended periods of use. I for one do not like staring at a screen of less than 12in for longer than an hour. The MSI Wind's LED backlit screen display, which runs at 1,024x600 resolution, also is considerably duller and lacks the sharp image definition of similar models in the Fujitsu Siemens, Dell and Sony portfolio.
That said the MSI Wind does provide the best in class user experience for handling, transporting and keyboard/touchpad manipulation. The keyboard really is impressive, extending as it does to cover the entire width of the navigation slate. Keys are robust, responsive and supremely easy to operate in short sharp bursts or over longer periods of time. It truly is a joy to type on the MSI Wind- in fact to my trained fingers it feels more comfortable than using a standard desktop keyboard.
In terms of performance the MSI Wind houses an Intel Atom N270 1.6Ghz processor which is a very good standard spec and most common for laptops in this range. For the modern day budget laptop user with a mix of requirements this provides adequate service. However, running in conjunction with only 1GB Ram the MSI Wind is really only going to suit running the Windows XP OS. And while it works supremely well with XP, users must be aware that 1GB Ram will not service Windows Vista. If you have plans to run Vista, look elsewhere. That said, for the XP user, the MSI Wind offers superb performance for office based application delivery, online activities and an adequate media playback service.
Of course you can upgrade the unit by adding additional Ram in the expansion slot provided, but for those wishing to make such an upgrade to accommodate Vista, or for that matter to boost performance of any other OS or application, be aware that accessing the expansion slot necessitates removal of several screws to get to it, and as the pre-installed 1GB is inaccessible this one expansion slot is all you can use.
Another reason why the MSI Wind may not establish itself as a truly portable laptop is the fact that it houses only an 80GB HDD. This again, as with the Hi-Grade D7000SRL, is only going to be adequate for some students, with their diverse mix of storage media requirements.
The MSI Wind comes as standard with all the necessary ports and communications features (without the Bluetooth), but it lacks Draft-N wireless capabilities. It also holds only a 2,200mAh battery- which is adequate but won't inspire the truly mobile user. Again, remember that when it comes to ultra portability the HDD and power supply are the first two components to be compromised- so you can't have everything unless you pay top dollar.
Star Rating: MSI Wind (3 out of 5)
The MSI Wind is a supremely lightweight laptop. It looks slick and the white chassis will appeal to some, if not others. It hosts a wonderful extended keyboard which is very comfortable to use and the processor offers good all round performance across the Windows XP platform. However it only has one accessible expansion slot, and low end storage capacity. But for those who want a truly mobile computing experience, incredible flexibility and a wonderfully balanced keyboard experience, then the HDD and shortened battery life can be discounted to some degree. And let's be honest- for the student body as a whole, they can work around a small hard drive capacity and use adapter power the vast majority of the time anyway. Just bear in mind, for any extended mobile use, even though it's a tremendously lightweight laptop, the MSI Wind is not going to be the soundest investment for everyone.
This post is part of the series: Best Budget Laptop Reviews: Buyers Guide to Laptops Under $1000
In this series of reviews we look at the best budget laptops under $1000, which cater for the eclectic needs of a scholar or budget user. These are a selection of great laptops which offer a diverse mix of features, resilience, storage capacity, and excellent all round performance.