Review of the Best Laptops for Those Returning to School - The Hi-Grade D7000SRL
The Hi-Grade D7000SRL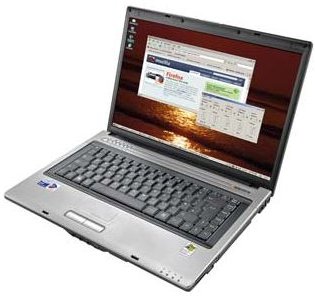 Hi-Grade may not be as established a brand compared to the heavy hitters in the laptop market (Dell, HP, Sony and Fujitsu Siemens) but it is a considerable player in this price bracket and is highly popular across Europe. What is more, in the D7000SRL, Hi-Grade has a superb laptop model fit for multiple user groups. With a classic design and elegant chassis build, it looks and feels the part in every sense, as the black and gray color scheme is pleasing on the eye and works well with the sleek angles and design lines.
Inside the Laptop
As a pure laptop with such a professional finish, the D7000SRL does not disappoint in term of screen dynamics, with the display being resolute, sharp and with superb vibrancy, contrast and brightness. To simply look at, the Hi-Grade D7000SRL really does bounce with life, whether the on-screen projection of images or the slender design structure.
One major flaw that we must mention straight away is that the D7000SRL doesn't come with an integrated latch to lock down the screen. This is an obsession of mine, and is such a disappointment for a device that offers so much in every other aspect of its design. What is more, this really would be easy to fix, but until then, for today's portable laptop user, it is essential you have complete security and lockdown of parts, certainly for a laptop of such a size and build quality.
That aside, the only other relative weakness of the D7000SRL (compared directly with the Fujitsu Siemens Amilo Pi 2540) is that it comes with only an integrated Intel X3100 graphics card. Compared to any other in this range, such a card specification would be fine, and it does work perfectly well for an educational laptop platform. However, being in direct competition with the Amilo Pi 2540, the D7000SRL will not impress the die hard PC gamer or media playback enthusiast. Which is kind of a shame when you consider that the device comes with the ability to hook up (via HDMI) to a High-Def TV or DVI monitor.
But this laptop gets 4 stars for good reason. And that is because it comes packed with a Core 2 Duo T5750 Processor which packs plenty of punch and delivers a best in class performance rating. Couple this chipset with 2GB Ram and it performs wonderfully in any number of ways, from word processing to media editing to multiple online session manipulation. With a 4,400mAh battery the D7000SRL offers an excellent combination of quality playback and extended power, with minimal drain during 'downtime'. As we have previously touched on, the Hi-Grade D7000SRL also comes with a vibrant TFT screen that displays vivid imagery, but the 120GB HDD fitted as standard is only going to be marginally adequate for anyone who enjoys their multimedia. This hard drive storage capacity is a lot less than others in the under $1000 price bracket.
The D7000SRL does have Bluetooth built-in as standard and is the only laptop in this range to offer such connectivity with mobile devices and peripherals. There are also an abundance of ports and communications features which you would expect from a mid range laptop device - including HDMI for high definition TV connectivity, fingerprint reader, multiple format card readers and a 1.3 megapixel web camera built in. It weighs in at 2.8kg.
Star Rating: Hi-Grade D7000SRL (4 out of 5)
In all, the Hi-Grade D7000SRL is a supreme looking laptop. Its chassis and solid component build structure have been given due care and attention and the wonderfully shaped lines make it a slick laptop to use and maneuver. However, the integrated graphics chip is only average and the HDD is small in comparison to others in this range. For the same money as a Fujitsu Siemens Amilo Pi 2540 it doesn't offer the same high level of playback or interaction, but it does offer better all round performance. And that is a crucial factor when you consider why you may be buying a laptop, certainly for the up and coming student. So all in all, if you can deal without a large hard drive and don't have a penchant for Spielberg style multimedia effects dancing across your screen, then the Hi-Grade D7000SRL is an admirable performer. A laptop well worth the price.
This post is part of the series: Best Budget Laptop Reviews: Buyers Guide to Laptops Under $1000
In this series of reviews we look at the best budget laptops under $1000, which cater for the eclectic needs of a scholar or budget user. These are a selection of great laptops which offer a diverse mix of features, resilience, storage capacity, and excellent all round performance.