Review of the Best Laptops for Those Returning to School - The Fujitsu Siemens Amilo Pi 2540
The Fujitsu Siemens Amilo Pi 2540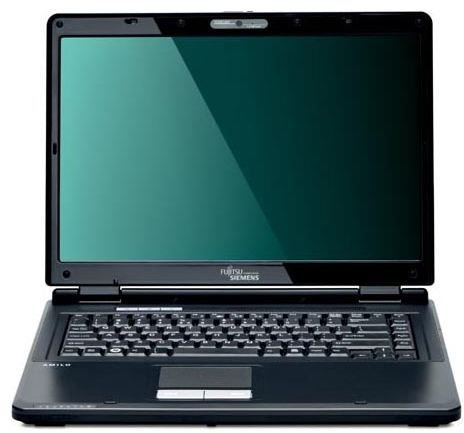 Inside the Laptop
Solid in component design and chassis build, the Fujitsu Siemens Amilo Pi 2540 is a great laptop for the budget user or student. Robust enough for mobile use and easy to handle during transportation, the Amilo Pi 2540 is a sound investment, even if at 1.42kg it doesn't count as one of the the most portable laptop in this class- certainly not in comparison to the portability dream of a Lenovo Thinkpad X300.
The Amilo Pi 2540 comes with a huge 320GB HDD, which will appeal to the avid gamer and multimedia guru. And even with such a large storage capacity and processor the unit doesn't have considerable weight or heat issues, A considerable plus over some of the more expensive ultra portables- which have so tightly packed components that heat vents continuously work overtime and wrist rest pads are often warm, if not uncomfortably hot, during extended use.
The Amilo Pi 2540 comes with all the standard ports and communications features you would expect from a budget laptop - three USB, DVI, analogue VGA and wireless- but it does not have capacity for a Gigabit Lan. In terms of battery life the 4,400mAh battery supplies an outstanding 3.5+ hours of power.
The Fujitsu Siemens Amilo Pi 2540 is a solid performer, offering plenty of pop for your dollar. It could do with additional USB ports and the keyboard mount would sit better if raised to the same height as the wrist rest pad, but overall this is a superior laptop coming in at under $1000. It provides superior all round 2D and 3D performance, largely thanks to the Radeon HD 2400 graphics card, 3GB Ram and chipset. It is slick to use and view, but crucially, is robust and resilient to the odd bump and bruise, and with a 320GB HDD any student will be hard pushed to max out the hard drive on this laptop unless they are a 24/7 downloader or multimedia hoarder.
Star Rating: Fujitsu Siemens Amilo Pi 2540 (5 out of 5)
The Fujitsu Siemens Amilo Pi 2540 is a classic laptop in both design and specification, and with two highly impressive additional features. The additional Ram and a superior graphics card make this a supreme machine in almost every sense. That's why we rate it the best buy laptop coming in at under $1000, and a really sound investment for those going back to school.
This post is part of the series: Best Budget Laptop Reviews: Buyers Guide to Laptops Under $1000
In this series of reviews we look at the best budget laptops under $1000, which cater for the eclectic needs of a scholar or budget user. These are a selection of great laptops which offer a diverse mix of features, resilience, storage capacity, and excellent all round performance.