Bright Hub's Review of Zoho Writer, Sheet, and Show - Online Office Collaboration Suite
Zoho Office Apps Review
While Zoho's collection of online applications is extremely diverse, the average user is generally most interested in the office suite. We'll take a look at three of those products in this review:
Writer – This is Zoho's word processing application that is comparable to Microsoft Word and the Document portion of Google Docs.

Sheet – Zoho's spreadsheet application may not have that creative a name, but it does have enough features to compete with the likes of Excel, Quattro Pro, and Google Spreadsheets.

Show – The third application we'll be examining in this review is Show, Zoho's presentation maker. Although Show can be compared to PowerPoint, the online nature of Zoho makes presentations created in this tool easier to share and publish.
Zoho Writer (5 out of 5)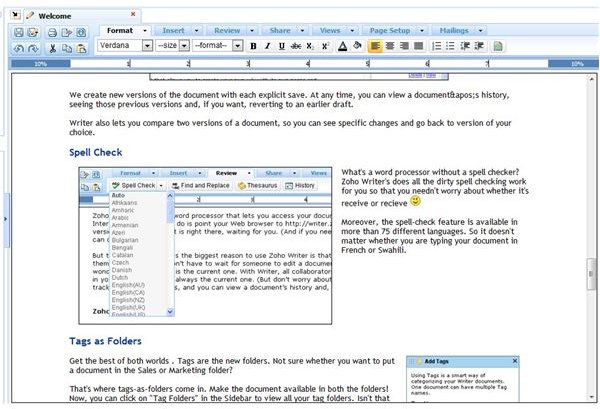 As mentioned in our overview of Zoho, Writer can be integrated with Microsoft Word extremely well via the free Zoho Plugin for MS Office, allowing you to make modifications in Word and save directly to the online Zoho directory. However, the Writer interface is robust enough to use on its own without the "Word" middleman. In fact, one of the things that I like best about Writer is that it looks like a standard desktop application – just one that happens to sit inside a web browser. This facet of design makes the transition from traditional desktop word processors, like Word and Word Perfect, to Writer much easier to handle.
When it comes to features, Writer has everything you'd expect and hope to see in a word processor. However, the one thing that makes it stand apart from other comparable products is the ease with which you can share and publish documents. You can choose to share with a select private group of people, publish as a web document for public viewing, email, or post directly to a blog from the Share menu right on Writer's main toolbar.
Zoho Sheet (4 out of 5)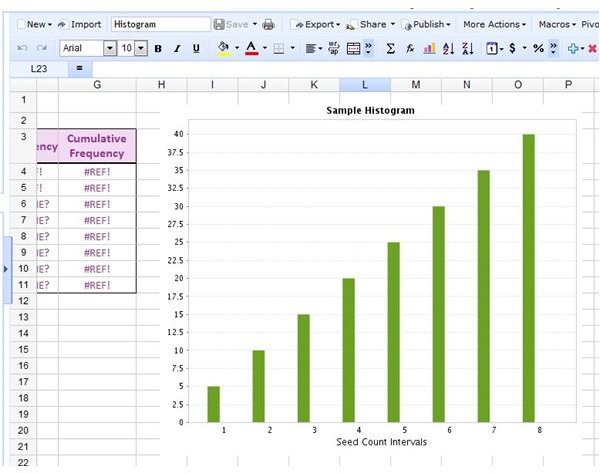 Like Writer, Zoho Sheet integrates seamlessly with Microsoft Excel through the MS Office plugin. So, even if you don't want to use any of the other features found in Zoho, this addition makes it easy to instantly publish Excel files and make immediate updates and changes without ever leaving the Excel interface.
Despite the fact that Sheet has a number of features that make its functionality better than most other online spreadsheet applications, it still has a long way to go before it can compete with Excel as a standalone product. Intermittently, I would run into problems when trying to sort in certain ways and when trying to insert hyperlinks into cells. So, without the MS plugin, I doubt that I would use Sheet as much as I do. However, it's still much more preferable than an alternative like Google Spreadsheets.
Zoho Show (3 out of 5)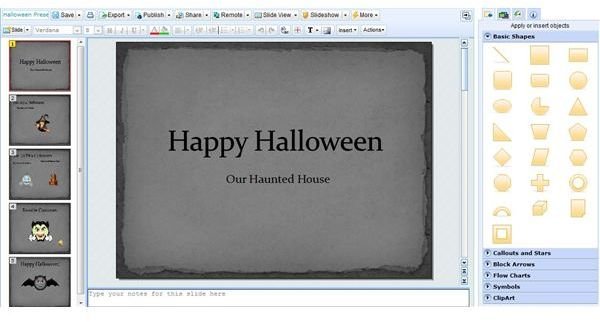 Overall, I'm not quite as impressed with Zoho Show, even though I seldom need to create presentations nowadays. The interface is extremely easy to navigate and, again, the application has the look and feel of a desktop product even though it is accessed through an online browser. However, Show seems to be lacking a lot of the functionality found in other slide-show creators, such as transition and sound support. For basic presentations though, the application works fine. And, as with the entire Zoho suite, sharing and publishing presentations is quick and easy.
Other Zoho Office Applications (4 out of 5)
In addition to Writer, Sheet, and Show, Zoho includes a variety of other applications that round out standard office needs and a whole lot more. These other tools include a task management application, a notebook, a to-do list, an email client, and a contacts manager among other things. Together, all of these products make Zoho a complete office package that's reliable and fairly robust. It's definitely worth checking out.
Currently, Zoho's main competition in the world of online office suites is Google Docs. In the next segment of this series, we'll take a look at how Zoho compares to Google as well as which suite is a better overall office solution.
This post is part of the series: Zoho Online Office and Business Software Solutions
This series of articles examines the online offerings of Zoho, a collection of office and business applications operating under the SaaS model. Is Zoho a nice, free alternative to your existing software solutions? Even if you're happy with current products, would Zoho be a good supplement?