Gladinet Cloud Desktop: Take Advantage of Free Online Services to Get More Space
Introduction
Gladinet Cloud Desktop is nifty little free program (it has a professional version too, but the free Starter Edition is fine for basic tasks) that makes a "folder" on your computer. Any files that you place into that folder are backed up to one of the online storage services. It supports Windows Live SkyDrive and ADrive; together, for free, they both provide 75GB. If you don't delete the files in the cache, the previously uploaded files will still be on your computer. To save local disk space and still keep the files on the remote file hoster,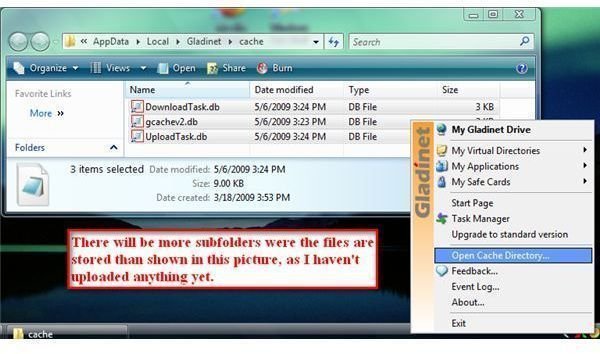 .
As a side feature, Gladinet offers secure login info and credit card managing, which it stores locally.
After a uneventful and breezy installation, Gladinet Cloud Desktop was ready to go.
User Friendliness (4 out of 5)
These are some screenshots and comments of main components.
Gladinet doesn't really have a main GUI page, but you can easily access whatever you need by right-clicking on the system/notification tray icon.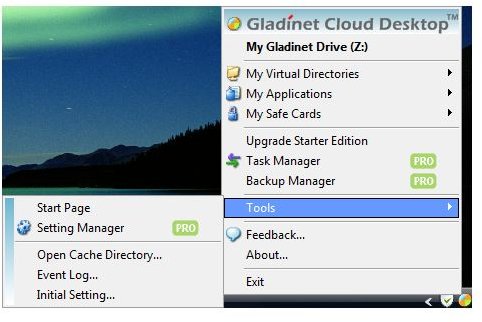 There is a "Start Page" that opens when Gladinet is launched, but it is very basic.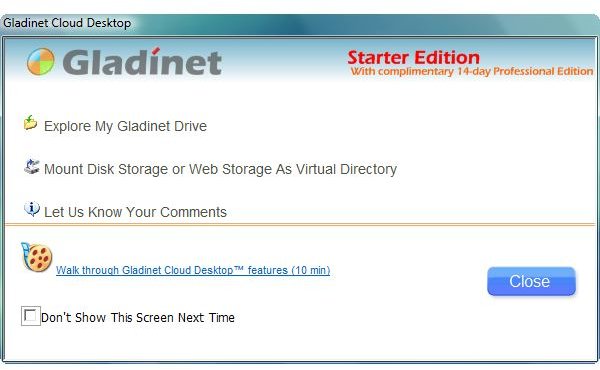 The first option opens the drive in Windows Explorer where the online drives are mounted.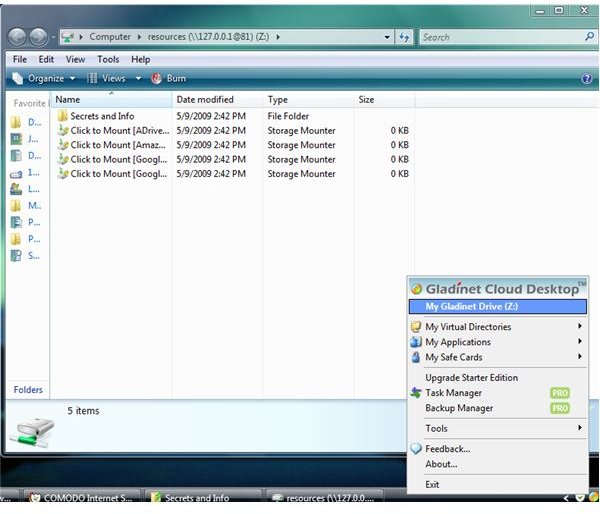 There is a "settings" page, but it is only in the Pro Edition.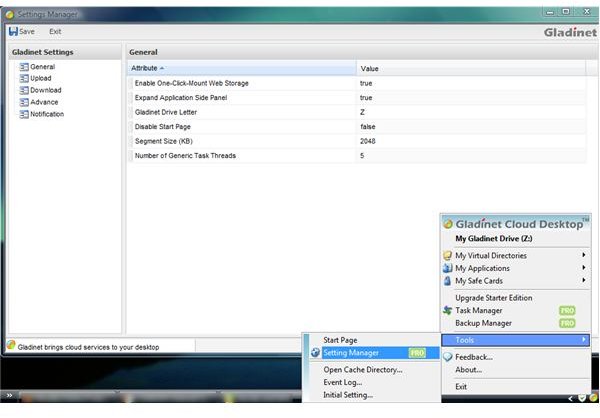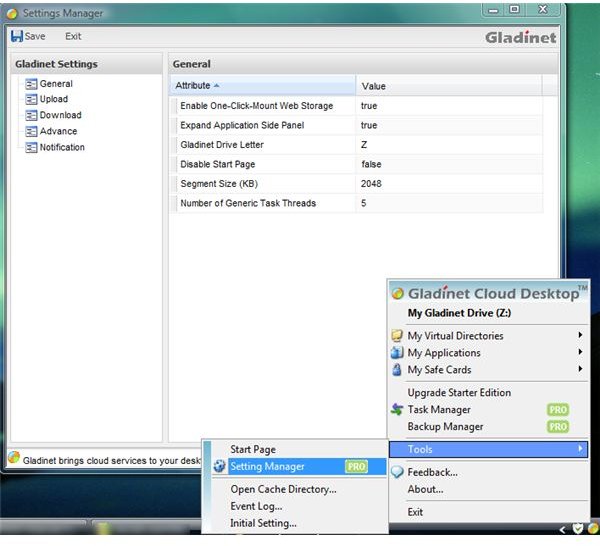 To sum it up, Gladinet Starter Edition's plain GUI is good for users who don't like to be overwhelmed with options. But the Professional Edition is for "power users" who like settings.
Editions And Pricing (4 out of 5)
Gladinet Cloud Desktop has three editions:
Right now, the Professional Edition costs $39.99 for home use and $59.99 for commercial use.
The Starter Edition is quite stripped down, but it gets the job done. On the other hand, the Professional Edition has features for the advanced user who likes to be in control and see what is happening.
See the Compare Editions page to view a more detailed comparison, but here are a few differences that stand out to me:
The Professional Edition has a

(to monitor uploads and downloads).

The Professional Edition has a

.

The Professional Edition has an "

" - a "panel" that displays on the right of a Windows Explore window.
I gave a "Good" rating in this section.
Reliability (4 out of 5)
I have found that Gladinet is fairly reliable, as in not having much bugs. Even the beta was reasonably stable.
But there are a few "quirks": whenever you try to move, cut, copy, paste, or delete files/folders in one of Gladinet's virtual drives, it lags. The larger the file/folder, the longer everything was jammed. Sometimes it was up to a few minutes before it was all sorted out, though this was rare.
But these bugs are, in my eyes, just minor problems.
Conclusion
Cloud based applications and services, like Google Apps, are becoming popular. Gladinet Cloud Desktop takes advantage of these services to bring you online storage, and according to their web site and other sources, more are soon to come.
And to think, I was just going to buy another external hard drive.