Ashampoo Winoptimizer 6 Review - Speed Up PC Login & Performance
Introduction
Tune-up utilities are not something new. Windows operating systems have had disk defragmentation and disk checking programs for a long time. However, these programs do not do anything about registry cleaning and optimization, hard disk cleaning, manage start-up items, visual elements optimization etc. This is the point where tuning utilities come in and do everything for you. In this article, we review Ashampoo's Winoptimizer 6.23, which is in the top few cleanup and tweaking software programs on the market.
Installation (5 out of 5)
The free trial download of Ashampoo Winoptimizer is 16.60 Megabytes. After downloading the program, you double click on the downloaded file, set language and accept the license agreement (if you agree, of course.) The program then asks if you want a free registration key to extend your trial period. If you choose to do so, you will be taken to Ashampoo's account page. Click on the "Freebie Registration Keys" and enter the required information. Your key will be displayed and it will be e-mailed to you as well. When finished, go back to the installation window and complete the installation.
Usage (5 out of 5)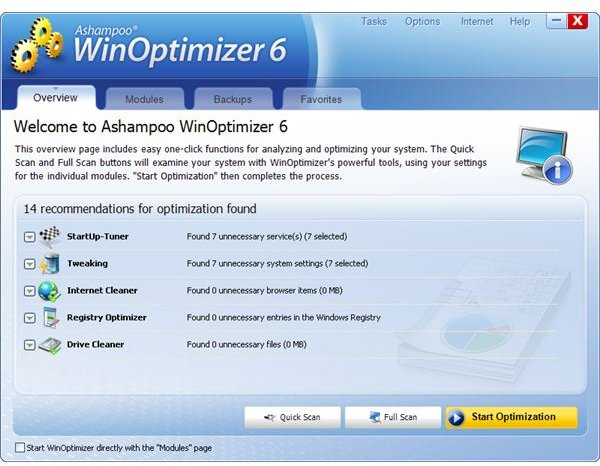 Upon completion of installation, you will see two icons on your desktop. The first is 1-click Optimization, and the other is Ashampoo Winoptimizer. 1-click Optimization really is one click; you do not do anything except to start the program. It runs file cleaning and registry optimization and presents you with the results. I have a criticism though: why isn't the user asked to fix the errors found? The program performs everything without the user's approval. I would prefer it to run as 1-click, perform checks and then ask the user to fix them, instead of doing everything on its own. Frankly though, it does its job well with one click optimization.
Clicking the Ashampoo icon opens a Welcome window that presents you the recommendations for optimization under the "Overview" tab. You can run a quick scan or a full scan and start optimization without going into the detailed modules menu.
I found the program easy to install and use even if you are a novice user and do not (want to) know the details of the optimization.
Features (4 out of 5)
The features of the program are arranged under the "Modules" tab. The Modules page is split in two. On the left, you select the heading and on the right, you select what task is to be performed. Clean up system: There are four tasks under this heading. Drive Cleaner cleans the hard disk and erases your file history. Registry Optimizer checks the registry for obsolete, broken and invalid registry entries and cleans them. Internet Cleaner removes all traces of your Internet activity, including your surfing history, temporary Internet files and sessions. 1-click Optimizer cleans your hard disk, optimizes registry and cleans your Internet history, which is really a 1-click optimizer for the basic tuning tasks.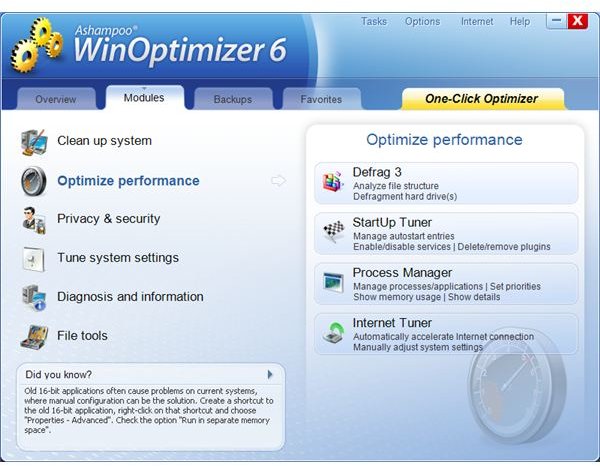 Optimize Performance: Defrag 3 is the new generation disk defragmentation software of Ashampoo's optimization suite. Ashampoo has nicely integrated a background service that enables the Defrag 3 to defragment your hard disk when your computer is idle. Startup Tuner checks what programs, services, modules and processes Windows starts during the startup and eliminates whatever is unnecessary and eating up system resources. Process manager lists the processes running and allows you to terminate them or change priority; for example, if you are running a video editing program, you can set its priority to "High" to use more systems resources. The processes that are essential to the working of the operating system are clearly marked. Internet Tuner checks your Internet connection and makes the necessary adjustments to let you surf faster.
Privacy and Security: Microsoft has a habit of sending data to its headquarters from programs. The most known is the error reporting service and many users (including me) do not like this "phone home" implementation. The Antispy Module under Privacy and Security tab blocks this type of data transmission from the computer; it is not an antispyware solution on its own. File Wiper deletes your files securely from your computer and permanently removes recycle bin contents in an irrecoverable way. File Encrypter & Decrypter lets you encrypt and decrypt your files with a password. In this module, I especially liked the creation of self-decrypting .exe files. With this option, you can make a password protected executable file that is capable of deflating the contents.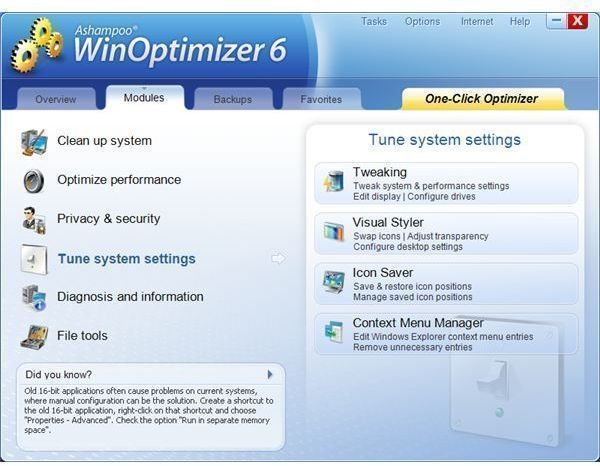 Tune System Settings: Tune System Settings tab has four modules under its name. Tweaking opens up the wide configuration options of Windows, which you can dive into and fine-tune your operating system to work as you want. The settings are well explained and the backups are taken during the process so if you misconfigure anything, you have the option to go back and correct it. Visual Styler changes the visual settings of your computer by changing the icons and adding transparency effects to windows. Icon Saver lets you save the positions of the icons on your desktop and recover their positions if you need to. Context Menu Manager lets you edit the right-click menus, into which some programs insert their functions. You can add or remove functions from the right-click menu and enable/disable actions based on individual/multiple file types.
Diagnosis and Information: DiskSpace Explorer analyzes your hard disk usage and presents reports. System Information shows installed hardware, installed programs, information on individual hard drives and creates a report. With these two modules, you can understand which file types take a large amount of space in which disks and easily identify problems by looking at the hardware components and drivers. System Benchmark is for curious users who want to know how their computers compare to those of others. The module first analyzes your computer, then goes to the central Ashampoo database and compares the results to other users' submissions.
File Tools: Undeleter module lets you recover the files that you have accidentally deleted. As is the case with the other file recovery tools, Undeleter recovers the files that have all their parts available on the disk, it does not have the ability to recover corrupt files. File Splitter & Joiner lets you split files into smaller chunks thereby enabling you to upload to the servers that have a limitation on the file size or e-mail large files in small parts. The Windows Standard Tools gives you a central location to access the Windows system tools.
Price to Performance (2 out of 5)
Ashampoo Winoptimizer 6.23 is a very good program for both newcomers and intermediate users. All of these modules can be found as individual and free programs, but Ashampoo Winoptimizer brings everything in one place and provides an easy solution for all your tuning needs. Plus, the program does what it says and it does it well. In terms of price to performance evaluation, I doubt that the product justifies USD 50, because an immediate competitor TuneUp Utilities is available for USD 30 for three PC license. I believe the product is overpriced.
Overall (4 out of 5)
Despite the high price, if you want a central, all-in-one solution for your computer tuning, Ashampoo Winoptimizer is well worth a look. In terms of personal data protection, which is a concern of many computer users, I did not see connection attempts by the program to the Ashampoo servers (other than Benchmarking, which is anticipated). Therefore, I can say that the program is not interested in what you are doing and does not spy on you.