Review of SharpReader: Free RSS Feed Reader for Windows PCs
Overview of SharpReader
There are a number of news services and blogs that I read on a daily basis – I even check some of them several times a day. A few months ago, I realized just how time consuming it was to go to each one individually so I started reading up on RSS feed readers.
In the past, I have used Google Reader, but I really didn't care too much for the interface. Plus, I really wanted a standalone application that didn't have to be accessed through a web browser. During my search for something better, I came across SharpReader. I've been using it for several months now, and I still marvel about how much time this lightweight utility saves me each day.
Basically, SharpReader is a compact, no-frills free RSS feed reader for Windows PCs. In functionality, it's very similar to a basic email client that sits in your system tray and notifies you when updates have been made to any particular feed. While it's surely already obvious that I prefer this application over others in the same class, it may not be the right tool for everyone. So, let's take a closer look at the program and see if it is a viable choice for you.
Installation and Setup (5 out of 5)
SharpReader is an older utility that was first released in 2003. According to the developer's notes on the product, the last update to the software was made in August of 2006. Despite its age, I had no problems installing it on a 64-bit Vista PC. I've also tested it out on 32-bit Vista and on XP, encountering no issues.
Ease of Use (5 out of 5)
The user interface of SharpReader is very basic and clutter-free. As mentioned before, it's very similar in appearance to a simple email client. You can set up folders to organize your feeds, and each time a new item is added, it will show in SharpReader like an unread message.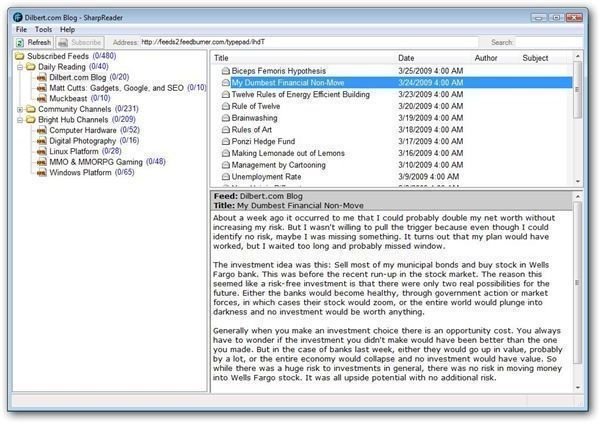 To view an RSS feed in SharpReader, all you have to do is choose Open RSS Feed from the File menu on the application's main toolbar. A pop-up window will appear where you can input the URL of the feed. Checking the box next to Subscribe to feed will add this selection to your existing collection, and you will be notified whenever any updates have been made to that site.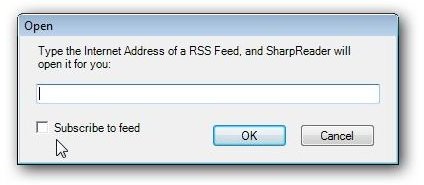 Performance (4 out of 5)
I've only noted one problem with SharpReader's performance. If the PC has been in hibernation mode for a bit, the feed reader takes a bit of time to re-establish connections and you may see several error messages that it is unable to read the URL. Clicking the Refresh button should help this, but it doesn't seem to on my PC. However, shutting the application down and restarting it does seem to correct the issue.
Price to Value (5 out of 5)
Since SharpReader is free, the rating for this category should automatically be a 5 out of 5, right? Not necessarily. One of the main reasons for using an RSS feed reader is to save time while still keeping you current with all your favorite sites. If there is something about the application that makes it difficult to use or prevents it from updating in a timely manner, you've lost even more time – which has a value of its own.
Fortunately, this isn't the case for SharpReader. Although I have experienced a couple of instances when it took about an hour or so for a live post to show up on a feed, the problem seemed to be with the feed itself and not the application.
Long story short – SharpReader is easy to use, performs its job well, and it's free. So that really is a 5 out of 5 for this category.
Overall Rating (5 out of 5)
Despite the issue involving feeds not updating after the PC comes out of hibernation mode, SharpReader is a very handy tool. Not only does it save time, but it also gives users a quick way to search through recent updates on several sites to quickly find a specific post or news item. The fact that it's free doesn't hurt at all.