Check PC Performance Free With PC Pitstop Optimize2 & Improve PC Performance
Optimization Options
Previous »> Introduction, Design, Installation and Setup
As a readily available, 'point-and-click' application, Pitstop Optimize2 has a considerable advantage over any stand alone applications, which only cater for one specific area of system clean-up. Lets take a look…
Product Features (4 out of 5)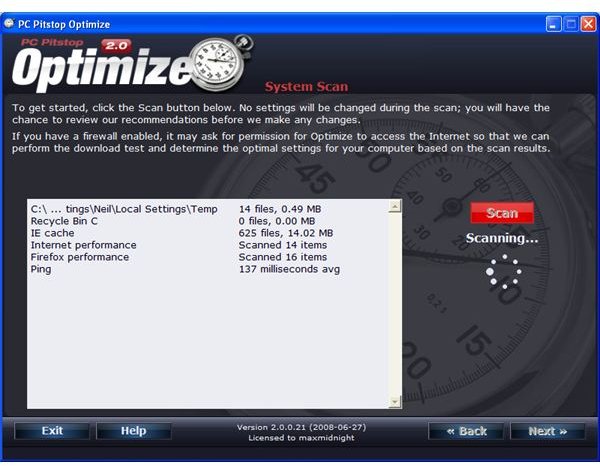 Various utilities are covered in Optimize2, which adds further value to the product for today's PC user. It is comprehensive in its coverage of all of the critical utilities that are essential for a PC to run optimally. It is a great all-in-one performance enhancing piece of software, rooting deep into the PC to diagnose and resolve internet, registry, cache, hard drive and spyware issues.
The two-minute optimization process is slick and informative. With simple 'Next' button navigation and tick box options to run or bypass certain utility cleanup steps, you can simply run the software and still work on other applications without a drop in PC performance.
The tweaked internet settings made a marginal difference when running a wireless network, but did improve speed to a greater degree with wired connectivity. Of course these settings can be changed manually, but they are not for tweaking by the novice or intermediate user. Optimize2 is great at making system maintenance an automated task so the user can free up their time to concentrate on other more interesting PC uses and peace of mind.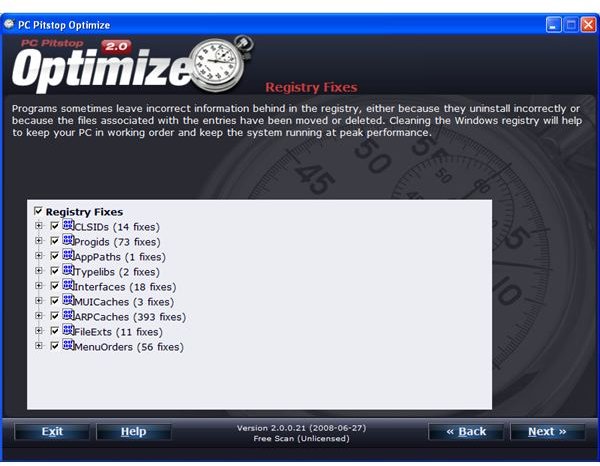 The Internet Cache and Recycle Bin utilities perform adequate search, find and resolution maintenance making the PC more stable during online activity and freeing potential masses of space taken up by 'junk' data. However, such utilities alone come as standard on Windows Vista and XP so for internet and recycle bin cleanup alone Optimize2 really does nothing more than your generic Windows OS. Cleanup of the registry is impressive; it doesn't miss any potential issues and is very quick compared to other registry cleaning software, but again you can find other registry cleaners that are highly effective and drill just as deeply into your PC. So if you require only a registry performance enhancer or internet cleanup utility there are plenty on the market at a cheaper price, some even coming as freeware. That said, you must have a certain level of knowledge of such programs before you let them have carte blanche access to the very guts of your PC.
Following optimization timed boot speed, start-up and application launch is improved, the results are negligible in some instances, for example only marginal improvements were noticeable on many standard desktops (Core 2 Duo Processor, 1GB Ram, standard family PC applications and internet usage). However Optimize2 does have a considerable affect on speed and performance on lower spec PCs. This was most noticeable on a host of company laptops which through misuse had highly fragmented data structures and a considerable amount of legitimate and illegitimate entries.
With Optimize2 you can safely run the application and configure it to suite your needs without worrying about phishing, spyware or malware being attached as part of the install or scanning process.
Security and Help (4 out of 5)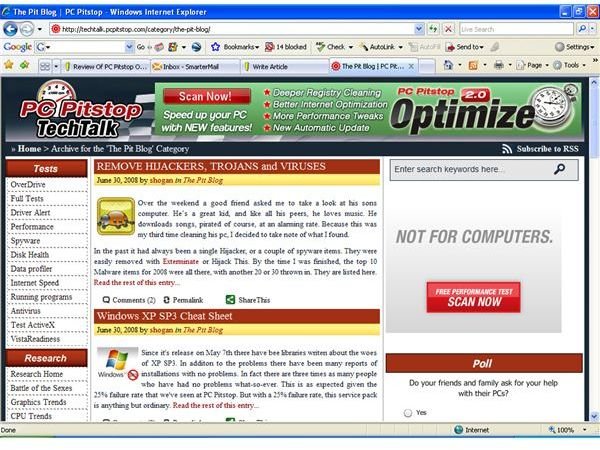 The Pitstop Optimize2 product is a locally run application which only requires an online connection to test and diagnose broadband speed. It does not connect to a central server to divulge personal or system information and has no legitimate (hence processor grabbing) requirement to log onto an online community, forum or database to perform a scan or optimization process.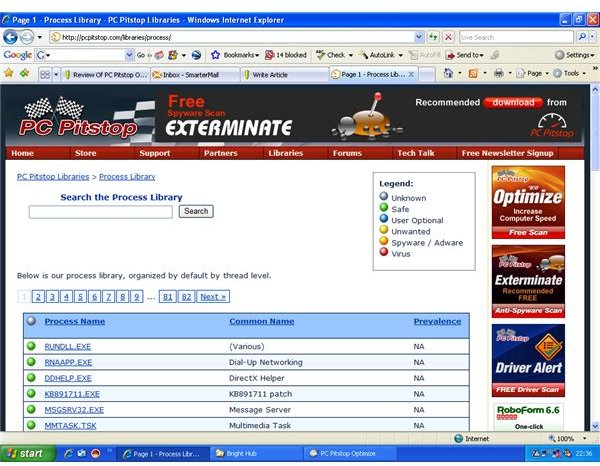 Product support for Pitstop Optimize2 is comprehensive. All support facilities are accessible from any screen on the Optimize2 software, via a well placed 'Help' button. There is an extensive Process Library, Support channels, Tech Talk and Newsletter signup option. Online support is responsive and doesn't leave you feeling like you are talking to somebody with less knowledge of their own product, than you!, and the newsletter is informative. The Tech Talk page provides pertinent update information and a forum to voice opinion, which is not particularly crammed with active user content - however that is more due to the product being so slick and easy to use that rarely is there a need for users to go online to discuss tweaks, tips and failings of the system. Its simplicity and reliability make support somewhat of a by-product, but for core help features Pitstop Optimize2 is perfectly covered.
Conclusion (5 out of 5)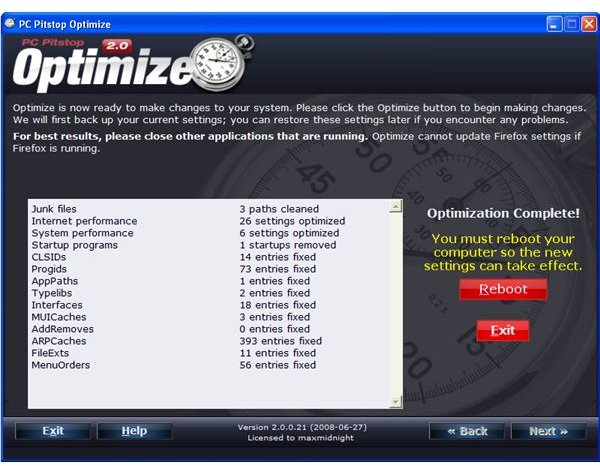 Pitstop Optimize2 doesn't offer anything more advanced than some very effective stand alone registry editors, internet cleanup services and mailbox archiving utilities, but what it does have is an easy delivery, slick navigation and extensive coverage of tune-up utilities in one easy to use application. For any level of user wanting to automate PC performance maintenance, and certainly for the novice to intermediate user with a lack of understanding or appreciation for system cleanup, Pitstop Optimize2 is an outstanding utility, hassle free, and one I would highly recommend.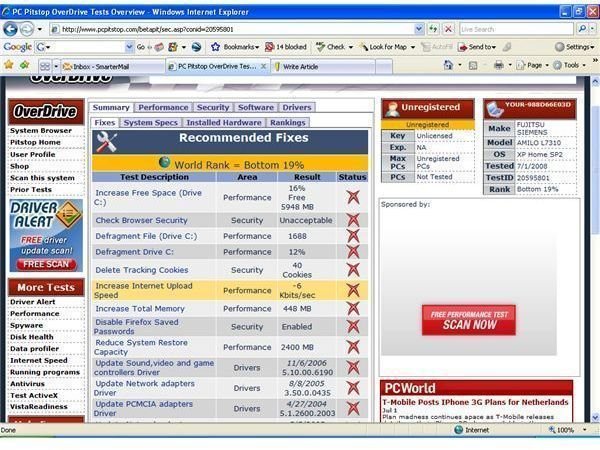 Note: I have heard of a number of people who are unimpressed with the 'Free' Optimizer Scan as is provided (Pitstop Overdrive). What people must appreciate is that this is as it says, A FREE SCAN. Nothing more, nothing less. Granted, it dazzles you with a lot of reported errors and issues with your system - alarmingly on a couple of PC's in my possession, it even reported back 'PC in the bottom 20% of the PC's in the Universe'…which seems a bit harsh, but hey, whatever gets the message across to make people buy the product - And here-in lies the problem which people need to understand. As with so many applications in the backup and utility category, you will get absolutely no quick fix solution from Pitstop Optimize2 unless you pay the $30 for the product. The Free Scan only performs a diagnostic health check of your system, tests bandwidth, speed, system registry, internet settings and various other areas that can affect PC performance. It then reports back with a diagnostic list of all the problems it has found with the PC and (surprise, surprise!) informs you that Pitstop Optimize2 will rectify all. So the big issue is, if you can get over this rather slick marketing ploy and are aware of the 'dangle but doesn't deliver without you putting your hand in your pocket' marketing tactics of such software, then PC Pitstop Optimize2 will not let you down. Because when all is said and done it delivers impressive performance enhancing results.
Previous »> Introduction, Design, Installation and Setup