A Review of Fraps: Capture Video, Take Screenshots, and Benchmark Video Game Performance on a PC
When playing full-screen video games, players are often interested in knowing how many frames per second their computer is producing, capturing video to record great moments of play, taking screenshots, and benchmarking the performance of their computers using a variety of settings and configurations. Fraps, from Beepa Software, offers all these features in a small, inexpensive, easy-to-use package.
Beepa describes Fraps as "a universal Windows application that can be used with games using DirectX or OpenGL graphic technology." The program offers four main features: Frames per second display, benchmarking, and both video and screenshot capture. A low-overhead program, Fraps uses very few computer resources and is immediately usable without the need to read manuals or spend a significant amount of time learning how to use its features.
Fraps FPS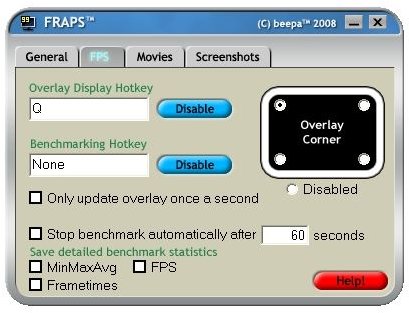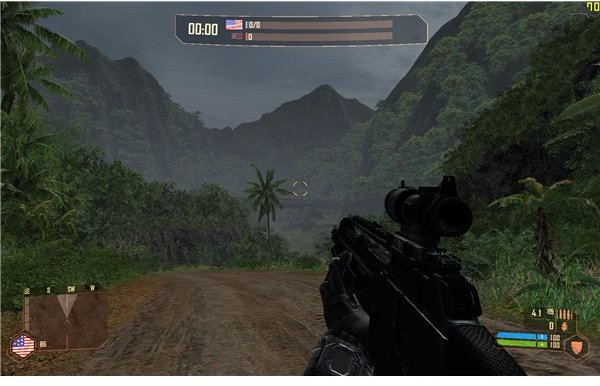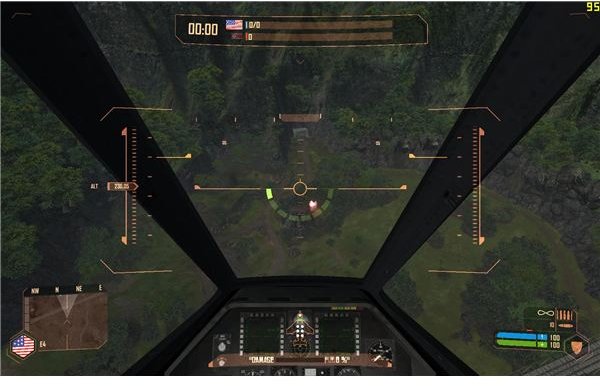 Frames per Second (5 out of 5)
The FPS tab allows users to display the number of frames per second their computers and video cards are producing while playing a full-screen Windows game. The user may display the number in any of the four corners of the screen. A nice, bright yellow readout makes it easy to see without being intrusive. Also on the FPS tab the user may perform benchmarking trials to test the performance of their computers under multiple settings and configurations. This comes in handy when a gamer wants to determine whether it was worth spending all that money on a new video card.
Fraps Video Capture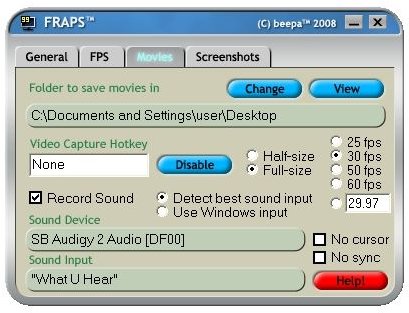 Video Capture (5 out of 5)
On the movies tab, users can capture video while playing a full-screen game with the stroke of just one key. Fraps allows for video capturing at 25, 30, 50, 60, and even custom frame rates. The choice to capture sound is available and the resulting video file can be saved anywhere specified by the user. This allows users to share videos of game play with fellow gamers or use the video as a source file in video-editing software to create a custom video.
Fraps Screenshots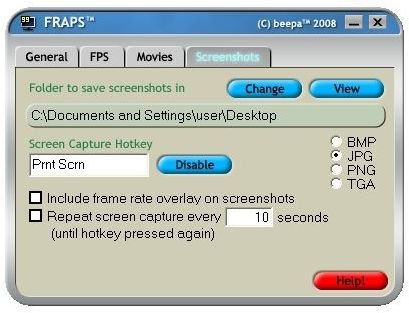 Screenshots (5 out of 5)
The screenshots tab allows users to take pictures during full-screen gaming with the option to save in BMP, JPG, PNG, or TGA formats. In addition, the option to include the frame rate overlay in the screenshot is available. Users can even set the program to continue taking screenshots at regular intervals eliminating the need to stop playing to take a picture. Any key may be set to take screenshots so this feature will not interfere with keys set aside for game play.
Extras (5 out of 5)
Sometimes, it is the details that make or break software. The programmers of Fraps really seemed to understand the needs of gamers by offering three general options. The options to start Fraps minimized, have the Fraps window always on top, and to run Fraps when Windows starts sets this program apart from its competitors who forget about the little things that make the software easy and convenient to use.
Price (5 out of 5)
One of the best features of Fraps is its price. The full version is available for only $37, an unbelievable price for all these features. Gamers unsure of whether Fraps is for them can download a trial version with some of the more advanced features unavailable. Once Fraps is registered, future upgrades are available for free, so a one-time investment gives users the opportunity to enjoy future options and fixes without further investment. The current version of Fraps (v2.9.6) is useable with Windows 2000, XP, 2003, and Vista.
Conclusion
Fraps is an easy-to-use, small-footprint, utility that lets gamers do many things they wish they always could. Capturing video, taking screenshots, benchmarking different configurations, and having a real-time frames per second display can make games that much more enjoyable. Fraps is available at an amazing price in comparison to competitors charging far more for the same features.