Review: Movie Label 2009 - A Tool To Manage And Organize Your Large Movie Collection
Introduction
I am an avid movie lover and have a huge collection of movies stored in my 500 GB external hard drive. With the drastic recent fall in the prices of DVDs, hard disk drives and portable hard disks, it is now affordable to buy and store a huge number of your favorite movies, but a problem still persists: how to manage and organize such a huge pile of movies? Here is a solution.
Installation (4 out of 5)
Installation is easy and hassle free. Movie Label 2009 is priced at US $49.95, but you can download the trail version directly from Code/Aero. Try using this link,
https://www.codeaero.com/movie-label/
During installation you are asked to choose your language and create a directory of database files. You can choose any language and a path on your hard drive. Then you can open the application from the desktop icon "Movie Label 2009."
Easy of use (4 out of 5)
As I started using the application everything came in very handy and at ease. All the important tabs are placed in the main window of the application, so it will take you less time to get up and running using the application.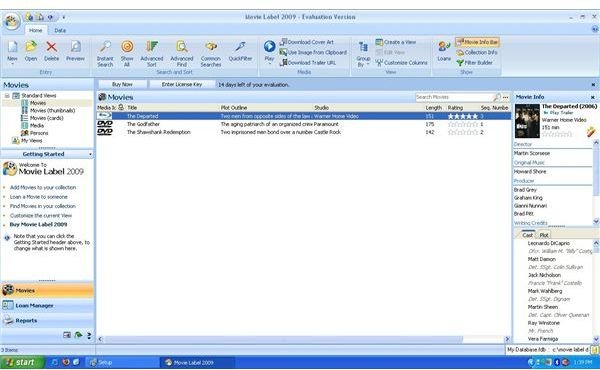 Features (4 out of 5)
The information about each movie is rendered automatically, using the online IMDB movie database. Movie Label adds images from your DVDs and Blue-ray disks; also all the VHS covers are retrieved automatically from Amazon. It also helps you keep track of movie loans and future purchases; so that you can keep lead of which friend have which movie of yours, and which upcoming movies you should buy. All conventional media such as CDs, DVDs, VHS, and advanced digital media such as DivX are also supported. Movie Label comes with an in-built client and server database engine that ascertains stability and speed; no matter how huge the size of database is, enabling you to speedily manage huge mass of movies. Report designer enables you to print your collection information in a variety of ways. You can also export your data to HTML, XML, Excel, and text.
Performance (4 out of 5)
As I opened one of the files "The Departed," I was pleased to see all the details flashing out in a new window.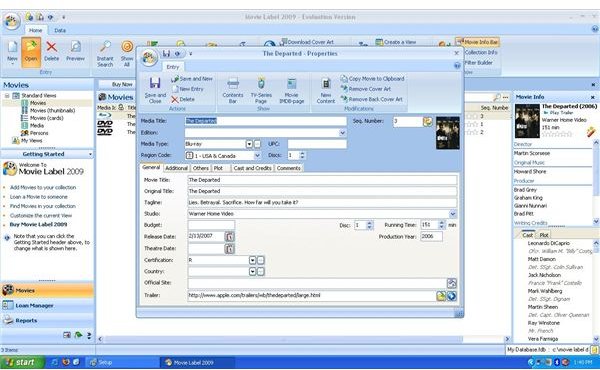 I could edit everything, right from the name of the movie, tagline, release date, to the date of the theartrical release. This window even points out to the link to the trailer and shows price of the movie. I was able to place the movie into a category, and edit various video and audio formats for the movie. It even showed the cast and credits, and I was able to write comments on the movie. Amazing, isn't it?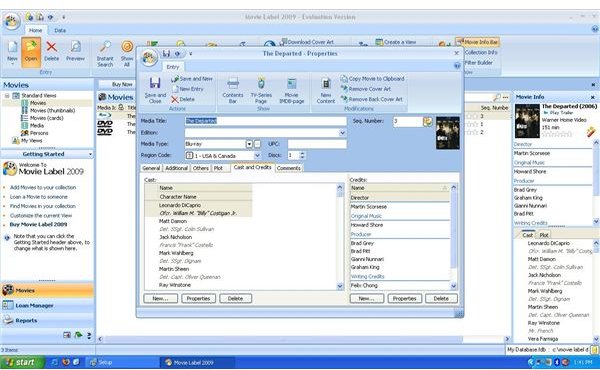 Value for money (3 out of 5)
As compared to the features and performance of the application, I feel it is fairly priced at US $49.99
Conclusion (4 out of 5)
If you are a movie enthusiast, and don't know how to keep track of loads of movies you have, this application is a must have. Check out the free trail version first before buying out the application. Overall, I will say that it is a very handy tool for movie lovers.
This post is part of the series: New Software on the Block
Reviews and deep analysis of new software released on the market.