TidyFavorites: Universal Bookmark Manager with Web Page Icons
A New Way to Manage Browser Favorites
Although online third-party bookmarking continues to grow in popularity, there are still many people, including myself, who prefer to manage their favorites locally. This task can become pretty daunting at times, especially if you use multiple web browsers with each one having its own list of bookmarks. Even if you only use one browser on a regular basis, the sheer number of items in your favorites may become so large that it's tough to sort through them all.
TidyFavorites is a universal bookmark manager with several appealing features. The application allows you to store bookmarks from multiple browsers – Internet Explorer, Firefox, and Opera – in one location. As it is easily accessed from the toolbar of your browser, it works similar to a plug-in so it doesn't clutter up additional display space.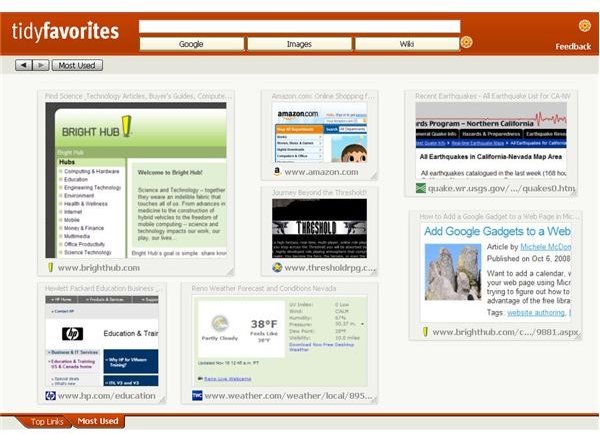 The nicest feature of TidyFavorites may be the method that it presents the links stored as favorites. Instead of using the traditional manner of just associating text with a bookmark link, TidyFavorites also allows you to attach a thumbnail image to the link. This is great for those of us who have tons of favorites and have trouble remembering which is which.
Installation and Setup (5 out of 5)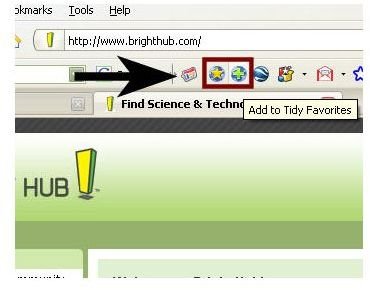 TidyFavorites is a very compact application so it downloads and installs quickly. Although you don't have to close your browsers to install the software, you will need to restart them in order to see the TidyFavorites icons on your toolbar after the installation process.
At the beginning of the installation process, you'll be asked whether you want to install the Standard or Portable version of the software. If you only care about having access to your favorites on one machine, choose the Standard option. However, if you use several different computers on a regular basis, you can select the Portable option and install the application to a mobile flash drive.
Features (5 out of 5)
Adding favorites with TidyFavorites is just as easy as using the regular bookmarking feature of a browser. All you have to do is click on the Add to Tiny Favorites icon in the browser toolbar. Then you can click the Open Favorites icon and drag the link to whatever location you wish. You also have the option to resize and modify the thumbnail image associated with the bookmark so that the image will reflect the portion of the web page you want viewable in your favorites list.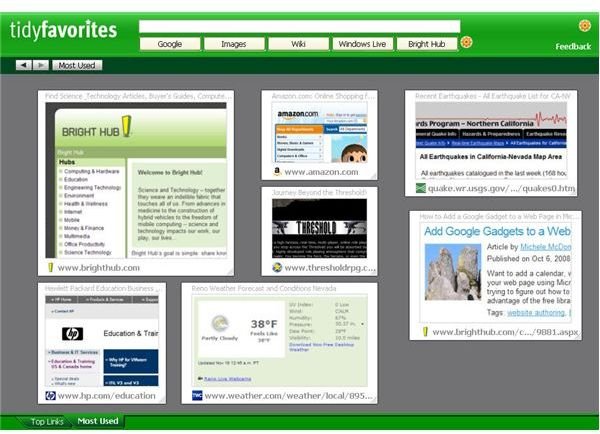 For more efficient management of bookmarks, you can create tabbed folders in TidyFavorites. One particular thing I like about this feature is that it's easy to add one bookmark to several tabs. Recently added links remain in the clipboard section on the right-hand side of your screen so you don't have to worry about filing them right away. You can browse normally, add items as favorites, and then access your favorites list and file the links at a later time.
In addition to managing bookmarks, you can also perform searches from your Favorites page. With the installation of TidyFavorites, search options for Google, Google Image, and Wikipedia are preconfigured. If you purchase the Pro version of the software, you get the extra option of being able to add and remove any additional search functions, including those that only search a single web site. The Pro version also gives you the option of changing the skin of the application.
Price and Overall Rating (5 out of 5)
The basic version of TidyFavorites is free, so there's certainly nothing to complain about there. If you want to access some of the additional features of the application such as customizing the search buttons and changing skins, you will need to upgrade to the Pro version which has a price tag of $19.99 and includes free upgrades. That last bit is pretty important because the developers have set up a community forum and are paying close attention to user feedback. So, there's no telling what additional neat features we might see in the near future.