Organize Creative Thoughts with NewNovelist Novel Writing Software
What is NewNovelist?
NewNovelist is a software application for Windows operating systems (Windows 2000, XP, and Vista) that helps writers organize their notes, keep track of creative ideas, form a cohesive outline, and – yes – write a novel. More than just a specialized word processor, NewNovelist incorporates all the components that go into writing a novel into one application, making it easy for authors to reference items such as character development ideas and timelines without having to look away from their current working page.
User Interface (5 out of 5)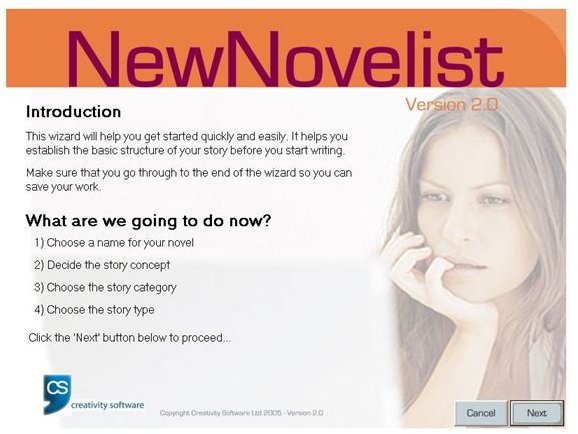 Although it contains tools and features that even accomplished authors will find useful, NewNovelist was clearly developed with the beginning writer in mind. The interface is extremely intuitive and walks the user, step-by-step, through the process of beginning a new novel.
The software is simple enough to use that it's accessible to people of all ages, even those who aren't completely comfortable sitting in front of a computer screen. When using the software to begin a new novel, the user is asked a series of questions that further refine the type of novel to be written. The answers to these questions are used to develop a rough outline of how the story should progress and how many chapters should be dedicated to each part of the book. These recommendations are just guidelines, however, and the user is free to add or delete as many parts of the outline and chapter breaks as desired.
Features and Tools (5 out of 5)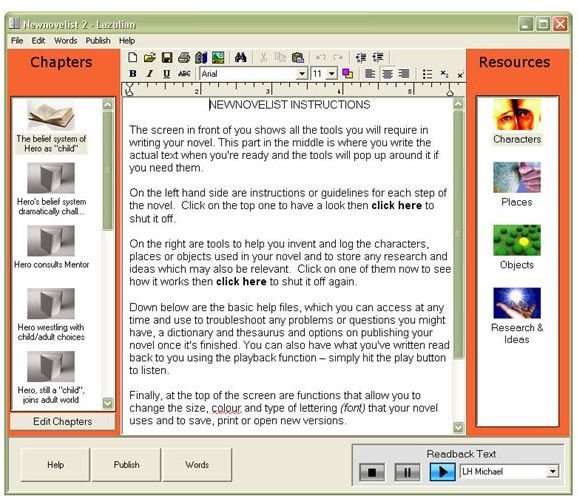 Once the basic type of novel has been established, the user will be brought to a screen to begin writing. On the left-hand side of the application, there is a list of chapters that can be scrolled through. Each one has recommendations for the type of material it should contain, but, again, these are simply guides to make it easier for those having trouble organizing their thoughts.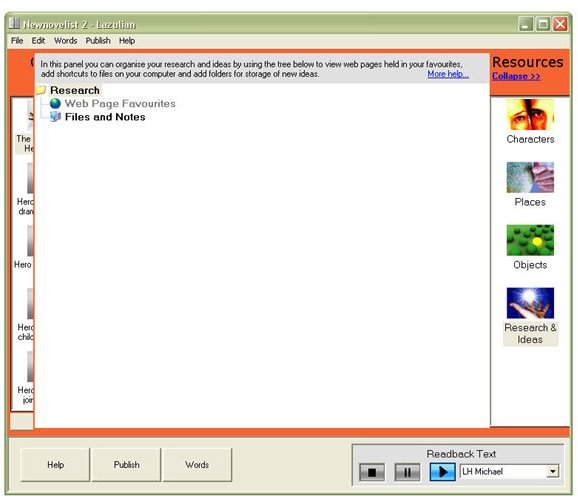 On the right-hand side of the application, there are several buttons that will take the user to "notes" sections within the application. Here, the writer can enter information about specific characters, places, and objects that are central to the novel's theme. Additionally, the writer can create a Research and Ideas page that includes more generic notes and links to sources on the Internet that contain information to be used in the novel creation.
Compatibility (3 out of 5)
NewNovelist does use its own specialized file format when saving, and these files can only be opened in the NewNovelist application. On the positive side, it is possible to export these files to a rich text file that can be opened in other word-processing applications such as Microsoft Word. The downside is that you can't import these files back into NewNovelist if you make changes, so any modifications must be made in the original file.
The only way to import text from other programs is to cut and paste the information into NewNovelist. While it's nice that there is some way to get information from other applications, this isn't really a viable method for moving large chunks of text around unless you're exceedingly patient.
Because of NewNovelist's structure, I understand why it isn't possible to import an entire novel into the application, but it would be nice if the functionality to import a single chapter had been added to the software.
Price (3 out of 5)
While NewNovelist is extremely flexible when it comes to most features, the price of the software may be a little steep for those who don't plan to use it on a regular basis. It currently lists at US $54.99 or UK £29.99.
Overall Rating (4 out of 5)
If you've wanted to try your hand at writing a novel for a long time, but you're having trouble figuring out where to begin or how to keep yourself organized, NewNovelist is an excellent tool. The application is great for those who need help setting up a uniformed structure for their writing attempts as well as for those who could use a few tips on character and world development.
If you're simply looking for a word-processing application, you're probably better off sticking to something like Microsoft Word. While Word doesn't offer the organizational and creative options found in NewNovelist, it is superior as a general document creation tool, and it has a broader range of use.
This post is part of the series: Resources for the Novelist on the Windows Platform
Are you still trying to find the inspiration to write that first novel? There are a number of amazing resources available nowadays for authors, both new and old. In this series, we'll cover some helpful web sites and offer reviews of several Windows applications developed specifically for writers.