Uniblue's DriverScanner 2009 Driver Management Tool Review - Manage Your Computer Drivers
How Many Drivers?
Well, every piece of your PC has a software driver; audio, video, hard drive controller, monitor, and on and on. It is how your PC's operating system communicates with the different hardware components.
I figured my PC would have seventy or so drivers. Running DriverScanner 2009, from Uniblue, headquartered on the tiny Mediterranean Island of Malta, surprised me. My PC has 132 drivers on it (see picture at right).
Though being that far off on my less-educated-than-I-thought-guess was a little bruising, my ego quickly recovered when I found that only four of these drivers were out of date. After all, I change and check my hardware far more often than even a normal enthusiast.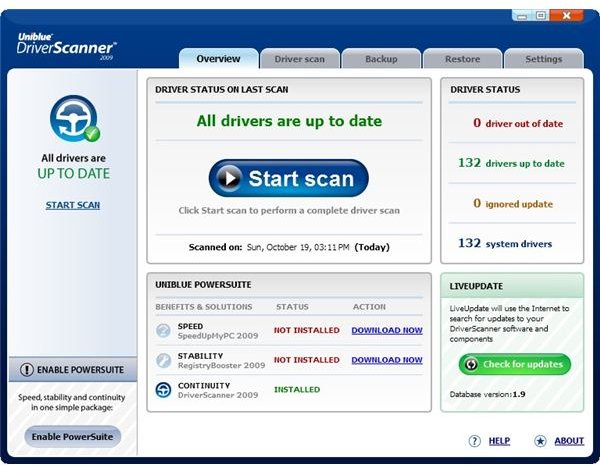 Less thrilling was that among the out-of-date drivers were the one for my monitor, and the one for my motherboard's network adapter. Depending on how out of date those get, you can start to see some serious differences in your monitor's appearance and Internet bandwidth.
How Do I Update What I Am Missing?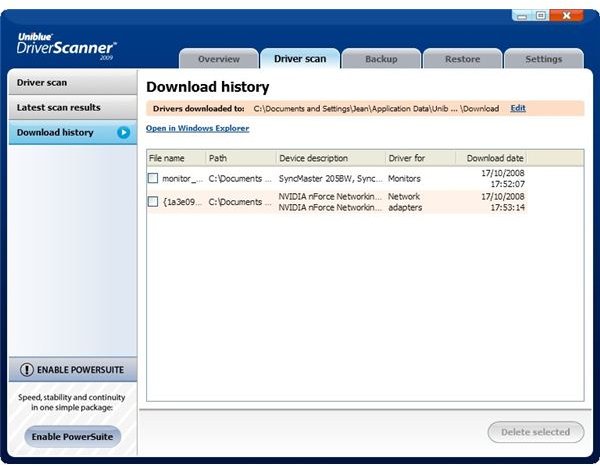 Well, that depends on how busy you are, how many out of date drivers you have, and your budget. The scanning feature we used is part of the trial version, which you can download here. If you want to take the time and save the money, you can run all over the web and track down the drivers yourself.
For about 35 bucks (19.95 in pounds) you get the full version. Click a button and it will download all your new drivers for you. You can then click to run their installers one at a time. You still have to go through the installation process manually, and since some driver updates will require an uninstall, restart, and install, the process can be pretty lengthy. That isn't the scanner's fault, installing drivers just takes time.
Another problem with driver installation is having the computer restart after an uninstall and for some reason, the installer fails to reopen and complete the process. Traditionally, assuming you remembered to where you downloaded the driver (admittedly if you are reasonably organized it shouldn't be too hard), you would have to dig it up and run it.
Opening DriverScanner and using the "Driver scan" top tab and the "Download history" left tab (see picture) is helpful in these cases. All the downloads that have been made (that you haven't deleted) are listed, and you can click a link to open the Windows Explorer folder containing the file. You can specify where the downloads go via the "Settings" top tab.
Wait, Backup for a Second
The full version of DriverScanner has a backup feature. This is great. Every driver on your system (you can select which you want to include or excluded, see picture) gets collected, compressed, and saved to a file. You can specify to where the file is saved under the "Backup settings" left tab. Save it to somewhere that you usually backup.
If your hard disk should require a format, outright die and need replacing, or even if you are just upgrading, this could save hours. Having to download and run that many drivers would result in long, tedious work, and there is no way you could remember them all. You could try to create a similar file and maintain it yourself, but having to update the file every time you upgrade a driver would be an insane amount of work.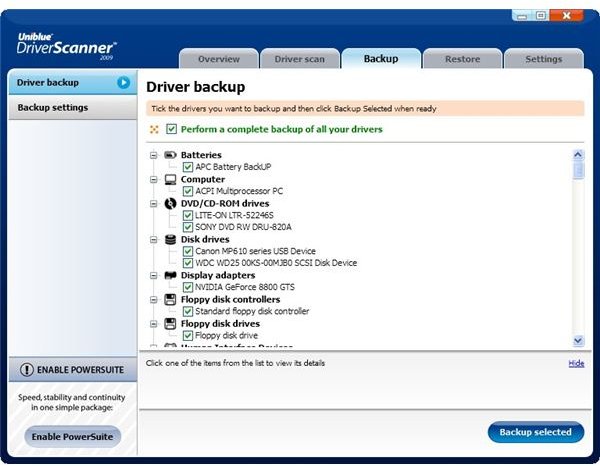 Having one archive file to look after backing up and being able to restore everything from it could save you tens of hours.
Pricey, But Good (4 out of 5)
Even if you had the time to put in, there is almost no way you could be on top of every single change to every single driver. Many pieces of hardware come with automatic update applications, but running all of them will eat a lot of Internet bandwidth, memory, and destroy your start up time as all of these processes launch every time you turn on your computer.
DriverScanner 2009 is a great tool just on that front. Factor in the backup feature, and it is an easy way not just to keep your PC running well, but covers a very important and usually ignored facet of backup procedures.
The only thing holding back the 5th dot is that the product either needs to be a hair cheaper, or a hair more feature rich. In all fairness, the high USD price has more to with that country's economy than anything Uniblue did, but for 35 bucks, I would like some more automation. It would be nice if it could update itself, backup your drivers, then scan and let you know if it found a new driver on a chosen schedule. As it stands, the software needs you to remember to use it from time to time.
Another issue is that you have the option of scanning automatically when you launch DriverScanner, but no ability to update its database first. Since you obviously should have the most recent version of the software before you scan, the auto scan got shut off pretty quickly.
That's nitpicking to a certain extent, though, as the software's core features work as expected, it is very easy to use, and the service provided is valuable. If you aren't the type who has hardware manufacturer's websites bookmarked, you really do need a hand looking after all those drivers.
Even if you have the ability and time to look after your drivers properly, you almost certainly don't have the inclination, and you can just ask yourself if 35 bucks is worth it avoiding the tedium. Don't forget to factor that backup feature into your calculations though.
You can also get DriverScanner 2009 as part of Uniblue's PowerSuite 2009, which also includes RegistryBooster and SpeedUpMyPC, reviewed here. Buying the suite is about 70 USD, a significant savings over buying each component for about $35 each.