Easeus Partition Manager Review - Resize and Clone Partitions in Windows 7, Vista, XP, and More
Easeus Partition Manager
If you've ever spent much time reformatting or managing partitions on your hard drives, then you know all about the little annoyances that can crop up when trying to get things just perfect. While most all operating systems do have built-in tools that can help perform these tasks, they're generally fairly clunky and you end up having to check and recheck various options half a dozen times. All it takes is one little mistake to lose a lot of valuable data.
To help simplify this process, there are several third-party tools on the market, each one with its own degree of functionality. Easeus Partition Manager is one of these applications designed to manage and format hard drive partitions. It also allows you to copy or clone hard drive partitions, making it much easier to migrate or upgrade an existing hard drive – even on computers running Windows 7.
Installation and Setup (5 out of 5)
Installation of the Easeus Partition Manager is very straightforward. As long as your system meets the requirements for the version you're using, this process should only take a few moments, and the software will be immediately ready to use. It automatically detects all supported hard drives and their partitions, even external USB drives.
User Interface (4 out of 5)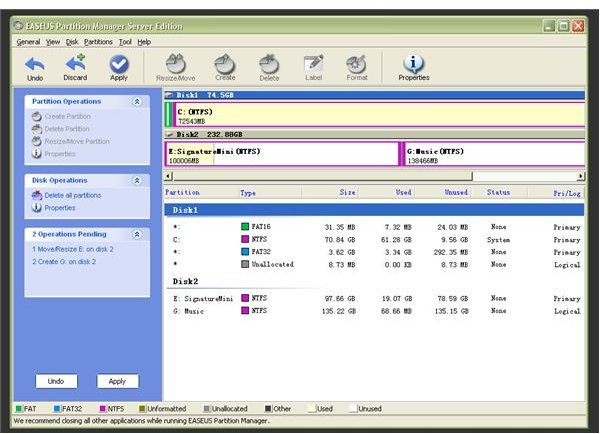 It may not be slick and fancy, but the user interface of the Easeus Partition Manager is easy to navigate, and it allows you to see all pertinent information on one screen. With a few clicks, you can modify existing partitions and create new ones while still being able to access information on those you are leaving untouched. A particularly nice feature is that you can review how these modifications will affect the entire drive before you actually apply the changes. With the Professional Edition and above, you can even create a bootable CD or DVD.
Operation of the software itself is extremely intuitive, but if you do have any questions, the application is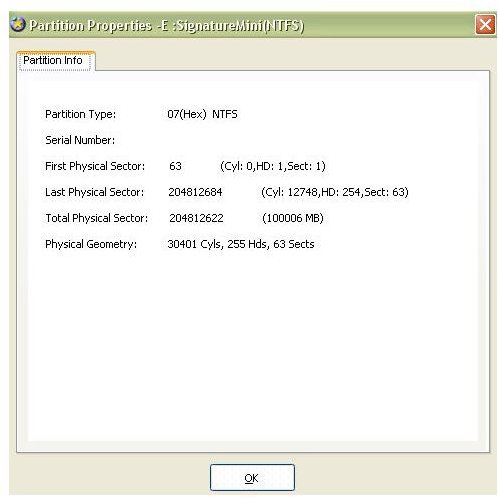 accompanied by a complete PDF user's manual and further information is available at the Easeus web site.
What if you make a mistake? I happen to have a "dummy" hard drive on hand so I was willing to chance that in order to test the software. I spent quite a bit of time creating, moving, resizing, and deleting partitions on this disk. I had no issues in attempting any of these tasks, and in the end, I was able to put my drive back to its original state. The software made it easy to walk through any modification with full knowledge of how that change would affect the system before it was applied.
Supported Systems and Drives (5 out of 5)

The Easeus Partition Manager supports FAT12, FAT16, FAT32, and NTFS file systems. Disk types supported by the software include IDE, SATA, SCSI, USB external drives, and FireWire drives. The application can handle up to a maximum of 32 drives, as long as each one has a volume between 2 GB and 2 TB.
The Home Edition of Easeus Partition Manager works with Windows 7/Vista/XP/2000, but it does not support 64-bit operating systems. If you're running a 64-bit version of Windows or Linux, you'll have to step up to the Professional Edition. If you need the product to be compatible with Windows Server, you'll need to upgrade even further to the Server Edition.
Overall Rating (4 out of 5)
Although it's not as flashy as its Norton PartitionMagic counterpart, the Professional Edition of Easeus Partition Manager, retailing at $39.95, is capable of all the same tasks at almost half the price. Currently though, there is a web special that lets you pick up the Professional Edition for $31.96. Moreover, if you're working on a 32-bit Windows operating system, you'll most likely be able to get away with just downloading the free Home Edition of the software. You certainly can't beat that deal.