WinZip System Utilities Suite Review: Collection of PC Tools for Improving Computer Performance
New Direction for WinZip

WinZip is pretty much a household name when it comes to compression and encryption software, but the release of System Utilities Suite marks a whole new direction for the WinZip line of products. System Utilities Suite is actually a collection of tools that focuses on PC optimization, maintenance and performance. The software bundle also contains backup and recovery tools, including an "undelete" utility to help recover files that have been accidentally deleted.
While the variety of tools included in this software suite is impressive, do these utilities really improve PC performance and make it easier to perform general computer maintenance? We'll investigate in this review.
Setup and Installation (5 out of 5)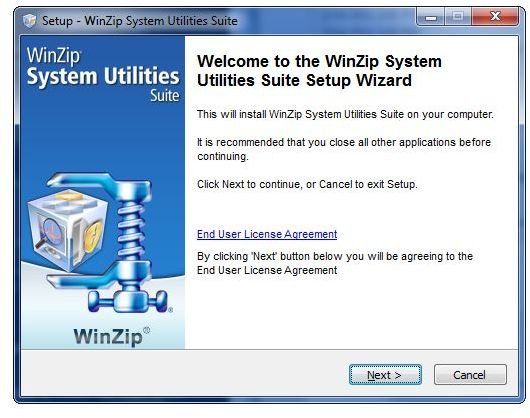 The installation process of WinZip System Utilities Suite is quick and painless. Like most Windows products, the software has an automated wizard that does the work for you—all you really have to do is click "Next" several times. No reboot is necessary, so you can start using the application immediately after installation.
It should be noted that the software is only available for the Windows platform, and you do need to be running XP, Vista, or Windows 7 (32 or 64 bit) to install.
Ease of Use (4 out of 5)
The first time you run WinZip System Utilities Suite after installation, you'll be prompted to perform an initial scan. Whether or not you choose to do this is completely up to you, but it only takes a couple of minutes—assuming you run a Custom Scan and don't check the Defrag option. You'll definitely want to use the Defrag utility later on (and on a regular basis), but it's a good idea to wait and do that later when you don't need your PC for other tasks. One nice feature here—at any time during the scan, you can cancel the entire processr or you can click to cancel the current step and move on to the next one if needed.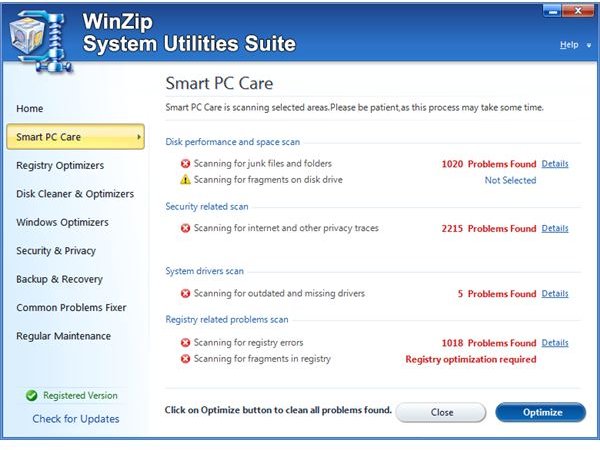 When the scan is over, you can either close out the scan window and choose to fix selected problems or click on the Optimize button to fix every issue found. Depending on the options chosen for the scan, you may need to reboot your system when the scan is complete. If so, you'll be warned of that in advance and have plenty of time to save any work in other applications.
Note that even if you choose the Deep Scan option on the Home tab, only the standard optimization and performance tools are run. If you want to truly utilize every performance feature found in Systems Utilities Suite, you'll need to go through each of the tabs show on the left hand side of the application. Some of these can take quite a bit of time, and many of them require a reboot, but you'll be warned of this in advance.
Continue on to the next page for a detailed look at the features and performance of WinZip System Utilities Suite.
Features and Performance (5 out of 5)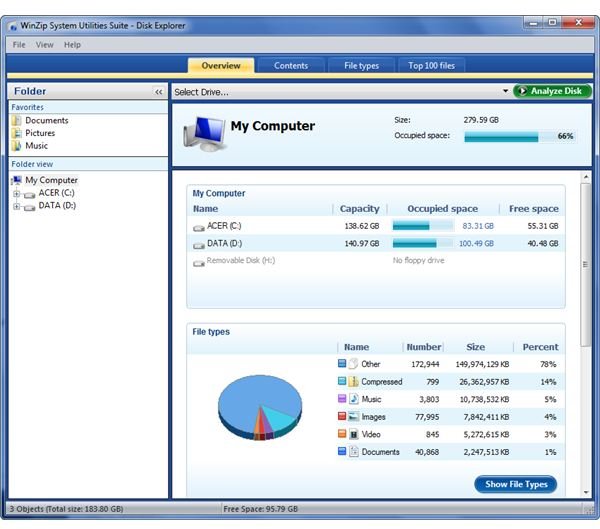 There are actually a lot of tools packed into this program—including a few that I wasn't expecting to see. Here's a quick run down of these utilities, by category.
Registry Optimizers
Registry Cleaner – Searches for and repairs errors in the Windows registry.
Registry Optimizer – Looks for ways to compact the registry, reducing its size and making it more efficient.
Disk Cleaner & Optimizers
System Cleaner – Deletes junk files from your PC.
Disk Optimizer – Defrags and optimizes hard drive.
Disk Tools – Checks disk at startup to fix any probable errors.
Disk Explorer – Analyzes drives and displays statistics on usage, file size, file type, etc.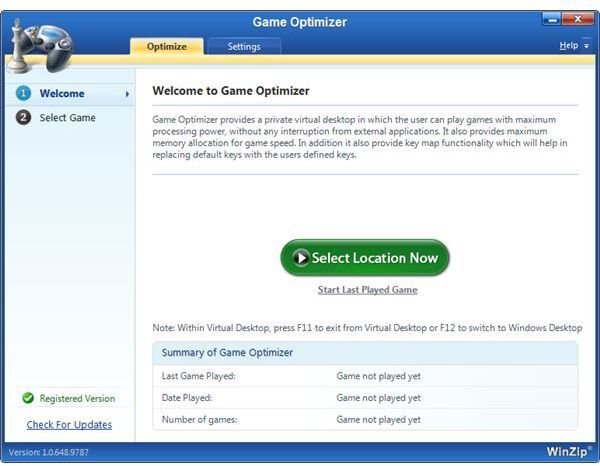 Windows Optimizers
Game Optimizer – Creates a virtual desktop for playing games, allowing full system resources to be devoted to the game without interference from other applications.
Memory Optimizer – Frees up unused allocated memory to improve PC response time.
Driver Updater – Detects outdated drivers, and then searches, downloads and installs updated versions.
Security & Privacy
Privacy Protector – Removes Internet browsing history and other leftover traces.
Secure Delete – Permanently deletes files so that no one else can recover them.
Secure Encryptor – Lets you encrypt and assign password protection to sensitive files on your computer.
Backup & Recovery
Undelete – Helps retrieve files that were deleted accidentally, and even helps retrieve date from deleted partitions.
System Files Backup & Restore – Allows you to backup system files so that they can be restored later if needed to recover from a malware infection or other problem.
Common Problems Fixer
PC Fixer – Provides solutions to common PC problems, such as being unable to access drives and missing desktop icons.
System & Security Advisor – Scans system and give tips to help improve PC performance and security.
Duplicate Files Remover – Locates and deletes duplicate files, freeing up hard drive space.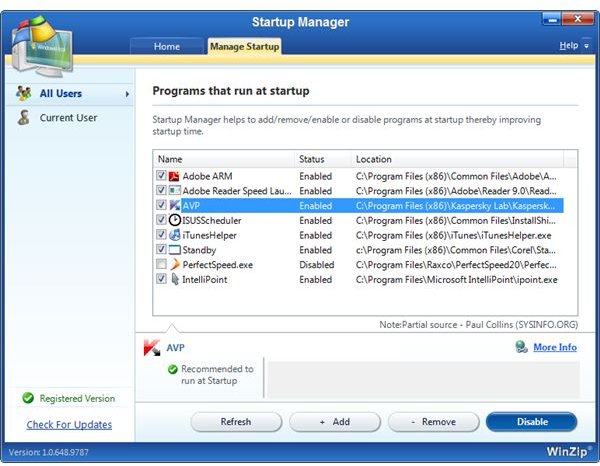 Regular Maintenance
Startup Manager – Lets you manage which programs run at startup, disabling unnecessary components will speed startup time.
Uninstall Manager – Alternative to the Windows Program Manager for uninstalling or repairing applications.
Scheduler – Allows you to schedule regular intervals for running various tools included with System Utilities Scan.
In general, all of the tools work quite well. I noticed several performance improvements immediately after running the initial scan and repairing recommended issues. After digging in deeper and using some of the additional utilities, there was an even bigger difference. Plus, I really like having all needed tools housed in one application. Not only does this make it quicker to perform regular maintenance, but it also makes it easier to remember what needs to be done since the handy information boxes let you know how long it's been since each tool was last used.
Price to Value (4 out of 5)
WinZip System Utilities Suite currently lists for $39.95, which is a very fair price considering all that comes bundled in the package. That's pretty much the same price range as other PC utility software on the market, but this particular suite has quite a few more tools than most competitive products.
The only real downside to the software is that it might be a little intimidating to true novice users. It would be nice if a default automated scan schedule was set up for the most commonly used features—such as those included in the Quick Scan option. Personally, I generally disable default automated scans, because I like to set up my own schedule. However, beginners might do better with the "install and forget" option, since that is becoming increasingly more common in other types of software, like antivirus applications. On the other hand, the scheduling utility is very easy to use—but it would still be nice if that feature was emphasized a bit more on the Home screen of the software.
If you'd rather try before you buy, WinZip does offer a free trial that you can download from the official web site.
Overall Rating (4 out of 5)
Overall, WinZip System Utilities Suite is a very solid application with a wide variety of useful tools that will help keep your PC running at peak performance. It's a good value for the money, especially for those who like to have everything in one place rather than jump around between applications when performing general maintenance.
If you don't have much experience with system maintenance, the software may seem a little intimidating at first—mainly because there are just so many tools available. However, don't let that hold you back from trying out the application since the intuitive interface is quite easy to navigate and each tool is explained very well in "plain English." Plus, the software really will help you get more mileage out of your PC and stave off that annoying system sluggishness that everyone hates.
References and Image Credits
References:
WinZip System Utilities Suite Official Site, https://www.winzip.com/system-utilities-suite.htm
Images:
WinZip System Utilities Suite logo, https://www.winzip.com/system-utilities-suite.htm
All screenshots provided by author.