Review of SpeedUpMyPC 2009 - Economical Way to Speed Up an Old Computer
Why is my Computer so Slow?
How many times a day do you hear people around you complaining about how slow their computers are? Worse yet, how often have you sat and stared at your monitor while drumming your fingers on the desk as you wonder why it's suddenly taking your browser forever to load a web page that you've visited hundreds of times in the past?
What's the best way to speed up a slow computer? With the current economic situation, no one wants to shell out the money for a new computer. Even if you can find a new computer at a reasonable price, it can be a pain to copy over all of your files and reinstall tons of applications. Fortunately, there are a number of other to extend the life of an older computer, such as installing software that can improve your PC's perfomance. Here's where SpeedUpMyPC 2009 comes in.
This software application promises to scan your computer, clean up the junk, and then make adjustments to optimize your PC. Well, to be honest, a lot of products make that claim. So the real question that we want to look at here is, "How well does it work?"
I recently tested the software on my sluggish Windows XP desktop and on a laptop running Windows Vista which had a heavy dose of multimedia intensive applications, and I'm pretty impressed with the results. But, before I jump ahead too much, let's start at the beginning.
Installation and Initial Scan (5 out of 5)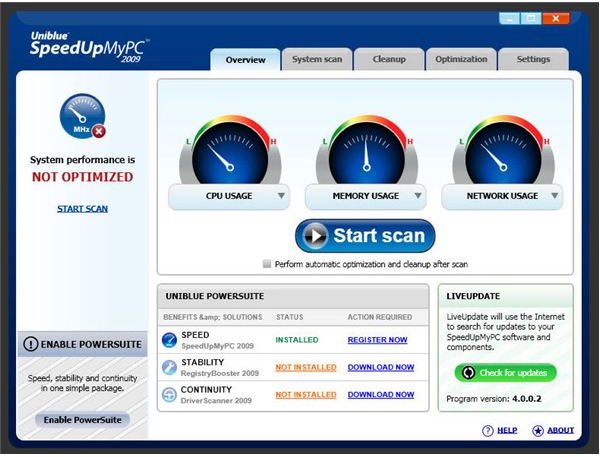 The installation process for SpeedUpMyPC 2009 went very smoothly and only took a couple of minutes. The program does require Microsoft .NET Framework 3.5, but it scans for this during setup and installs it for you, if needed. In addition to Microsoft .NET Framework 3.5, your machine should meet the following system requirements.
Intel Pentium 3 400 MHz or Equivalent
96 MB RAM
200 MB free hard disk space
Windows XP / Vista
When you run SpeedUpMyPC 2009 for the first time, you'll be prompted to perform your first scan. Just to be thorough, I ran the scan on both my internal 80 GB hard drive and external 250 GB USB drive. Surprisingly, the entire scan only took about six minutes. So far, everything's looking good.
Scanning Results and Recommendations (5 out of 5)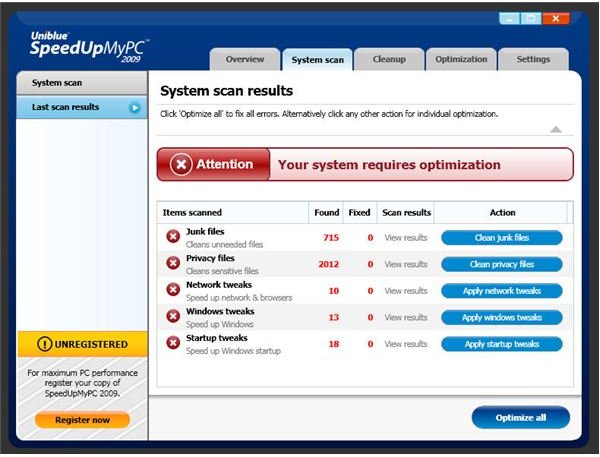 As I sat waiting for the scan to complete, the one thing that kept going through my mind was how disappointed I was going to be if it only came back with a recommendation to delete my cookies and temporary files. I've tried other software that's made some of the same claims as SpeedUpMyPC 2009, but I've never been impressed. I'm not a fan of the idea of paying $30 only to be told that I should clear my cache.
When the scan finished, the usual recommendations about cleaning up junk files were there, but so were a number of other things – actual useful things. There were suggested tweaks to improve the speed and performance of both the Firefox and Internet Explorer web browsers as well as Windows, in general. Additionally, several recommendations were made to speed up the Windows startup process.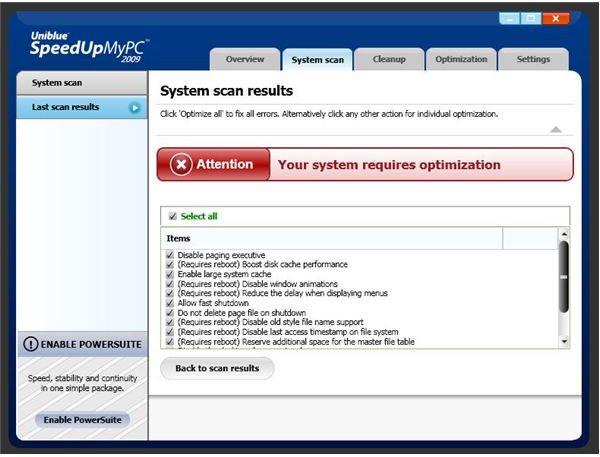 For each set of recommendations, SpeedUpMyPC 2009 gives you the choice of applying them all in bulk or selecting the individual ones that you want to use. The software even lets you know if a reboot will be required for each individual tweak to take effect. Furthermore, any changes you decide to apply are kept in a log file. If you decide that you'd rather have things back the way they were, you can recover your previous system state with just a few clicks.
At this stage of the process, I was starting to become more interested in the software. The real test was going to be if I saw any improvement after applying the recommended tweaks and cleaning up the junk files.
Continue on to page 2 for the remainder of our review of SpeedUpMyPC 2009.
Performance (5 out of 5)
SpeedUpMyPC 2009 took about two minutes to clean up the unnecessary files and apply all suggested system tweaks. Even though some of these tasks required reboot to take effect, I wasn't prompted or "forced" to reboot as in some other applications. Still, I decided to reboot anyway so I would be able to measure the full outcome of all of these changes.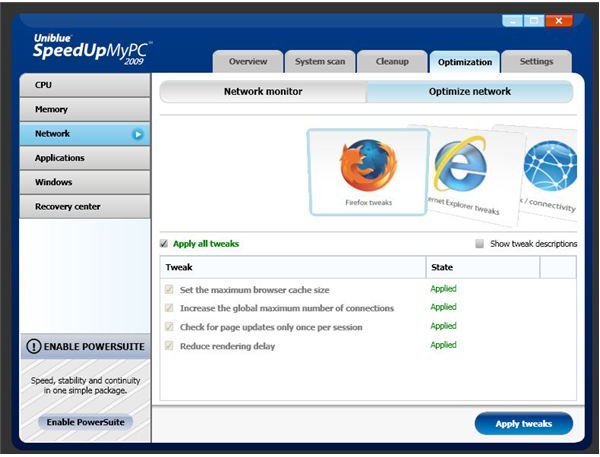 I didn't notice much difference in startup speed, but, then again, my startup is already pretty lean. That's one thing that I do keep a close watch on, and I haven't been having any problems in that area.
The first thing I did was open up Firefox, the web browser I normally use. It's not uncommon for me to have at least a dozen tabs in Firefox open at the same time, so I thought this would be a decent thing to test first. I noticed the change immediately. Since upgrading to Firefox 3, my web browsing has seemed more sluggish than it used to be, and I was blaming that upgrade for the problems. But after applying SpeedUpMyPC's recommended tweaks, I noticed a considerable difference in performance.
It's also fairly common for me to run 8-10 major applications on my PC at the same time, so I began opening up programs left and right to see if I could detect any other measurable increase in performance. Once again, I could definitely tell the difference.
Just to make sure that the excellent results achieved on my machine were not atypical, I spoke to someone else who recently tried the utility out on a couple of his machines, testing the software on both the Windows XP and Vista platforms. He had similar success stories and also noticed a marked improvement in the startup process for both operating systems.
While it would be nice to see some advanced reporting and settings that would allow you to check the startup process as it happens and make tweaks as needed, it's hard to fault the excellence of the utility. As an automated process, SpeedUpMyPC 2009 certainly improves the startup time on both XP and Vista, even on those PCs which are notoriously slow because of a lack of memory, processor power, or startup bloat.
Overall Rating (5 out of 5)
It seems like $29.95 is the going price for utility software these days, and SpeedUpMyPC 2009 is no exception. Is it worth the price?
First off, it's important to note that you don't need the software to perform all the recommended tasks that are suggested at the end of the scan. It is possible to do all of these things on your own without the utility. However, would the average person know to check all of these things, or even half of them? Even if you are more on the savvy side when it comes to technical computer matters, how much time do you want to spend manually making these adjustments when a tool like this can do it for you in a couple of minutes?
As mentioned earlier, optimizing the performance of your PC is not a one-time deal. For your computer to continue to run at its best, you have to maintain it on a regular basis. With SpeedUpMyPC 2009, this maintenance will only take a few minutes each time you use the software. Manual maintenance can sometimes take hours, depending on how comfortable you are with the process.
In light of this, SpeedUpMyPC 2009 is definitely worth the price tag, at least in my book. Not only does it actually do all it claims, but it does it quickly without any fuss. It's certainly a lot cheaper than buying a new computer – especially if you can make your old one run like a new one. If you'd like to try out the utility for yourself, click here to run a free performance scan.