Find and Use a Free Microsoft Excel 2010 Yearly Calendar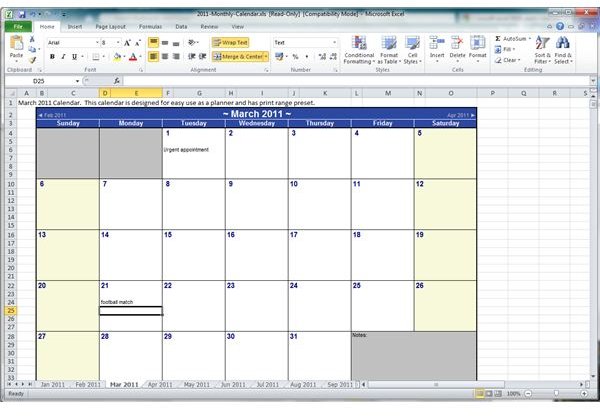 Looking for an Excel 2010 Calendar?
Calendars come in all shapes and sizes, from small, pocket-sized date checkers to large ones with interesting images to accompany each month of the year.
While you might be happy enough using your Windows desktop calendar (available by left-clicking the clock in the taskbar and only really good for checking dates) there are alternatives, such as Outlook or the Lightning extension for Mozilla Thunderbird.
One other alternative is to use Microsoft Excel 2010 for all your yearly calendar needs. Such a calendar takes advantage of the cell-based structure of an Excel workbook and makes an excellent monthly or weekly planner.
Where to Find a Free Microsoft Excel 2010 Yearly Calendar
The first place you should look for a free calendar to be used in Excel is www.wincalendar.com. This website provides monthly, weekly and annual calendars in portrait and landscape format that can be downloaded free from the website.
To download, look for the link for the calendar you want and click it. Your web browser will ask you if you want to save the file or open it – at this stage while you're still looking it is best to Open the file, which you can save later on if you wish to stick with it.
Opening the file will launch Excel, and you will be able to see the calendar. If you chose the annual (yearly) calendar, Microsoft Excel will have a different workbook tab for each month of the year.
Using this free Excel 2010 yearly calendar is easy – all you need to do is click into one of the days where you will find five cells into which you can type information.
Other Free Yearly Calendars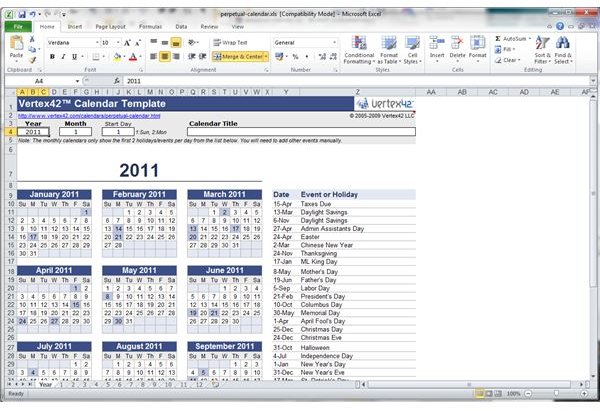 Another source for free calendars is www.vertex42.com, whose Perpetual Calendar is a particularly good choice that will save you ever having to download another calendar!
As you can see from the screenshot, the Perpetual Calendar has field for entering the correct year and month to start from. With this information, it calculates the correct days and dates not only on the yearly calendar tab but also on other tabs in the Microsoft Excel 2010 workbook, which each list dates for subsequent months.
Don't forget that as a user of Microsoft Excel 2010, you have access to the largest single repository of templates in the shape of Office Online, and this is where you will a great selection of free Microsoft Excel 2010 yearly calendars. Visit office.microsoft.com to view the choices available for download to Excel and other Microsoft Office applications.
Make Your Own Calendar
If you have time, you might choose to make your own Excel calendar. This is not as difficult as it sounds, and only requires you to gain mastery over the merge cells function.
You can get started in Excel by selecting a group of cells in a row of column and right-clicking them. In the context menu select Format Cells… and on the Alignment tab check the Merge cells box. This will group the cells into one, giving you the building blocks of an Excel calendar!