Microsoft Cloud Storage - Which is the Best Cloud Storage?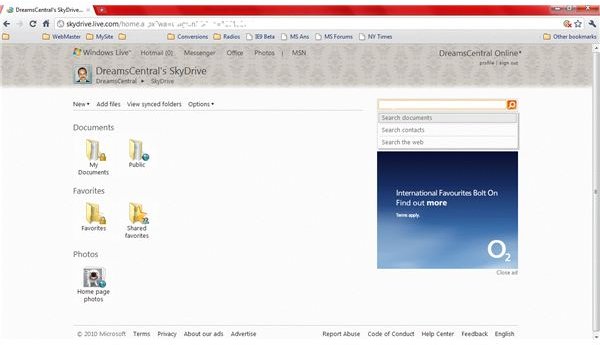 The Best Microsoft Cloud Storage - Windows SkyDrive
SkyDrive is the most complete Microsoft cloud storage. Initially, SkyDrive was meant only to upload files so that you can access them from anywhere. However, with cloud gaining popularity, Windows SkyDrive is no longer just a place where you can store your files. Microsoft added several features to their best cloud storage package. You can experience the features once you login to SkyDrive website.
SkyDrive offers you a whopping 25GB of online storage space per account. If you have a Windows Live ID or Hotmail ID, you can easily access SkyDrive and customize it per your wish. A part of Windows Live services, this Microsoft cloud storage allows you to:
Use the default folders or create new folders;
Upload any kind of file to the folders;
Create and edit Words, Excel, PowerPoint, and OneNote files;
Set sharing permissions for entire folders or for specific files;
Access and download these files from any place.
These are the most popular features of Windows SkyDrive. SkyDrive is also the base for the other two cloud packages from Microsoft: Office Live Workspace and Office Web Apps that we will cover in the following sections. For tips on using Windows SkyDrive, please read our article: Microsoft Online Storage Services.
Office Live WorkSpace - Discontinued Microsoft Cloud Storage?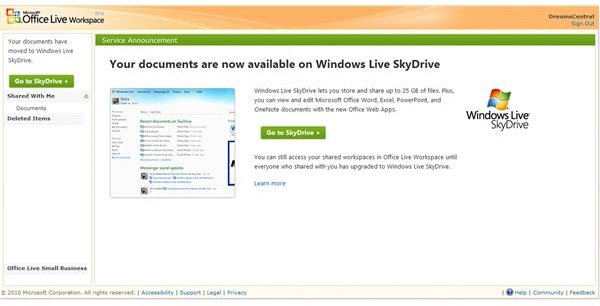 Another Microsoft cloud storage package, Office Live Workspace is in the process of migrating user Workspaces to Windows SkyDrive. Originally, Office Live Workspace was designed to allow users create different workspaces for their projects. They could upload files to different Workspaces and share it with people.
However, the new strategy of Microsoft integrates Office Web Apps into SkyDrive. Office Web Apps are free Internet versions of some MS Office applications. The main reason behind integrating and discontinuing Office Live Workspace is that the Workspaces also used Windows SkyDrive as their online storage. Users who already have accounts with Office Live Workspace will have their Workspaces transferred to SkyDrive as online folders with same permissions: Read Access, Read and Edit Access etc. Even if you login into Office Live, you will get a screen asking you to migrate to SkyDrive.
Office Web Apps - Extension to SkyDrive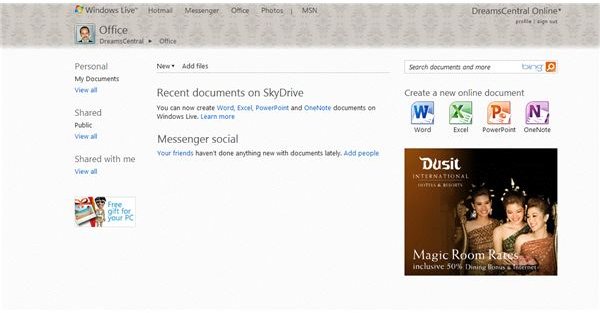 Office Web Apps are online versions of MS Word, MS Excel, MS OneNote, and MS PowerPoint. One can say that Office Web Apps are extensions to SkyDrive, one of the best cloud storage. With Office Web Apps, you can create and edit MS Office files pertaining to the listed applications without having to install a local copy of MS Office on your computer.
To access Office Web Apps feature in SkyDrive, click on the Office link on the top of the SkyDrive webpage. You can see the two default folders with options to create, rename, move, and delete the folders. The same actions are also available for the files within the folders. You can set permissions as to who can access your Office files and folders.
For more information on Office Web Apps, please read our article - Using Office Web Apps.
As you can see though the names are different, the base of each free Microsoft cloud Storage service is Windows SkyDrive. If you wish to use or check out the features of Microsoft Cloud Storage, just sign in to the SkyDrive and make use of all the great features of the best cloud storage from Microsoft.
Microsoft Cloud Storage - Other Cloud Services
Microsoft Office 365 is an online service that not only allows storage but also gives you extra facilities including Exchange Online, Lync, and SharePoint Online.
Windows Azure is primarily for developers. It helps developers to develop, test, and host cloud-based applications.
Business Productivity Online Standard Suite is a set of tools related to hosting and databases.
This concludes the list of Microsoft cloud services. If I missed out any Microsoft online storage service, please comment.