FAQ Database Software Boosts Customer Service and Support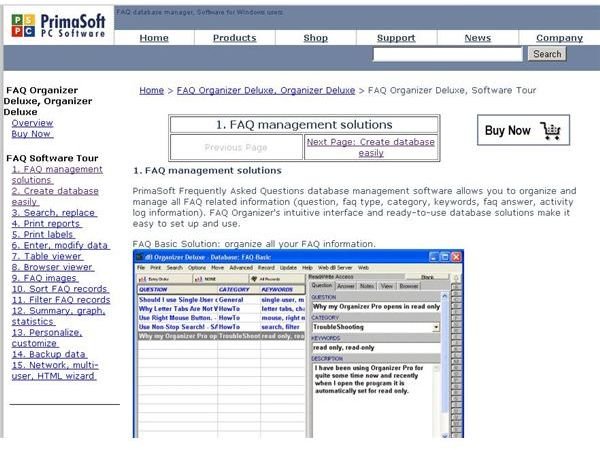 FAQ Organizer Deluxe
A top rated FAQ database software product from PrimaSoft offers a convenient interface to enter or import data and then organize and
categorize it for publication on the Web. The database also provides an easily accessible platform for customer service agents so incoming calls can be quickly answered with information collected into the organizational memory of the business.
Making it easy to search for information, update it based on newly gathered data, and browse for training and research is an essential part of the mission FAQ Organizer Deluxe has assumed.
The power of the FAQ Organizer Deluxe software package offers small businesses an easy and affordable way to maintain the same high level of customer service that before only large companies could provide.
This software is available from PrimaSoft for $75.
HelpConsole KnowledgeBase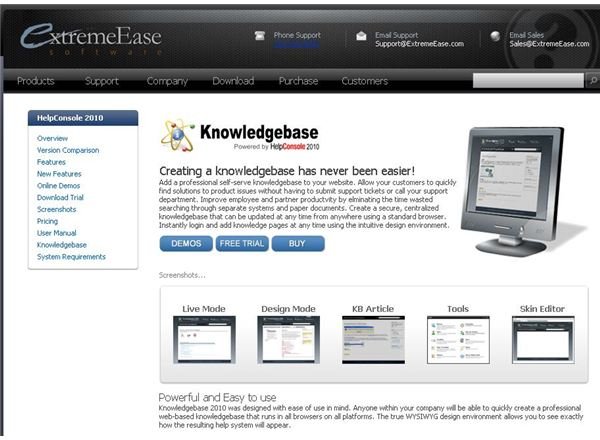 Another good FAQ database software application, HelpConsole KnowledgeBase by ExtremeEase, is available to streamline the data collection process, the assignment of categories and keywords, and the deployment of effective, easy to navigate FAQ databases to the Web.
The Web based interface of the HelpConsole KnowledgeBase means that any team members can update FAQs from anywhere, including the field or the office. This FAQ provides an outstanding self service portal for customers that can diffuse frustration, misunderstandings, and other complications around the clock, even when call centers are closed.
Designed for high security, companies can have confidence that their FAQ database does not become a gateway for hackers and malware bots. This fully customizable FAQ framework can easily blend in with virtually any Web environment, allowing corporate Web sites to appear fluid and seamless to customers.
Several versions of the HelpConsole KnowledgeBase are available, starting at $99 for the "Lite" version and scaling up to $1,499 for the enterprise version.
TrackVia
TrackVia is a cloud-based database platform that lends itself nicely to the development and deployment of FAQ database software for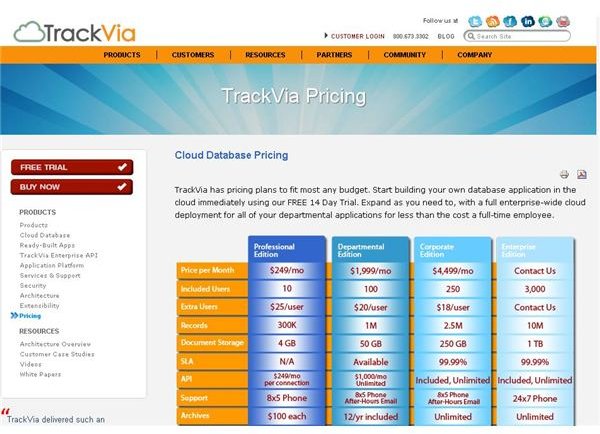 companies large and small. Designed for business, TrackVia can easily be configured to collect knowledge from workers as a part of their work flow, analyze it, and then collate it into FAQs that can be the company's first line of defense against customer dissatisfaction.
The highly configurable format of TrackVia lends itself to integration with other corporate databases, providing for a unified interface and user experience throughout the company. As data is gathered, product managers and sales representatives can format common user concerns into questions that are easily searched for by customers and tracked by IT personnel.
Monitoring the FAQ database is possible with the TrackVia solution. This enables companies to see what customers are looking for so FAQs and solutions can be targeted to the areas where customers seem to need help the most.
TrackVia is a software as a service resource (SaaS) and costs $249 per month for the "professional" version. The corporate version costs $4,999 per month. Enterprise packages are available, but are priced based on customer specifications.
Wrap-Up
Just a few of the top FAQ database software solutions are listed here. Many other solutions are available that can help your business provide stellar customer service by putting the most common answers and solutions at customers' fingertips.
Image Credits: Screen shots taken by Bruce Tyson