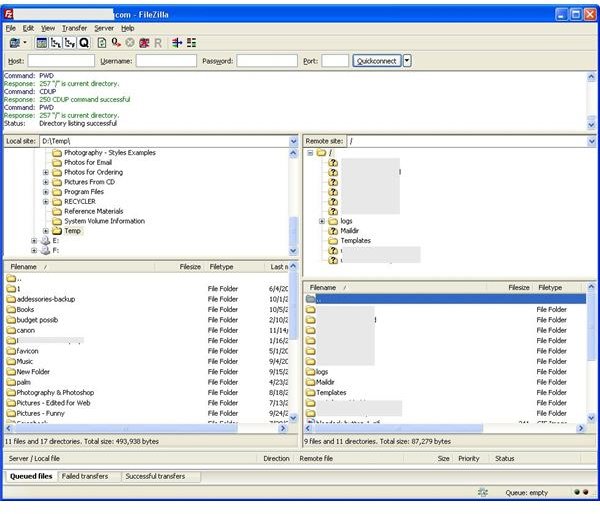 Top Five FTP Clients
You can access FTP through most web browsers, but for easier access and more complex operations, you'll want a dedicated FTP client that allows you to download, upload, copy, move, and otherwise manipulate your files on the FTP Server. There are literally hundreds of FTP clients out there, but these Top 5 FTP clients stand above the rest.
FileZilla (5 out of 5)
FileZilla is my personal choice for FTP clients. It is not only free, it is open-source which means you can even look at the code if you want to. Free, is one thing, but it needs to work well too. FileZilla comes through in spades with an easy to use interface.
The default look has five panes. Don't worry, everything you need fits just fine. The left panes show what is on your local machine, the right panes show what is on your FTP server. Drag and drop to your hearts content.
WinSCP (4 out of 5)
When the issue is more than just FTP and you need solid security as well, then your FTP client of choice is WinSCP, another free and open source product. I find the interface just a tad less comfortable than FileZilla's, but everything you need is right there on the screen. If that isn't what you want, you can use an alternate interface as well giving WinSCP a way to appeal to virtually any user. It also includes a text editor interface that lets you edit text files directly on your FTP site without having to download them to your desktop. Of course, the main claim to fame of WinSCP is security. It supports SFTP and also Secure Shell (SSH) as well as the old SCP protocol.
Try WinSCP if you need more security for your FTP client.
SmartFTP (3 out of 5)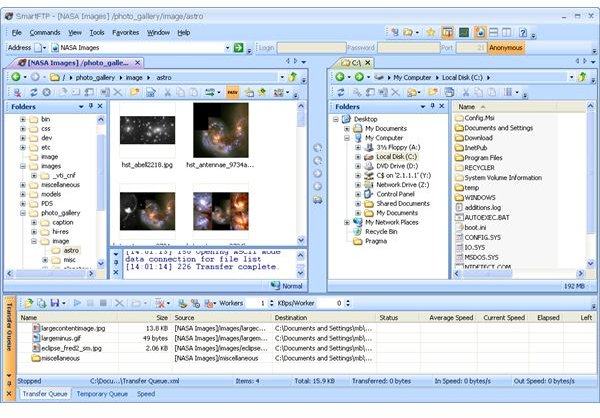 SmartFTP is another FTP client that comes highly recommended from many places. It also supports SFTP over SSH, and includes a thumbnail viewer that allows you to preview your remote FTP files, just in case you forgot if you need HelloGraphic3.jpg or HelloGraphic4.jpg. SmartFTP uses a similar multi-pane view to allow easy file operations.
Unfortunately, SmartFTP lost this race when its creators decided they could no longer offer the client for free. SmartFTP costs $36.95 for a home user license.
SmartFTP link.
CuteFTP (4 out of 5)
CuteFTP was once my favorite FTP client when it was supplied by my company. Now, as an independent freelancer, I have to buy my own software, and CuteFTP isn't free. One great thing about CuteFTP is that it comes in multiple versions so that you can get the amount of power you need without paying for features you will never access. CuteFTP Lite handles the needs of most users and only costs $14.99. It uses the familiar multi-pane view of other FTP clients to allow for easy file manipulation.
Core FTP LE (5 out of 5)
Core FTP is an FTP client that comes in both a free and professional version. I'm not really sure who wouldn't find their needs met by the free version, but I'm sure there are some power FTP users who would find the pay version necessary. The main reason I can see is that with the Pro version you can schedule FTP transfers for a later time if you want to queue up some 3:00 AM transfers but still want to be in bed at a regular time. But, for most users Core FTP LE is a fine choice.
Core FTP supports all the security protocols out there including SFTP and SSL as well as HTTPS. Core FTP has several multi-pane views to choose from, so it can fit your needs regardless of your monitor configuration. There are two things about Core FTP that make it one of the greats. First, with Core FTP you can actually open two remote sessions and then manipulate files between the sites. In other words, you can drag and drop files from FTP Site 1 to FTP Site 2 without the step of downloading them to your PC first. The second thing about Core FTP is that it seems to be the client that will work when the others won't. I have never seen anyone explain why, but if for some reason your FTP connection keeps timing out or disconnecting with other clients, there is a decent chance that it will be stable with Core FTP.
Get Core FTP LE for free here.
Other Software Recommended by this Author
Brian's Profile Page Articles List
Got other software tips? I always love to look at new software. Drop me a line.