Find, Install, and Troubleshoot a Realtek Audio Driver: Windows 7 Tips

Finding RealTek Audio Drivers
Start with your computer manufacturer's website (Dell, HP, Gateway, etcetera). Most have a section of the site where you can download drivers specific to your system; they may be bundled in an EXE file with other drivers, so installation will be simple. If your system came with a different operating system, the site may not provide appropriate drivers. If this happens, proceed to Windows Update and check the Optional updates; RealTek audio drivers for Windows 7 may show up as an option. If they do not, proceed to realtek.com.
The RealTek site has a Downloads section with Windows 7 audio codecs. For some versions, you'll need to know whether you have a 32bit or 64bit system. Click the Start button and type system in the Search box. When System is returned in the search results, select it; this page will list your OS type. Then go back to the RealTek site and download the most current driver that corresponds with your system.
Installing the Realtek Audio Driver in Windows 7
If the file you downloaded is an EXE, just double-click and follow directions. When you're finished installing, you may delete the EXE file as it already saved the necessary files elsewhere . If you're unable to delete it, do so after your next reboot.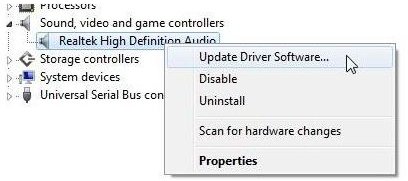 If your download is another format, you'll need to either update your driver (if you already have one installed) or do a clean install. The RealTek site offers installation instructions either bundled with your download (if it's in ZIP format) or on the site as a separate "Read Me" file. Open this file and follow the instructions for Windows 7 installation (or Vista, if Windows 7 isn't listed).
If instructions aren't available, extract the files from your ZIP file (right-click and choose Extract All). When it has completed extraction, locate Setup.exe; launch it and follow the instructions. If you only have the DLL file with no setup program, save it to your C: drive, then go to Start > right-click Computer > Properties and select Device Manager.
Click on the triangle next to Sound, video and game controllers to expand the options, then right-click on the current driver and choose Update driver software. Choose Browse my computer for driver software and point it to the DLL file. It may uninstall the current driver prior to installing the new driver. Rebooting is not necessary unless specified.
Troubleshooting
Should the drivers not function as expected, uninstall by right-clicking on the driver in Device Manager and choosing Uninstall; if your system says the driver is in use, right-click on the driver in Device Manager and choose Disable, then repeat the uninstall process. (If you installed via an EXE file, instead try uninstalling via Control Panel > Programs > Uninstall a program.)
Repeat the above steps to reinstall. If problems continue, try an older version of the driver.