Get Big Results with Small Library Database Software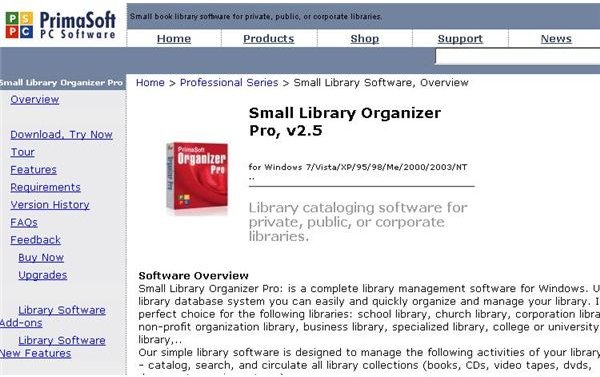 Small Library Organizer Pro
The library database system used by Small Library Organizer Pro is one of the best solutions available. From library catalog functions to asset searches and circulation tracking, this software has what it takes to get a library under control. Templates are available to quikly create queries and reports while an automatic lookup system pulls in details for books, videos, periodicals, and other library materials. The software even has the optional capability to manage a system for charging fines.
You can download a free evaluation copy of Small Library Organizer Pro from the PrimaSoft Web site or you can purchase it outright for $245. Different versions of the software are available that will give you a head start on customizing your installation out of box.
ResourceMate Library Basic
Designed with the needs of small institutions in mind, ResourceMate library database software is a powerful foundation that can power librariies, museums, and more. Convenient asset lookup tools make it easy to create catalogs with unlimited records. Powerful search functions help patrons find the materials they need and a full-scale reporting engine gets librarians and administrators the information they need in customizable formats.
ResourcesMate also provides a distributed networking framework where records can be entered and maintained remotely, without the need for volunteers or other workers to come to your physical location to work. Full bar coding support is a standard feature of the Library Basic bundle as are robust security options that configure each system user according to their requirements.
Optional add on modules enable the use of search screens without leaving the entire database open, spell checking, extended circulation options and more.
The ResourceMate Library database application is available for purchase at a price of $1,257. Be sure to check the ResourceMate site for other optional software and accessories.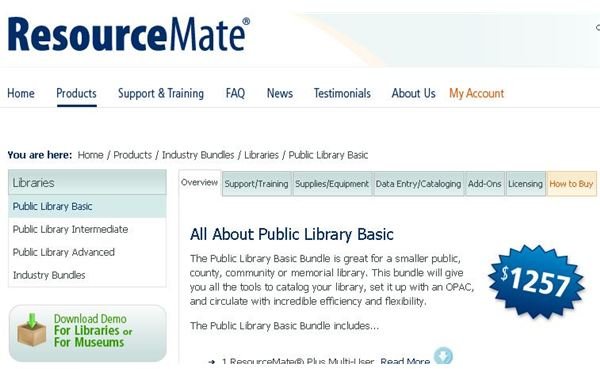 Library Concepts PC Card Catalog
If your library is off to a small start but you have big ambitions, be sure to check out the PC Card Catalog small library database software package from Library Concepts. This software will easily scale along with your size, allowing your software to develop along with your facility.
PC Card Catalog centers on a searchable catalog with a user interface that is highly intuitive, providing for a customer experience that few patrons would expect in a small library setting.
A full cache of library resources comes with PC Card Catalog, including memorial and donation plate designs, instant cataloging by ISBN, barcodes, and spelling aids. Additionally, a variety of optional modules are available to augment the features of this very powerful, basic system. One of them, the Net Card Catalog module, makes it easy to get your library online and searchable via the Web.
Library concepts has another system, Concept I, for bigger entities that provides users an upgrade path should their library ever grow beyond the capacity of their PC Card Catalog small library database software.
PC Card catalog comes in two varieties: Basic ($399) and Circulation ($599). Additional features are also available for sale.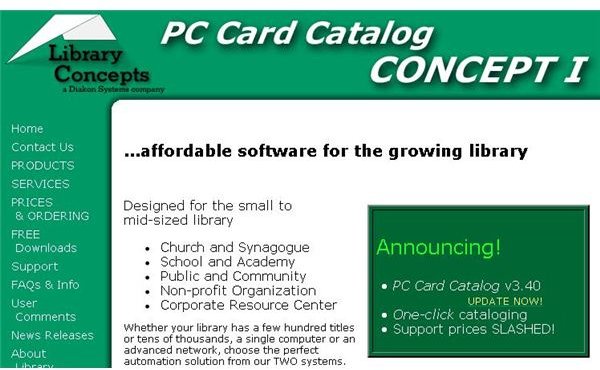 Small Library Database Software Summary
The small library database software listed here can help you start and manage a library at your school or other organization. Check these out and buy the software that seems to get the job done best for you, based on the details I've provided and don't forget to take a look at the screenshots.
Image Credits: Screen shots taken by Bruce Tyson