Brother Label Printer and Microsoft Word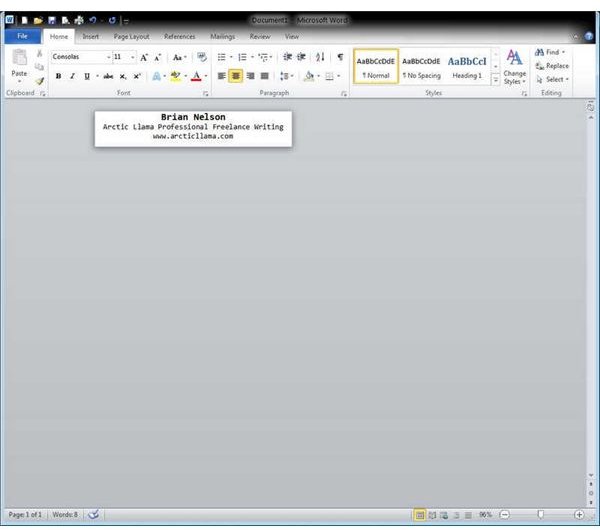 Set Up a Brother Label Printer to Work With Microsoft Word
The default label printing utility included with all Brother label printers is useful for printing labels quickly and easily. However, it does not have the same capabilities as Microsoft Word. In particular, many office environments, and even big family Christmas card lists benefit from Word's mail merge feature that automatically prints out multiple address labels from a spreadsheet or database of names and addresses. To take advantage of using mail merge or other label based features in Microsoft Office 2010, you need to setup your Brother Label Printer correctly.
Fortunately, Brother printers offer standard Windows printer drivers for most label printers with the capability of connecting to a computer. In some cases, Windows 7 will auto-detect a newly attached label printer and automatically install the print drivers. In other cases, the Windows 7 print drivers can be downloaded directly from the Brother website at brother.com.
For example print drivers for the Brother PT-2700 label printer are built into Windows 7 by default, as are drivers for additional Brother devices such as:
Brother PT-2100
Brother PT-24
Brother QL-1050
Brother QL-560
Brother QL-570
Brother RL-700S
Other Brother printers can be supported automatically with a download via Windows Update.
Once the driver is installed, the label printer can be used just like any other printer attached to your computer. The label printer can even be shared to other computers on the same Home Network, or across a corporate network.
Print Microsoft Word Labels to Brother Label Printer
To print labels to a Brother label printer from Microsoft Word, open a new document in Microsoft Word. The secret to printing labels from Word to a label printer without too much hassle is to set up the proper label paper type before entering the text to be printed on the labels. Doing so prevents the problem of printed labels that either have text missing after inputting and formatting the text for the labels or labels that are not formatted as desired.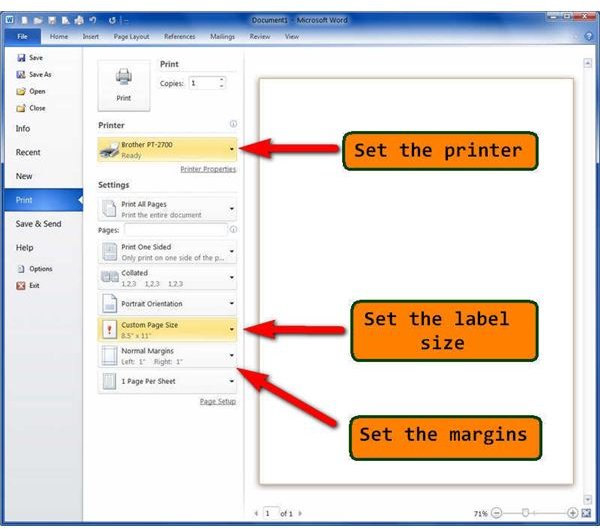 By default, Microsoft Word starts new documents with a letter-sized sheet of paper. Unless you are printing an 8 1/2-inch by 11-inch label, this will not be correct. Select File -> Print or Office Button -> Print and choose the Brother label printer installed as the printer you wish to use.
You may get a warning stating that either the paper size or the margin sizes are incorrect. Click OK and then change the paper size to one of the supported sizes of the label printer. Adjust the margins as well. A 1-inch margin makes no sense on a 3/4-inch label! If necessary, adjust the orientation from portrait to landscape.
Once completed, the proper label size and shape should appear in Microsoft Word. Use Print Layout view to set the spacing and centering correctly. Type your label text as you would any other document. When finished select Print from the File or Office Button menu and verify the Print Preview looks correct. Once you are happy with the results click Print.