Can You Align Items Scanned Into OneNote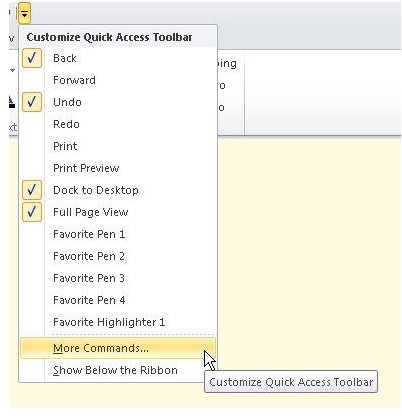 About Microsoft OneNote
When you have Microsoft Office installed on your computer, you have a powerful application that many people overlook: OneNote. Microsoft OneNote is designed as a central repository for all your thoughts and information. By providing a single entry point for all your notes, images, plans, concepts, links, and other bits of information, you always know where to go when you need to find information for reference or for work on a project.
OneNote is a part of the Microsoft Office 2010 suite and is the one used in this OneNote tutorial. If you don't have Microsoft Office 2010 installed on your computer and you want to follow along here, you can visit the Microsoft Office Web site to download a free trial version.
Here we take a look at two cool OneNote tricks that will help improve the ways you use OneNote.
Can You Align Items Scanned Into OneNote?
The answer to the question, "Can you align items scanned into OneNote?" is "Yes." to show how this works, scan a couple images directly into OneNote. To do this, open OneNote on your computer, open a notebook (or create a new one) and then create a new page.
Finding the "Scanner Printout" option can be tricky, depending on you your OneNote is set up. If you do not have the scanner icon on the ribbon, click on the down arrow to the right of the icons on the quick access toolbar and then choose "More Commands" to customize the quick access toolbar.
After that, in the "OneNote Options" window, choose "Quick Access Tool Bar" in the left panel. Set the combo box at the top for "All Commands" and then find "Scanner Printer" in the left column, click on it to highlight it, and then click the "Add" button in the center. Your scanner icon will now be in the quick access toolbar. Click the "OK" button to close the window.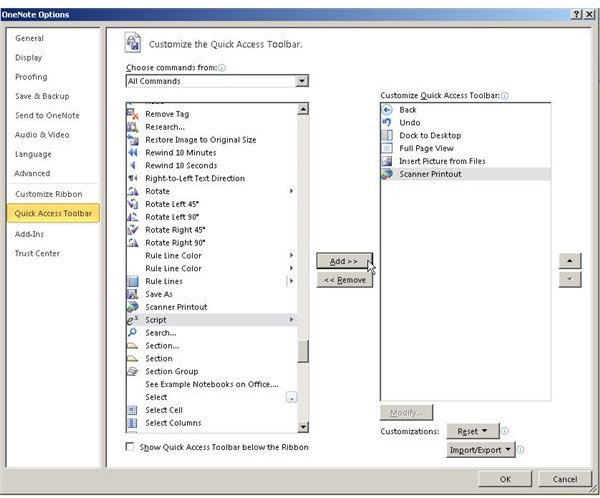 Next, click the "Scanner Printer" icon to open the scanner dialog. Depending on which scanner you are using, this window may look different. Most of the time, the "Custom Insert" button is preferable because you get to define the area of the scan that is actually imported into OneNote.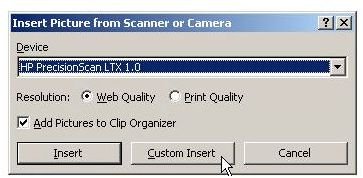 Follow the on-screen directions as your scanner's driver scans an image and places it in OneNote. You will see it appear on your notebook page. Now, select the container holding your image and click the "Add Space" icon from the "Insert" tab on the ribbon. Do this a couple times and then scan in another image so we can work on alignment. It is important to scan all images that you want aligned into the same container. Here's what your page might look like now.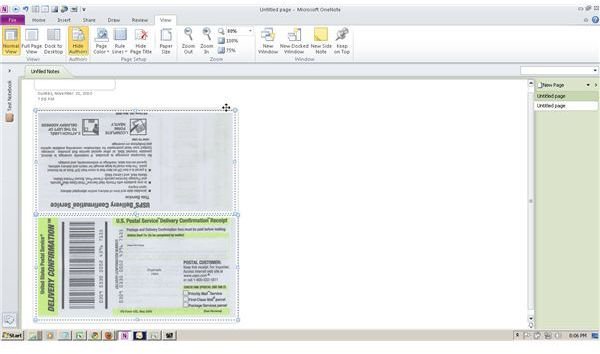 Can You Align Items Scanned Into OneNote?
To align these scanned images on the OneNote page, use the alignment options found on the "Home" tab on the ribbon. You can align groups of images together by selecting them all at once, or you can align each image separately by selecting them one at a time. In this example, we aligned the top image to the right and the lower image to the left.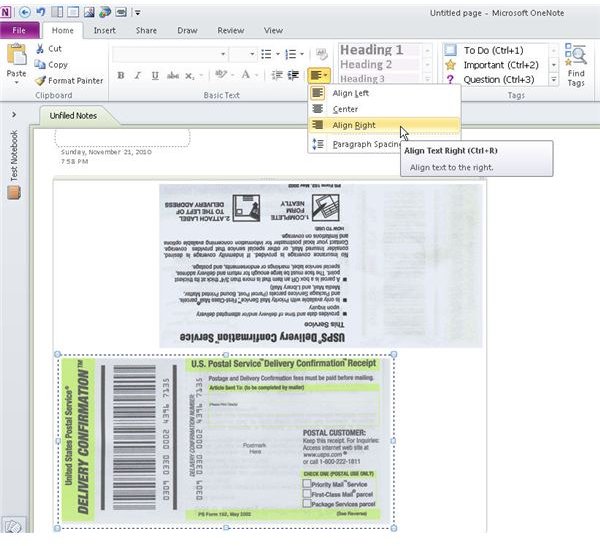 The secret to this is knowing that images within the same container can be aligned using the alignment functions of OneNote. Objects that are not in containers or in separate containers can only be aligned manually.
If you happen to have multiple images that are not in the same container that you want aligned, you can always insert space into an existing container and then paste your other images inside. Otherwise, you can select each container and object and align them manually (the paragraph alignment tools won't work outside the container).
Adding OneNote as a Printer
Adding OneNote as a printer is a part of the normal installation process for Microsoft Office. After setup is complete, you should be able to print anything to OneNote just as you would print to your printer. Here's how to do it.
First, find something that you would like to print. We'll just make something up for now in Notepad. Go to "File" and then click "Print" and then you will find a printer option called "Send to Onenote." Highlight it and then click the "Print" button.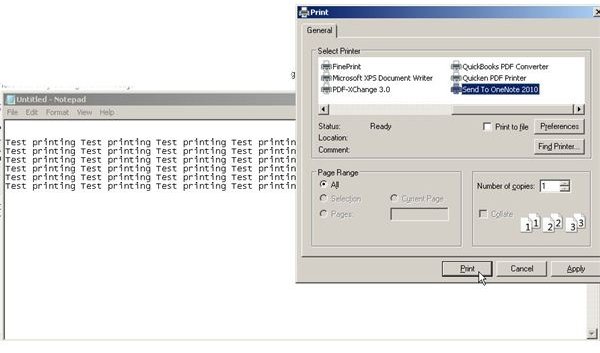 You then get to choose which notebook and which page to put the printout.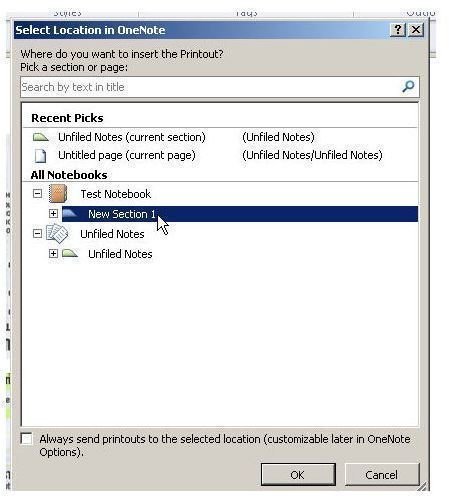 Click the OK button and your printout will now be in OneNote.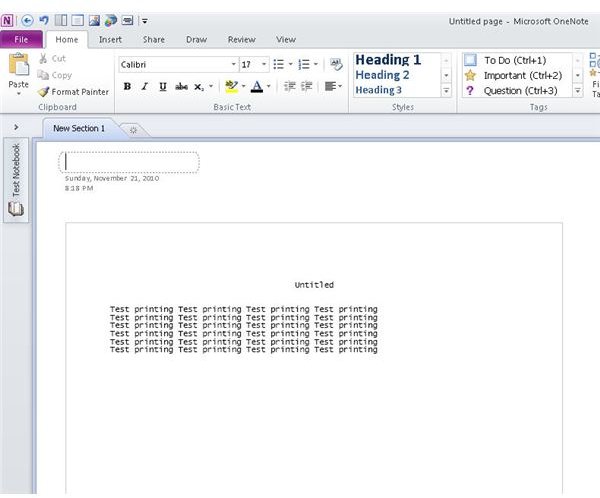 Wrapping it Up
When asked, "Can you align items scanned into OneNote?" you now can answer "Yes, as long as the scanned items are in the same container. Otherwise they will have to be namually aligned."
Adding OneNote as a printer is an easy and powerful feature that happens by default for most installations of Microsoft OneNote. This functionality helps you save paper while easily saving print-formatted material for later use.
Image Credits: Screen shots taken by Bruce Tyson