Find Inexpensive Mini Laptops with Windows 7 Starter or Home Premium Editions

Netbooks with Windows 7
Mini laptops with Windows 7 Starter Edition are popular with students, teachers and other working employees that are always on the go. Netbooks are not only handy due to their lightweight and small size, but are also inexpensive. Bloggers also enjoy communicating or writing while outside using inexpensive mini laptops with Windows 7. Find out the best netbooks with Windows 7 on sale especially now that the holidays are a few weeks away. Give one as a gift to family or for yourself by taking advantage of amazing sale prices while enjoying the new operating system from Microsoft.
Note that Windows 7 Starter edition does not include Aero. To enjoy Windows Aero, you need to upgrade to Windows Home Premium. Some netbook vendors provide an option to upgrade to Home Premium using Windows Anytime Upgrade.
Mini Laptops with Windows 7 (Price Range of $300 to $400)
I find HP deals on mini laptop attractive. With the HP Mini 210 series, you'll get more than what Dell offers as an inexpensive laptop with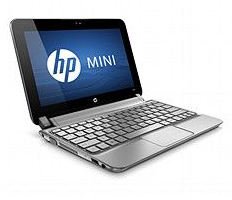 Windows 7 system:
Several choices of case color: Charcoal, Luminous rose, Crimson red, Lavender frost or Ocean drive.
An option to upgrade to Windows 7 Home Premium for only $35.00 extra.
160GB 7200RPM Hard Drive and 1GB DDR3 SDRAM.
No pre-installed security software - most end-users prefer to their own install antivirus or firewall software which HP understands and so the basic or default configuration in buying HP Mini 200 series is "no pre-installed security software", but there's option to buy Norton Internet Security 2011 for $19. Note that the Dell mini laptop includes 30-days trial of McAfee software.
10 hours battery life using 6-cell Lithium-Ion battery.
802.11b/g/n WLAN connectivity but Bluetooth is not included. You have to pay $25 to have Bluetooth connectivity.
Shipped with reduced-functionality versions of Microsoft Word and Excel.
Built-in web camera with integrated microphone.
With the default configuration of the HP Mini 200, you will only pay $330. If you upgrade to Home Premium and add a Bluetooth module, you will have to pay $390.
The next thing to consider is the 10" netbook from AsusTeK - Eee PC 1005HA Seashell. Like the above netbooks with Windows 7 on sale, Eee PC 1005HA Seashell also includes Windows 7 Starter edition, LED Backlight, 1GB DDR2 RAM, a huge 250GB HDD, WLAN 802.11b/g/n, Bluetooth 2.1, 6-cell Lithium-ion battery and card reader. The netbook from AsusTeK also include a built-in camera with integrated mic but only uses 1.3 megapixels. The price ranges to $380 to $400 (depending on your location or online shop such as Best Buy or Amazon).
Best choice: HP Mini 210 series
Netbooks with Windows 7 (Price Range of $200 to $300)
The Samsung N210 mini laptop also includes the Windows 7 operating system. The netbook includes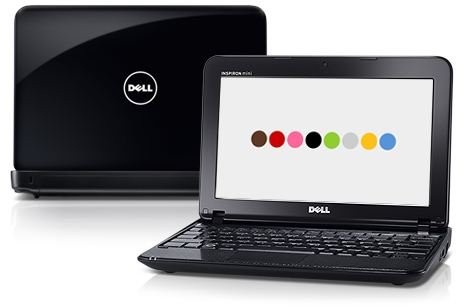 1GB DDR2 memory, 250GB Hard Drive 5400RPM, 802.11 b/g/n Wireless LAN, 6-Cell Lithium Ion battery, 3-in-1 media reader, 3 USB ports, Integrated Camera and internal microphone and backlit LED screen. The Samsung N210 only costs $299.99 at Best Buy. This netbook by Samsung is pre-loaded with software such as Adobe Acrobat Reader and YouCam by Cyberlink.
Dell Inspiron Mini 1018 comes in black includes a 160GB 5400RPM Hard-drive, a built-in web-cam and microphone, 4 to 6 hours battery life using 3-cell Lithium-Ion battery, two 2.0 USB ports, Truelife wide-screen, 1GB DDR3 SDRAM, Bluetooth 3.0, 802.11n WLAN and Realtek PCIe FE Family-Controller. The neat stuffs in buying an Inspiron Mini 1018 is you have the option to upgrade from Windows 7 Starter edition to Home Premium edition using Windows Anytime Upgrade, for a small fee - $54.00, free 1 year Dell online backup with option to subscribe higher disk-space (5GB to 100GB) and 1 year limited hardware warranty.
If you buy the Dell Inspiron Mini 1018 without upgrading to Windows 7 Home Premium, you'll only pay $300 but if you want to take advantage of the operating system upgrade, it will cost you $354.
Best choice: Samsung N210
Image credits: https://upload.wikimedia.org/wikipedia/commons/c/c2/Microsoft_Windows_7_wordmark.svg by Microsoft Corporation (This vector image was created with Inkscape.) [Public domain or Public domain], via Wikimedia Commons. Dell Mini 1018 https://www.dell.com/us/p/inspiron-mini1018/pd and HP Mini 210 https://www.shopping.hp.com/webapp/series/category/notebooks/mini210_series/3/computer_store